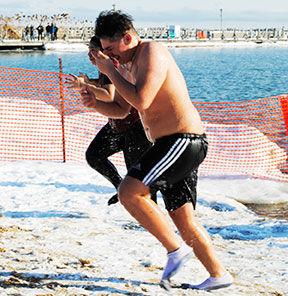 EAST TAWAS – Year after year, people come out in droves for the Perchville USA winter festival, gathering in the Tawases for a weekend of winter entertainment. With a variety of activities for all ages and personalities, it's easy to see why the event continues to go strong after seven decades.
Presented by the Tawas Area Chamber of Commerce (TACC), Perchville just wrapped up a milestone anniversary, with the conclusion of the 70th annual festival this past weekend.
Following some pre-Perchville activities the prior weekend, the excitement picked back up on Thursday, Feb. 6, and went on through the evening of Saturday, Feb. 8. Despite temperatures barely inching out of the single digits on the final day, event goers were graced with fairly mild conditions, given the abundant sunshine and lack of wind.
Also enhancing the experience in 2020 was a change-up from the way some of the events have gone on in the past. This included moving the Hospitality Tent to just off of Newman Street, and switching the family tent activities to an indoor Family Expo at the East Tawas Community Center. Mother Nature also called some of the shots this year and, due to a lack of ice on Lake Huron, the Polar Bear Plunges were relocated next to the East Tawas State Dock.
Aside from just a couple of the events, this meant that attendees could enjoy all Perchville had to offer from one centralized, convenient location, as everything took place on or near Newman Street in downtown East Tawas.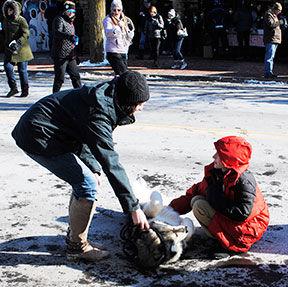 Starting things up on Thursday was the Royal Feast at Rushman Hall, held in recognition of the 2020 Perchville King and Queen and Junior Royalty. In addition to a large meal, the evening was rounded out with live music from the Sip N Singers.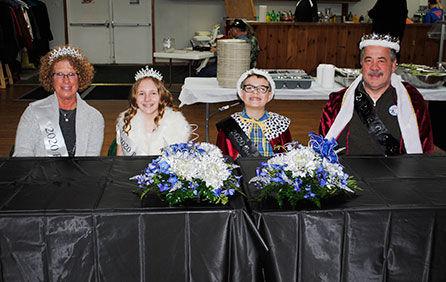 The feast was held for King and Queen Paul and Tracy Stevelinck, Tawas City; Junior King Donovan Nicklyn, Tawas City, a Holy Family School sixth grader; and Junior Queen McKenzie Nunn, East Tawas, a Tawas Area Middle School seventh grader.
Nominated for the honor based on their interest in the community, giving nature and other noteworthy characteristics, all four royalty members were spotlighted in last week's edition of this publication. 
The regal lineup then had a busy weekend, as they reigned over a number of different Perchville events.
The itinerary for Friday's festival goers consisted of a cornhole tournament and raffle drawings in the Hospitality Tent, a Perch Dinner Fish Fry by Knights of Columbus members and a Pre-Teen Dance for the younger crowd.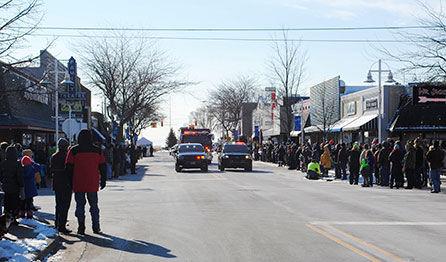 Saturday started up with the traditional Perchville Parade, that began in Tawas City and concluded in downtown East Tawas.
Spectators packed the sidewalks along Newman Street to watch such procession participants as Iosco County 4-H, the Tawas City and East Tawas fire departments, past and present Perchville Royalty, representatives of local businesses, the mayors of East Tawas and Tawas City, the Iosco County Sheriff's Office, the Tawas Police Authority and Perchville's polar bear mascot, Nanuk.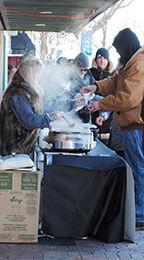 It took a while for the crowds to clear the streets, since the Chilly Cook-Off – hosted by the East Tawas Business Association – commenced immediately after the parade.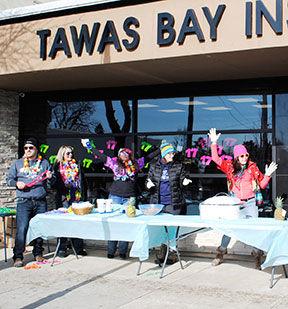 Hordes of hungry festival fans flocked to the 21 different businesses which took part in this year's cook-off, as they taste tested the homemade batches and then voted for their favorite.
The first-place winner of the 2020 Chilly Cook-Off was Mooney's Ben Franklin, followed by Tawas Bay Insurance Agency in second place and the Village Chocolatier in third.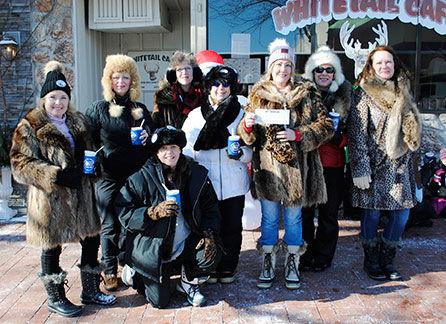 Among those getting in on the tasty treats were a group of women from the "Stray Cats" Vintage Camping Club. Hailing from Linden, Garden City, East Tawas, Farmington Hills, Byron, Center Line and Southgate, the ladies have made Perchville an annual gathering for their group.
Bundled up in similar, fashionable attire for the affair, the women were spotted with their Chilly Cook-Off cozies, warming up before some of them also took the Polar Bear Plunge. Christine Harbin, Southgate, got even more of the full festival experience, as her Perchville button number earned her a $25 gift certificate to the Whitetail Cafe.
Each button is printed with its own number, and attendees were encouraged to check these at the participating businesses, to see if their number earned them a prize.
Opting to get their chili fill later on were those who took part in the Frozen Chosen shooting event, as they were preoccupied at the Iosco Sportsmen's Club.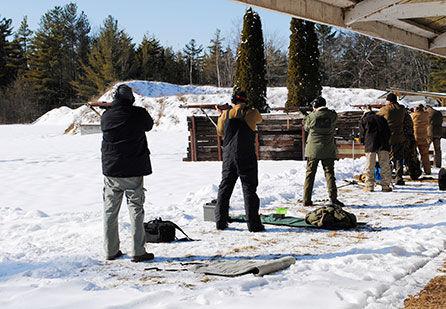 The 100-yard, military style shooting challenge brought in a noticeably larger crowd in 2020. This is good news for the American Legion Honor Guard, as all proceeds raised during Frozen Chosen are donated to the group.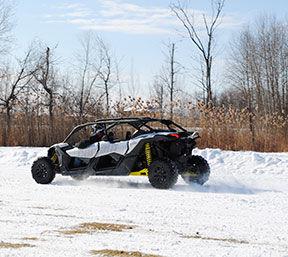 The Winter Barrel Races at Dewey Durant Park were also getting underway at about the same time. The parking lot was jam-packed, with throngs of spectators coming out to cheer on the drivers of both modified and stock ATVs and side-by-sides.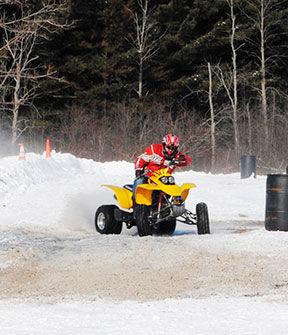 According to Tammy Beckley,  there were 16 ATV drivers and four side-by-side competitors, with the winner being Braden Kauffman, Tawas City.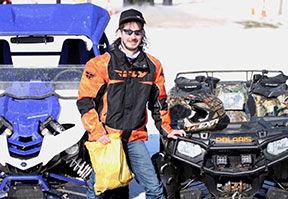 "He brought one of each and ended up winning both classes," Beckley stated. "He won the $200 pot and then was very generous and donated $100 of it back to Perchville."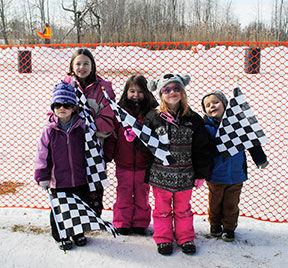 Beckley added that Tawas Bay Marine & Cycle donated two maintenance packages, one of which went to Kauffman. When the official races wrapped up, everyone took part in a second race just for fun, and the other maintenance package went to the winner of that event.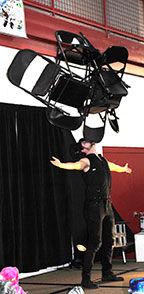 Another venue drawing in a large number of guests was the East Tawas Community Center, which housed the Family Expo. The expo proved to be a festival highlight this year, as visitors could indulge in food; games and prizes; hourly gift giveaways; educational activities; demonstrations by Search and Rescue of Michigan; and impressive feats of skill and coordination during the Clark the Juggler shows.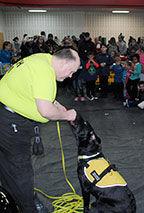 Among those offering up displays and entertainment were WE Players Inc., Autism Centers of Michigan, Tawas Bay Marine & Cycle, Iosco County Farm Bureau, Oscoda Cheer, Tim Horton's, the Buckhorn Inn, Iosco County 4-H and MSU-Extension, Cub Scouts Pack 3911, Jerry's Marina, Leaf Filters, Northern Lights Charters, Beckley's M-65 Bait Shop, Jay's RV and more.
One of the Perchville USA sponsors, Northwoods Wholesale Outlet, also brought in a scaled-down version of its store in Pinconning, where guests could peruse ice fishing gear and other items to have fun in the outdoors.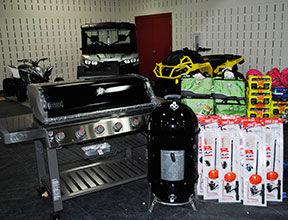 Northwoods donated several of the items for the inaugural Perchville USA Raffle, as well, including a Weber Genesis outdoor grill for the first-place prize.
The raffle winners were announced at the community center, following the expo, with the other prizes including an ice auger and shelter combo from Northwoods; a two-night stay at Timberlane Resorts; several meat bundle/tabletop gas grill packages, courtesy of Neiman's, Freel's and Klenow's markets, along with Northwoods; six car washes from Clear View Car Wash; a one-year subscription to the Iosco County News-Herald or Oscoda Press; and a $250 "Taste of Tawas" package, from G's Pizzeria and Deli, The Lodge, Boneyard BBQ, Dockside Grill and Augie's on the Bay.
Raffle winners have 30 days from the time of the drawing to claim their prizes. Further inquiries can be directed to TACC representatives by calling 362-8643, or stopping in to the chamber office at 228 Newman St.
The prizes kept coming at the community center on Saturday, as this is also where the final weigh-in and awards ceremony was held for the fishing contests.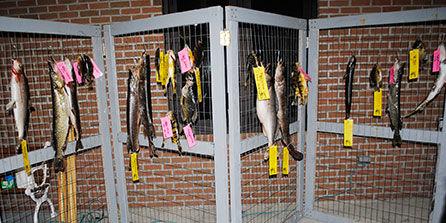 The Shanty Showdown Fishing Tournament for the adult anglers, and the Shanty Showdown Big Fish Contest, for those under 18 years of age, each kicked off at 12:01 a.m. that morning. Competitors had until 7 p.m. to check in their catches, with nearly $2,000 in cash prizes up for grabs in the adult tourney. Those who took part in the contest for the younger entrants could win a number of different goodies from Northwoods, such as tackle boxes, handheld radios and fishing essentials.
A free meal was provided during the awards ceremony, for which former Perchville King Tim Haskin served as emcee. He was joined for the celebration by Nicklyn and Nunn, who helped hand out the prizes for the finalists.
Haskin pointed out that there weren't as many tournament participants as usual, but there also wasn't as much ice as usual.
This was no problem for the avid anglers who still went out and gave it a try, as it meant less competition. For example, some of the species categories didn't bring in second or third place winners, since there may have only been one fish entered.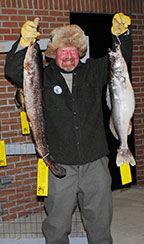 The results of the youth tournament are listed as follows:
Hunter Nelkie, perch, .6 pounds; Logun Abram, pike, 3.32 pounds; Jacob Shoendaller, pike, 3.3 pounds; Shoendaller, crappie, 1.54 pounds; and Nelkie, bluegill, .4 pounds.
The top finishers in the adult contest are listed as follows:
Rodney Klimiszewski, heaviest five perch, 4.34 pounds; Klimiszewski, biggest perch, .98 pounds; Steven Ulman, second-place perch, .96 pounds; Hernides Madragal, third-place pike, .82 pounds; Mike Cunningham, biggest walleye, 7.62 pounds; Joe Stitt, second-place walleye, 3.48 pounds; Wayne Kuzbel, biggest pike, 6.98 pounds; Robert Zacharias, second-place pike, 6.6 pounds; Greg Blust, third-place pike, 6.22 pounds; Jeff Duvall, biggest bluegill, .66 pounds; Robert Lamrock, second-place bluegill, .50 pounds; Tom Alden, third-place bluegill, .46 pounds; Cunningham, largest burbot, 6.64 pounds; and Andy Ernst, biggest whitefish, 4.42 pounds.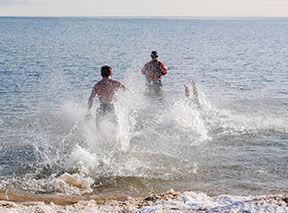 The conditions on area water bodies impacted not only the fishing tournament turnout, but also the two Perchville Polar Bear Plunges this year.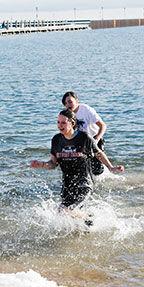 According to Pete Barnes, there were 86 people who registered this year, which is down from the typical total.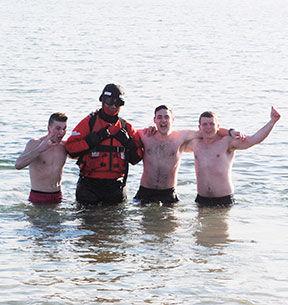 However, he noted that Perchville was held on a different weekend than usual, the location of the polar bear event was changed and, when people are driving to the area and look out on the lake, all they see is open water. So, considering these factors, it was actually a pretty good showing.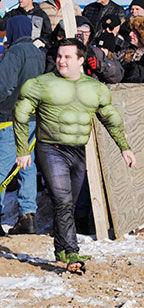 Barnes added that the first of the two plunges brought in more spectators than he has ever seen. Further, while there may have been a drop in registrants, he said he witnessed an increase in participation for a number of other Perchville events, including the cornhole tournament and barrel races.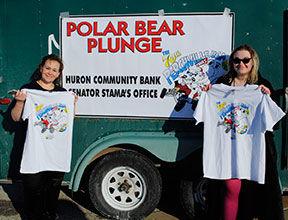 Rather than leap into the lake through a hole in the ice, per usual, plunge participants ran into the water this year. The crowd encouraged them to dive all the way under, and not take the easy route by only partially wading in.
The silly costumes and enthusiastic attitudes remained in tact among the 2020 participants, who earned a souvenir T-shirt to commemorate their bone-chilling achievement.
As if all these activities weren't enough to pack one's schedule for a few days, Perchville also included live entertainment in the Hospitality Tent by FLiPSiDE and No Baloney; a comedy show, featuring headliner Bill Hildabrandt; miscellaneous prize giveaways and raffles; a bake sale at Christ Episcopal Church; and a Teen Amazing Race.