OSCODA – The Alternative Educational Academy (AEA)of Iosco County celebrated its largest graduating class ever this year.  Thirty-three area students marked their high school completion Tuesday, June 4 at AEA Commencement exercises.
"Graduation night is the best event of our school year," said AEA Dean of Students Tina Williams. "We get to celebrate the successes of our students – the obstacles they've overcome and the hard work they did to get here."
AEA graduate Morgan S. Jackson, received this year's Mark Jackson Scholarship. She will receive $2,000 toward her first year of college, then $1,500 for each of three years following. Jackson plans to attend Alpena Community College this fall and is interested in pursuing a nursing career. 
Special recognition also went to the Tawas Area Elks for their long-standing partnership with AEA students. Consecutive grants via the Elks' National Foundation have created countless educational opportunities for AEA students over three years. Among them are twice yearly field trips, art and music classes, community service projects and Robotics team underwriting.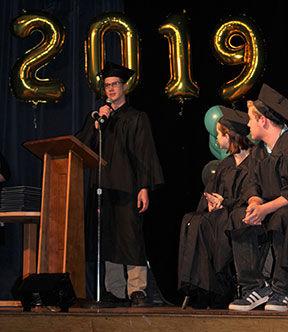 This year's 33 graduates are among 180 students, grades 6-12, who attend the academy. AEA is a Michigan public school academy serving Iosco County and its four school districts. The school offers two campuses, one in East Tawas, another in Oscoda. The commencement exercises were held at the Shoreline Players Theater in Oscoda.  
"Graduation at AEA is incredibly emotional for me and all of the people who work with the AEA students," said Andrea Balliet, school success liaison for Northeast Michigan Community Service Agency. "We work as a team with students and families to support, motivate and cheer them on.  I am so honored to be a part of all of this!"
The academy serves students who need alternatives to traditional schooling. It offers online credit options for students who work both on-site and from home. 
The AEA is authorized by the Iosco Regional Educational Service Agency, in Tawas City. The Academy's Board of Education members include the superintendents of Iosco's four local school districts – Hale, Oscoda, Tawas and Whittemore-Prescott – and Lisa Bolen, chief operating officer for NEMCSA.