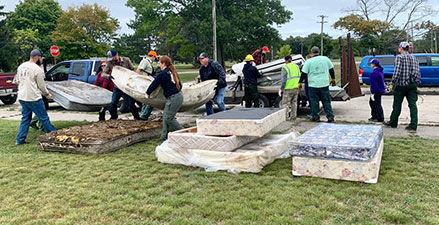 OSCODA – Community members offered some helping hands by cleaning up the Huron-Mainistee National Forest (HMNF) on National Public Lands Day (NPLD) on Saturday, Sept. 28.
According to HMNF Public Affairs Officer Briana Graham, typically on NPLD volunteers choose to tend to their public lands. To celebrate the day, the United States Forest Service (USFS) hosted a dump site clean up and invited locals to join in.
The idea to clean up the forest, however, came from two local residents who saw a need just a few months ago. Former Oscoda-AuSable Executive Director Rose Fulton said her mom was walking her dog on a trail off Rea road in early April and noticed a large dumping site that held furniture, appliances, and multiple bags of trash.

"She thought it would be a good idea if we started to clean up that section of road and put out an announcement to the community to get help with the larger items," said Fulton.
Fulton said she created a Facebook event for Saturday, April 20, inviting community members to come out and clean the forest. She said there were about three dozen community members in attendance along with P&L Development Owner Dave Langley. 
According to Fulton, Langley brought along employees and equipment to help remove the trash. On that clearing day, Fulton said community members were able to clear three large dump sites and the ditches on Rea Road between F-41 and Bissonette.
Two roll off dumpsters were filled with garbage including around 20 mattresses, according to Fulton. Recently, Fulton said she reached out to the USFS to see if they could help support them for future events. She was hoping with their support local businesses wouldn't have to accrue the cost associated with removing the trash.
USFS Representative Jesse Rowley contacted Fulton in August to plan for the Sept. 28 clean up. According to organizers there were about 40 community members in attendance and volunteers managed to pick up so much debris that another dumpster had to be ordered, according to Graham.
Fulton said volunteers split up into groups and cleaned sites at Clarks Marsh, Mead Road and Scott Road. In four hours, Fulton said volunteers filled two 20 yard dumpsters in addition to another dumpster that was ordered to house 18 mattresses that were found. 
Illegal dumping on forest service land isn't a new issue, but according to the USFS there has been a noticeable increase this year.
According to Huron Shores District Ranger Clint Emerson, the cleanup went well not also not so well.
"On the one hand, we hauled a lot of debris. On the other hand, dumping is a lot bigger problem than we all thought," said Emerson. 
He said the biggest problem isn't couches and large items, but opened bags of diapers. He explained further that an educational campaign and signage targeting illegal dumping are necessary first steps in combating the issue and support from the community is invaluable.
During the summer and part of the fall months, Oscoda and Ausable Township (AT) offer days where residents can bring their unwanted items, so they don't continue to be dumped in the forest. On Saturday, Oct. 19 at 8 a.m. to noon, AT will offer its final dumpster day of the year.
The cost is a $10 permit fee and collection will halt when the dumpsters are full. The dumpster will be located at McCuaig park off Sunset Street on Thompson Road. According to Superintendent Leisa Sutton, residents must have a permit and some form of photo identification to use the service on the day of.
Permits will be sold until Oct. 18 at the township hall. Items such as appliances, computers, carpeting remnants, mattresses, furnishings will be accepted. For more information on the final dumpster day contact AT at 739-9169.
Additionally, according to OT Executive Secretary Tammy Kline the township offers two days a year for their drop off refuse program in June and September. The cost is also $10 for a permit fee and allows carpet/padding, furniture, mattresses, computers, stoves, microwave ovens, bed springs, aluminum siding and other items.
Also, no household garbage will be accepted by either township. For more information about the drop off refuse program contact township staff at 739-7071.
Additionally, USFS employees explained that if residents see garbage in the forest they should take note of their location and call the district. They said GPS coordinates with a resident's phone is even better.
The Huron Shores district said they take note of dump sites and organize days they can get out there and clean. Having a list of sites allows them to coordinate their clean up crews. If you  come upon a dump site, call the Huron Shores district staff at 739-0728.