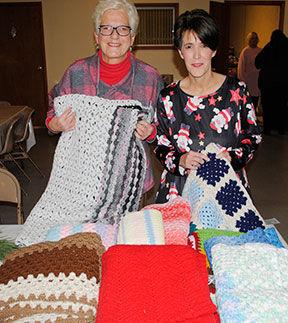 TAWAS CITY – In just two short years since their inception, the First Baptist Church Knotty Disciples Yarning Ministry has made an impact on those from all walks of life.
Whether working on projects to raise the spirits of children in foster care, assisting the homeless during the cold months or bringing a smile to military Veterans, the group has produced numerous handmade items that are both heartwarming and practical.
And, despite their busy schedules, they are seeking suggestions on additional entities which could benefit from their creations.
While the group does get a helping hand from others with some of their projects, there are just five primary members of the Knotty Disciples – who have managed to create hundreds of items in a short amount of time.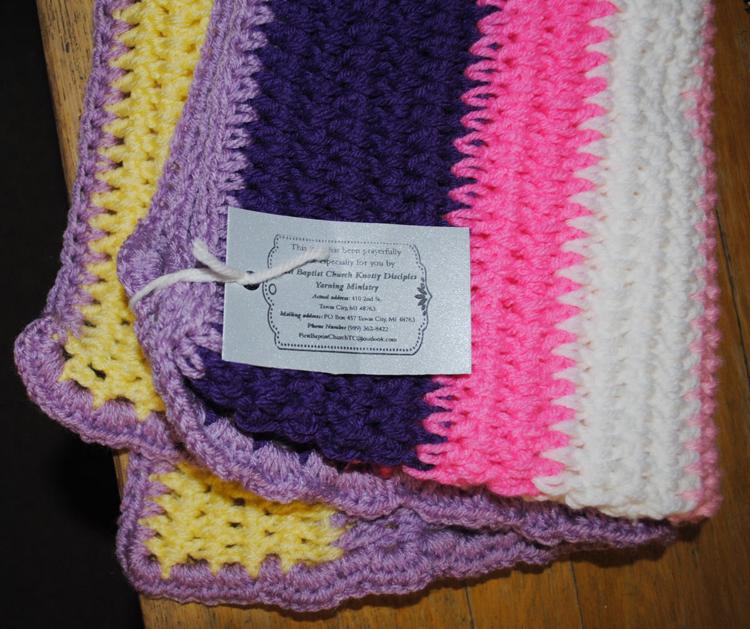 "And we're hoping to open it up to more," said Julie Everham, a Knotty Disciples member and secretary at First Baptist Church of Tawas City. "So we're not exclusive to this church. Anyone and everyone is welcome to join us, who has a heart for it."
Along with Everham, the ministry is currently comprised of Laura Poland, Sally Weaver, Mary Compeau and Debbie Holland.
Their main focus, as of late, has been creating sleeping mats for the homeless, which Weaver says measure 6-feet by 3-feet.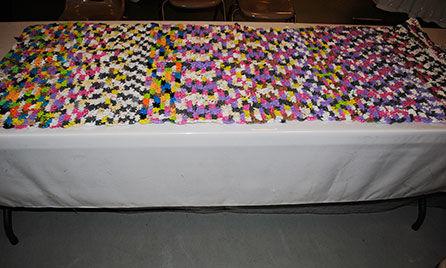 "It keeps them dry, and keeps them warm," Everham explained. "I used to work with the homeless in Denver and that's a big problem, when it's wet outside, to get them up off of the ground."
The waterproof mats will not only provide some extra comfort during inclement weather, but they are also an inventive way to repurpose hundreds of plastic shopping bags which, otherwise, would likely pile up in landfills.
"We get 10 strips out of a bag," Holland noted of the four-step process, which begins with flattening out the bags and cutting them into strips.
Known as "plarning" – crocheting with plastic yarn – the Knotty Disciples say the next step involves looping the strips to make long strands. From here, the strands are attached to one another to form a ball, and then the crocheting can begin.
Weaver pointed out that one of the balled up strips the group was working on at the time of the interview for this story weighed about five pounds, with a circumference of 42 inches.
The women guessed that this would only be enough to complete one-third of a sleeping mat, at the very most. Therefore, not only do the mats require a lot of material, but creating them is also very time-consuming.
Weaver notes that reaching a finished product depends on how much time one puts in each day.
With the Knotty Disciples meeting once a week, for two hours, Everham estimates that it takes the crew about five to six weeks to complete one mat.
Poland added that it's harder to work with plastic than it is other materials, so the hands and shoulders become more sore during the plarning process.
Everham agreed, saying the women have found that it helps to take breaks in between and work with actual yarn, due to the fatigue in their hands from dealing with only plastic.
This pans out well for the Knotty Disciples, though, as the other charitable gifts they make – such as scarves for Iosco Coats for Kids – require plenty of yarn.
As for the sleeping mats, Everham said the items can be rolled up, so the group also plans to make straps for the recipients to carry them over their shoulders.
The Knotty Disciples finished five sleeping mats in 2019, which will be given to a mission center in Hamtramck that is supported by First Baptist Church.
"We want to go down there and work with them, so we're hoping maybe we can take these when they go down with us," Everham shared of the church's youth members.
She said the Hamtramck facility has a food pantry, a clothing pantry and other offerings. So, the idea is to take the youngsters to the mission center when delivering the sleeping mats, in order to see firsthand some of the work being done there.
Everham noted that the Knotty Disciples can't take all of the credit for the creations, as it has been a community endeavor.
For instance, the group has trained others in the art of plarning. Therefore, those who want to be involved but can't make it to the weekly gatherings at the church, are currently working on sleeping mats from their homes.
Everham shared that one woman, for example, will be helping out with the effort this winter by working on some mats while visiting her sister in Florida.
She added that some of the youth members of the church help periodically, as do other parishioners, friends and family members.
While the Knotty Disciples receive many plastic bags from various supporters to be recycled for the project, local businesses have also contributed to the cause. This has included Mooney's Ben Franklin in East Tawas and Neiman's Family Market of Tawas City.
"So it's been a community effort," Everham reiterated.
She said it's also neat whenever she walks into work and sees bags which have been left by people who knew that the group was asking for them.
Weaver augmented this, saying that people have given her plastic bags while she was volunteering at the church's food pantry – which is another outreach effort in which the Knotty Disciples are involved.
On a similar note, Compeau shared that someone came in to donate bags while she, too, was helping out in the pantry. The donor asked Compeau if she could teach her how to make the mats, which she was happy to oblige.
Everham says that the idea of creating the sleeping mats for those without shelter goes back to the time she spent working with a homeless ministry in Colorado.
"I had seen these mats and I thought, what a great idea for us to be able to get involved in," she recalls.
"And it's a skill that we have, so everybody was very open to it," she said of the Knotty Disciples.
"It's an unusual way to help people that, I think, is outside of the box," Everham went on.
"We didn't really know what we were doing when we began – we had to YouTube it," she then confessed, with a laugh.
The group appears to have since mastered the process, while also contributing their time and efforts to others in need.
For example, they have handmade dozens of blankets/comforters in the last couple years for children in foster care, all of which stay in Iosco County.
Everham said the gesture is a way to at least give some comfort to a child during a situation where they are in so much turmoil.
A tag is also attached to each blanket, which reads, "This item has been prayerfully made especially for you by First Baptist Church Knotty Disciples Yarning Ministry."
Holland says if the comforters have some extra color it tends to bring a little more joy to the children, so the ministry members also keep this in mind when working on the blankets.
Weaver said the Knotty Disciples also made 44 lap blankets in 2019, for those at the Department of Veterans Affairs medical center in Saginaw. "And they're in need of more."
Everham adds that a local Veterans of Foreign Wars post auxiliary group has requested lap blankets for their members, as well.
Further, Weaver says the Knotty Disciples have made countless wash rags for the Operation Christmas Child Shoebox program, through the Samaritan's Purse organization.
The shoeboxes are filled each year during the holidays, with such items as school supplies, hygiene projects and fun toys for children living in poverty.
"For two years we've supported that," Everham said.
The Knotty Disciples also support Iosco Coats for Kids, with Weaver estimating that in 2019, alone, they knitted at least 175 scarves. Additionally, Holland made 20 hats on her own to gift the organization.
Everham said the items were distributed by Iosco Coats for Kids to such entities as the FISH Christmas Gifthouse – which helps out less fortunate, local families – and Clara Bolen Elementary in Tawas City.
"What I want is for people to come to us with their needs," said Weaver, stressing that this is the main point she wishes to get across about the Knotty Disciples.
She said there are some people who may not even realize they are in need, but who could benefit from the group.
Therefore, she wants the public to reach out to the ministry with any ideas on people who could use these types of items.
"There might be people who know of something that we don't know about," Everham added.
She said she also hopes to find some other like-minded folks who want to help out and possibly join the Knotty Disciples. Considering all that has been accomplished with their five-member group, she remarked that she can only imagine what can be done with even bigger numbers.
Fulfilling, gratifying – and fun – were just some of the words the group used to describe what they enjoy most about their work.
"And, again, we're willing to train people," Everham said, noting that the Knotty Disciples have taught others how to crochet, with those individuals then taking their skills and putting them to use to help others.
Along with their handmade items, the group also assists with the First Baptist Church food pantry and other activities.
Anyone interested in joining the Knotty Disciples may contact Holland at the church, by dialing 362-8422.
The group meets from 3:30 p.m. to 5:30 p.m. every Friday in the pastor's office of the building, which is located at 401 Second St. in Tawas City.
More details are also available on their Facebook page, which can be accessed at https://www.facebook.com/FirstBaptistChurchTawasCity.