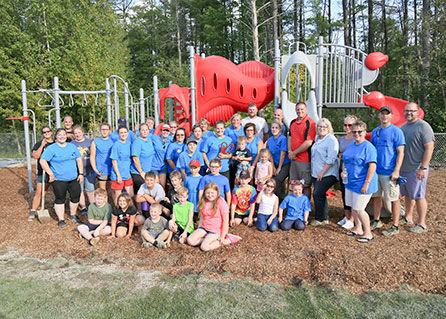 TAWAS CITY – Friends and family of those at Clara Bolen Elementary (CBE) in Tawas City gathered at the school on Sept. 21 for the long-awaited Community Playground Build Day.
As reported, it was last November when Keurig Dr Pepper and the national nonprofit KaBOOM! awarded CBE a $15,000 Let's Play Community Construction Grant to be used to build a new playground area at the school.
"The PTO gladly accepted the challenge to make this community project a reality. Fundraising efforts took off and by spring, Clara Bolen had plans for a $46,000 layout," CBE Principal Sarah Danek shared.
"Some roadblocks and grant stipulations prevented the initial build day in June from happening, but a quick reschedule for September went on the books," she said.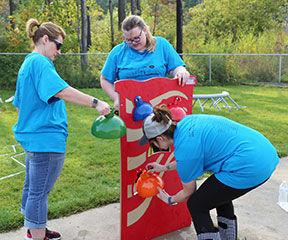 "We could not have done this without the support of our Tawas Community; from financial supporters to food donors, materials, equipment, and manpower.  It was amazing to step back for a moment and look around to see all of the hard work and effort that was going into making our student's dreams come true," Danek said of the playground build day.
"The equipment installed during this project included an ADA Swing, Balance Trax, Playscape furnished with three slides, monkey bars, and musical features, an Appalachian Summit Climber, and two Spin Cups," she continued.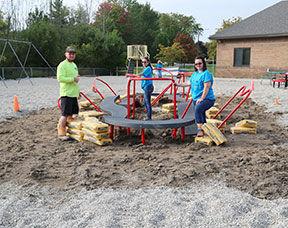 According to Danek, part of the grant requirement called for student involvement. One way of meeting this was by giving them the opportunity to participate in a T-shirt design competition.
"Entries were voted upon by members of the PTO and Violet Bell's drawing was selected. Her design was printed on our Community Build Day T-shirt which also included all of our donors on the back," Danek stated.
"I am forever grateful for the dedication and commitment shown throughout this last year from all involved," she expressed, adding that she was looking forward to the student's reactions once they were able to access the new equipment.
Those in the community have made significant contributions to the playground effort, with Danek having previously noted that letters were given to area businesses and jars were set out at a number of local establishments, which generated a lot of positive support for the project.
CBE students also worked hard to realize this goal by conducting various fundraisers, such as the Laps for Learning event in April.
As reported, the nearly 450 students at CBE all participated in Laps for Learning to raise funds for the playground enhancements.
Groups of students rotated in and out of the gym throughout the day, and each participant had 30 minutes to complete as many laps as possible. The more laps completed meant more money was brought in for the project.
Danek said at the time that she hopes this will become an annual event. While the fundraiser was focused on the playground this time around, the PTO will set new goals for years to follow.
"The students at Clara Bolen Elementary need an improved space for learning and imaginative play, outside the brick walls of our school, and for this, we are forever grateful," Danek has said of the grant and other contributions.
She advised that the former playground structures at CBE were extremely outdated and that some areas were unsafe and unusable. Furthermore, with the extensive curriculum the student population is up against, their play time is, now more than ever, limited.  
Therefore, she said the monies from the grant would assist the school in enhancing that play time by creating a more user-friendly environment in which the students can flourish.
Danek applied for the grant over three application rounds, and she learned last November that CBE was one of only 20 grant recipients from a pool of more than 200 nationwide. The school was also the only recipient from Michigan.