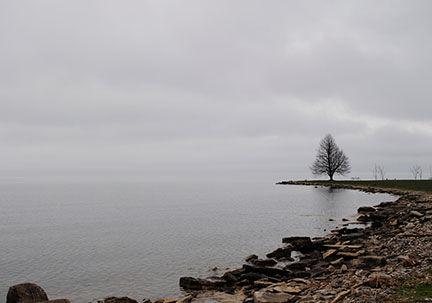 EAST TAWAS – The following is the second of a two-part story on the 2020 Lake Huron Regional Fisheries Workshop, hosted virtually by Michigan Sea Grant and other partners. The first of three such workshops in recent weeks, this session highlighted the Lake Huron Open Water Fisheries. Last week's edition of this publication focused on management updates from the Michigan Department of Natural Resources  (MDNR) – including the impacts of Coronavirus Disease 2019 (COVID-19) – as well as the status of the Lake Huron offshore fishery.
Brian Roth of the Michigan State University (MSU) Department of Fisheries and Wildlife spoke on the Lake Huron-Michigan predator diet study.
An introduction was first given by Michigan Sea Grant and MSU Extension Educator Brandon Schroeder, who also moderated the workshop. He said that, when Lake Huron changed drastically due to food web changes, it became very evident and important to gain a better understanding of how prey fish were translating into predator diets. Therefore, some past studies have now been picked up by Roth's department.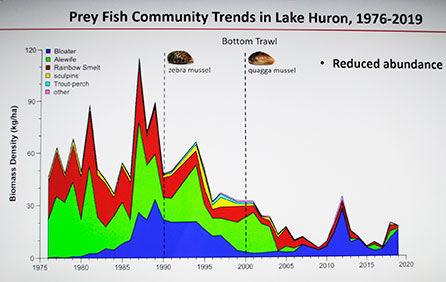 Roth said this is a substantial collaborative project which also involves those from other agencies, such as MDNR, U.S. Geological Survey (USGS), U.S. Fish and Wildlife Service (USFWS) and Michigan Sea Grant, as well as charter fishing agencies and volunteer anglers.
He explained that the goal of the project is to determine species specific diets in Lake Huron and Lake Michigan. "Lake Huron is of course split between the U.S. and Canada and, while we would like to contribute diets from the Canadian side, right now we're just focusing on the U.S. side."
He said one of the things researchers are after is seasonal trends in the diet composition of the predators in these lakes. To investigate those spatial differences, since habitat varies throughout the lake, an item to consider is how the predators are foraging in those different regions.
A lot of the diets for the study have come from anglers, but Roth says it is not known whether those actually represent the diets of all predators. The idea is that, if a person is angling, they're more than likely to catch fish that are hungry. Because of that, they might over represent, say, fish with empty stomachs or those that are foraging in a particular lake.
Therefore, one thing the department wants to do is compare the angler-caught diets to those fish that were caught in various surveys. The groups are also looking at which prey fish the predators are foraging on, as well as where they're getting their energy, be it from the water column or from the bottom of the water.
Roth noted, though, that all project field activities have been halted due to the COVID-19 crisis, and the department is in a tough spot when it comes to collecting stomachs. "And at this time, there really wasn't a lot of fishing going on because motor boats weren't allowed. Now that has resumed, so we're hoping that we're going to get a few more samples from individual fishermen."
Should project activities pick back up this summer, he says the concentration will again be on diet collection in both lakes.
"To update, we've been sampling a lot of fish," said Roth, noting that well over 1,500 diets were collected in 2017. "In 2018 we upped that to nearly 2,000 on Lake Huron and 2,500 on Lake Michigan." Stomachs are still being processed for 2019, since workers can't be in the field or analyze the diets in the lab, but so far there are more than 1,700 from Lake Huron and 1,500 from Lake Michigan.
When discussing the diet sampling summary, he said that more than 11,175 stomachs have been analyzed; some from as far back as 2012, but most from 2017-2019.
"We do have some gaps in species, space and time, and some of this may have to do with where folks are placing their effort," Roth explained. "But a lot of it also has to do with the ability to efficiently gather diets."
While displaying a graph of the summary results in 2017-2019, he said one thing to note in Lake Huron is that the diets are very diverse, depending on the species.
Another item of interest is that, independent of the year, the diets are relatively consistent. Chinook salmon, for instance, tend to really like alewives, and they may also have some smelt in their diet. Lake trout usually go for smelt and gobies, in particular, while steelhead enjoy bugs. Walleye prefer gobies and, in some years, they also tend to like yellow perch.
But Roth pointed out that, in one walleye studied, there were about 16 chinook salmon in its gut, and that skews off the sample when looking at walleye in 2019.
He added that, when compared to Lake Huron, Lake Michigan is much less diverse and pretty homogenous.
Roth also went over seasonal diet variations from 2017-2019, for all areas of the lakes combined. He said it's no surprise that the lakes differ, but how they do is not only of interest to those who attended the workshop, but also to managing agencies seeking to understand how these predators support themselves in times when there's relatively few alewives.
For chinook salmon, when considering total biomass (abundance) by date, he said that in Lake Michigan it's all alewives, all the time. However, in Lake Huron, there appears to be a lot of invertebrates consumed in April – although, there are only about four samples from April in the entire three years of the study. In samples from May through August, mainly in the northern area, chinook are primarily consuming either alewives or rainbow smelt.
For walleye, Roth said he wanted to show how the diets change through time, because it's relatively consistent and interesting. In the spring, in both 2017 and 2018, there seems to be a peak in round goby consumption. "However, that declined through time."
Roth says there is an increase in yellow perch consumption going into August, with a slight decline in September. However, it tends to be relatively high compared to early spring in 2018. "In addition, in 2018, we see a decline in round gobies but yellow perch increased, as well as rainbow smelt. And we see this increase in rainbow smelt consumption across our predator species in 2018."
As for lake trout, they follow a fairly similar seasonal trend as walleye, in that round goby are incorporated much more commonly early in the year, and then switch to rainbow smelt later.
When looking at space, Roth said the vast majority of the Lake Huron samples come from two statistical districts in the northern  part of the lake. The majority of these fish are eating a lot of alewives and rainbow smelt.
A large portion of the walleye samples are from Saginaw Bay, Roth continued. "And what we see is that walleye consume a lot of round goby in areas pretty much other than Saginaw Bay."
In the bay, though, it's a different story. Round goby don't represent nearly as high on the diet proportion, and instead are incorporated with yellow perch and invertebrates. This occurs particularly early on, when they're eating a lot of mayfly larvae.
As for the spatial diets of lake trout, Roth says that, outside of Saginaw Bay, nearly the majority of their diet is made up of round goby. This is in addition to rainbow smelt, which also make up a fairly substantial portion.
Another key aspect of the data being collected has to do with the length of prey being seen in the predator's stomachs.
Roth said that lake trout and walleye, which both eat round goby, seem to be sharing a relatively similar size of fish. However, for walleye in the early years, their prey distribution – goby – tends to peak around 60 millimeters. But later, it tends to shift a little to the 70 millimeter area.
So, before, they were eating smaller gobies than what lake trout were, according to Roth. "But later, they're actually eating gobies that are larger than what lake trout are eating. So, for whatever reason, the size distribution of these prey in lake trout and walleye diets have switched."
Prior rainbow smelt consumption studies showed that lake trout and chinook ate different sizes of smelt. "What we find now, in 2017 and 2018, is that they're both consuming the exact same size of rainbow smelt," he said.
When it comes to walleye eating yellow perch, they tended to consume a relatively broad size of this fish prior to 2017/2018, which indicated that they were feeding on multiple ages of perch. However, that age structure has now been really constrained; such that, in 2017, the size of yellow perch peaked around 50 millimeters, and in 2018 it peaked a little later.
"For most prey species, one of the things that perhaps requires a little bit further thought, is that predators seem to be feeding on a single age class of most prey species," Roth said, adding that they often share across species that one size of prey – which may indicate some limited prey availability.
He also notes that prey abundance is much lower than what it was, historically.
As for the next steps, Roth said there are many unknowns, given the COVID-19 restrictions. For one, MSU Department of Fisheries and Wildlife partners are not collecting bags, which is what the department relies on for the vast majority of its diet samples.
"And currently, we really have no way to collect stomachs – except for you," he told meeting goers. "And so, not only is my talk here about providing you an update, but I'm also here begging for your help. Even if we are allowed to travel and collect stomachs on our own, it will take some time to kind of ramp up sampling after we're able to travel again. In addition, we really do lack adequate samples for a number of species in a number of areas, in a number of seasons. We know people are fishing; however, what we're really hoping is that people will feel impelled to donate to our study."
He added that the department is happy to provide supplies and any training. For details on how to help with the Huron-Michigan diet study, there are data tags, a list of freezer drop-off sites, a video and full instructions available at MichiganSeaGrant.org/diet.
A workshop participant asked when the drop-off areas will be open for samples, as some people already have some stomachs in their freezers.
"That is fantastic, and as soon as we know when those freezers are going to open, we will post that on our Facebook page," Roth said at the time.
Lake Huron Prey Fish Survey:
Darryl Hondorp of the USGS Great Lakes Science Center also spoke, sharing what he prepared on prey fish – or forage fish – with his colleagues, Tim O'Brien and Ed Roseman.
Hondorp says the small-bodied prey fish generally don't feed on other fish, but consume small crustaceans, bugs, planktonic organisms and so on.
Among the top reasons why this particular community of fish are important, he said, is because they supply food to the salmon, trout, walleye and many other species that support recreational and commercial fisheries.
Centering his lecture on Lake Huron, Hondorp noted that the major purpose of the USGS assessments is to describe the trends, abundance and species composition of the prey fish community. The focus is on deep, offshore areas. None of the assessments cover water shallower than 30 feet, but many of the states run their own sampling programs in shallower waters.
To assess these populations, both a bottom trawl – essentially a large net dragged along the lake bed – and an integrated acoustic/mid-water trawl survey are used. The latter is similar to a fish finder, in counting the echoes of fish in the water, and is a survey conducted jointly with the USFWS.
"This is our longest-running Lake Huron survey. It started in 1976 and has been conducted just about every year from then until last year," said Hondorp, who also gave some background on how the studies have been adjusted and expanded over time.
One of his slides contained a stacked area chart depicting the biomass of offshore prey fish in the lake, and he says there has been a very large decline in the biomass since about the mid-1990s. Low points were reached again in 2009, 2015 and 2017. "The past couple of years, biomass has popped up again, but it's still at levels well below historical averages."
He said there are many factors involved in this decline and one example is that, due to the passage of Clean Air and Water Acts, there are less nutrients entering the system and the lake is becoming a little less productive. "So, it's supporting smaller numbers of fish."
Hondorp said the biggest impact on prey fish decline, though, has likely been the introduction of zebra mussels in the early 1990s, and then quagga mussels in the early 2000s. "And these invasive mussels have since invaded all parts of the lake."
While the mechanism isn't clear, ecologists think that biomass is either getting soaked up into the mussels' tissue, or these animals are siphoning off energy in the nearshore zone that would have formerly been exported to offshore areas. In other words, there's less energy and nutrients getting to the offshore food web, hence, the lower biomass of prey fish in such habitats.
Hondorp said there is currently very low species diversity, whereas prior to 2000, there were a number of different species and species groups contributing to the offshore biomass.
The species composition of fish collected in the 2019 bottom trawl shows that 87.3 percent of the biomass was a single species – bloater, which are also referred to as chubs. The next most abundant was rainbow smelt, 7.9 percent; followed by alewife, 3.6 percent; and others, 1.2 percent.
When speaking on the trends in abundance of some of these major species, he started with the non-native alewife, which entered the Great Lakes through the Welland Canal system and proliferated in all the lakes in 1950s and 1960s. "It's had a lot of negative effects on native prey fish, but it's also been the preferred prey of salmon and trout, so trends in its abundance have often been related to predation."
What's been seen throughout this major decline is that the number of yearling and older alewives crashed in about 2004, and really have since not recovered. The cause has been debated, with some thoughts being that it is either related to predation, is due to the loss of nutrients getting to the offshore, or the fact that there was a very cold winter in 2002-2003 which knocked abundance down. Hondorp notes that it's likely a combination of all of the above.
He said what's interesting with this species, is that there has been evidence of some recruitment for some young of the year (YOY) classes – those produced or born in the year in which they're surveyed. Despite some year classes, there aren't much, if any, being seen in the way of adults.
"In terms of distribution, they're really patchy," Hondorp said, showing a graph of the distribution of YOY alewife in 2019, which were caught in just a few spots throughout the lake.
He then moved on to bloater, which are a native species more common than alewives, and are distributed all over the lake. "This is the last species of a six or seven species group that used to be very abundant in deep and offshore waters," he said, adding that they prefer very cold water and don't really start to show up in the nets until well after 180 feet.
In a figure of the yearling and adult fish, it shows that they have a sort of cyclic abundance pattern. There is indication that numbers from both of the surveys are either up or trending up.
"Its dynamics seem to be driven more by its own demographics," Hondorp continued.
He said that when the population consists of a lot of older individuals, the sex ratio gets skewed toward females and the fish have a tougher time successfully reproducing. But younger populations tend to have an equal male/female sex ratio, which enables them to grow. This shifting sex ratio, in a way, allows them to track/maintain control of their own level of abundance so then it meshes with the available prey resources.
Another item possibly driving the dynamics of this fish is that the YOY, when alewife were abundant, seemed to have a negative effect on young bloater – either through competition with them or by preying on bloater larvae. But, since the alewife crash, large year classes of bloater have been seen, and there's a nice congruence between the bottom trawl and acoustics data showing that numbers are popping up and down. But, in general over the past 15 years, they're on their way up. So, Hondorp says this native fish in particular seems to be doing OK under the current lake conditions.
For rainbow smelt, he said this native species has been in the lake for a long time and is very widespread, especially the YOY. "Like alewife, they've really declined in recent years but their decline has been much more gradual."
Hondorp says this is probably more indicative of a nutrient effect, or a limitation of energy reaching offshore environments, but these fish are still fed upon by trout and salmon, so predation still could be a factor in their abundance.
As with alewife, researchers are seeing some recruitment of, or some year classes put out by these fish. But they don't seem to get through the winter, or at least the next year in the fall when they are surveyed.
As for round gobies, this non-native species is entirely benthic. Because it lives on the bottom, it's not sampled in the acoustic survey.
"As alewife have declined, it's become an important prey for a variety of predators out there," Hondorp said, showing a photo of one lake trout stomach which contained roughly 30-40 gobies.
On the other hand, it also spends a lot of time in nearshore areas, at depths shallower than those typically surveyed. So, the bottom trawl abundance series for this species has many fluctuations.
"This could be just the process of this fish boom and bust cycling as it adjusts to a new environment, or it could be indicative that some years these fish are further offshore than others," he explained.
He added that his agency is currently working on a lot of new technology to see if a better job can be done facilitating the sampling of these fish.
To summarize, Hondorp says lake conditions appear favorable for at least some native species restoration, bloaters are doing quite well and the current prey fish community is surprisingly stable.
The top predators are salmon, trout, walleye and other similar species, which are probably more dependent on littoral energy pathways. In other words, more of the energy consumed is likely coming from fish who are feeding in the nearshore area. Gobies are one example of this, because the biomass of prey fish in the offshore is less.
Lastly, the current low abundance community, with little species diversity, has been quite stable over the past several years. So, Hondorp says it looks like that's where things are going to be for a while; however, the fact that so much of that biomass is wrapped up in one species, also says the system could not be very resilient and may be vulnerable to change.
One of the workshop participants asked if Hondorp sees a recovery in the southern end of Lake Huron, ahead of the northern end.
"The southern end seems to produce a lot of older biomass; it's always been that way," he answered. It's not quite understood why, but in terms of a recovery, it's possible simply because it seems as though lake trout populations – which are becoming one of the more dominant predators – are doing a little better in the northern potion of the lake. But it would be difficult to speculate, if a recovery occurs, whether that recovery would center in the northern or southern half of the lake.
Another audience inquiry was why the studies are based on waters greater than 30 feet, if biomass is less in these deeper areas.
Hondorp said this is the area  where the agency has been asked to survey. They don't really know that the biomass is greater inside 30 feet, they just suspect that some of the energy moving into the offshore is doing so because fish are either feeding in the inshore environment on prey fish, or because some of those in the inshore eventually work their way into the offshore environment.
"As we move into a lake that looks very different from what it was historically, we are beginning to work with partners, the states, other agencies to think about how we might combine data sources for a true, lake wide abundance estimate and generate data that will allow us to do those kind of comparisons to determine how biomass changes nearshore and offshore," he added.
Hondorp was also asked if zebra mussel population has stabled.
"I haven't looked at recent data, but my guess is that abundance of both mussel species has probably reached some kind of equilibrium, but that doesn't mean that their biomass can't fluctuate dramatically from year to year," he replied.
Schroeder later added that zebra mussels are really not a player in the open water Great Lakes anymore. What is being dealt with more so, are their "bigger, badder cousin," the quagga mussel. These mussels have a competitive advantage of being able to utilize more habitat in the lakes. They don't require a hard substrate, for example, so they can bury themselves in the sand. They also have a longer siphon and can reach out farther for algae. They're a bit more tolerant of colder water and some other conditions, as well. "So, really, quagga mussels picked up where the zebra mussels took off."
When introducing USFWS representative Chris Olds, Schroeder said many people in the Lake Huron community have been a part of the conversation for a long time about cisco restoration being an opportunity to not only contribute to the prey base in the lake, but also to potentially enhance some fishing opportunities.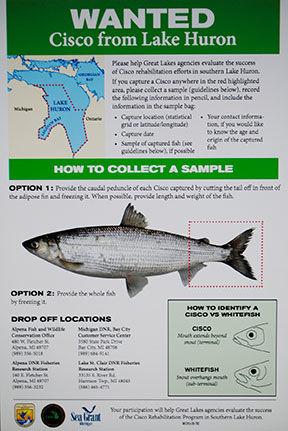 Olds says the restoration plan for cisco – previously known as lake herring – calls for an annual stocking of 1.1 million spring and fall fingerlings.
Each fish has an internal mark identifying them as a hatchery fish. They are fed with an antibiotic that binds to the bones and, after they're caught, they are put under a microscope with a special light, allowing researchers to see a ring fluoresce on the bone.
"And so what we do is, if that fish has a single ring, then we know that fish was stocked in the spring – all of our spring stocked fish get one mark," Olds explained. If released in the fall, they would have two marks because they receive two treatments of the antibiotic.
Therefore, not only can they be identified as hatchery fish, but researchers can also age the fish to identify what year it was stocked and raised in the hatchery system. "So, it's a really good way to assess the survival of either the spring life stage or the fall life stage," according to Olds.
The restoration plan also calls for the eggs to come from a Lake Huron source, so eggs were gathered from two such sources.
Olds says the objectives of the project include assessing whether cultured cisco can survive to maturity. "That's one of the big unknowns. It's not been done to this scale before." Another is to learn whether the mature cisco that are put into different stocking areas around Saginaw Bay come back to the area where they're stocked, for spawning purposes.
"We also want to be able to detect natural reproduction from the mating of cultured cisco," Olds went on. So, if they survive to maturity and come back to spawn, the USFWS wants to see if they can detect the survival of the eggs in the springtime, when they hatch.
The fish are stocked near Whitestone Point, so another objective involves value dispersal of the cisco from the stocking area. The question, then, is if these fish stay around the point or if they travel to other areas.
For 2019 activity, Olds reports that just shy of 691,000 fall fingerlings were stocked over a four-night period in October. When combining the fall stocking with the spring event, the total number of cisco going into Saginaw Bay was about 1.15 million, which Olds says is a very successful year.
He noted that 2019 was the second successful production year, and the USFWS is moving into year three of the effort in 2020.
"So now I want to just highlight some of the post stocking activities, and this is where you as the anglers and commercial fishermen really can play a role in helping us assess the success of this cisco stocking and rehabilitation back into southern Lake Huron," Olds shared.
He says researchers have already been able to see some limited success in the stocking events, through commercial bait fishermen who capture cisco around Tawas and AuGres, which he called a really encouraging sign.
He said the hope is that anglers who capture cisco in southern Lake Huron will help with the restoration efforts studies by providing either the whole fish, or just the caudal peduncle of each cisco.
"Not only are we asking anglers and commercial fishermen to assist, but we also have a lot of the management agencies that are going to be conducting surveys that will also aid in evaluating some of the objectives that we have identified," Olds said, sharing a brief overview of some of the work planned for this year.
He said there are a lot of fantastic efforts going on in Saginaw Bay, and that the USFWS is very excited about the program and seeing how these fish help benefit the Saginaw Bay fish community going into the future.
When asked by a workshop goer what eats cisco, Olds said they are a native prey species in Lake Huron so a lot of the top level predators, including lake trout and burbot species, prey on cisco.
Schroeder added that people will eat cisco, as well.