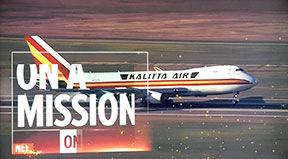 YPSILANTI – A Boeing 747 owned by Kalitta Air was used in the evacuation effort of U.S. Citizens and others from China, as the deadly Novel Coronavirus spread through that country, according to officials from the U.S. Department of State.
The 2019 Novel Coronavirus (2019-nCoV) is a virus (more specifically, a coronavirus) identified as the cause of the outbreak of respiratory illness first detected in Wuhan, China.
According to various news reports, the cargo aircraft, which has been used by the U.S. Government for various cargo transport operations, was retrofitted with passenger seats and other accommodations for the three flights from China.
Reports from dozens of news outlets showed the aircraft, complete with the Kalitta Air logo, making the flights.
Company officials with Kalitta declined to comment on the activities and directed all inquiries to the U.S. Department of State.
A Department of State official said in an email to the Oscoda Press that on Feb. 4, two additional evacuation flights departed Wuhan, China (the epicenter of the coronavirus outbreak) en route to the United States, following an initial evacuation flight on Jan. 29.Together, these three flights accommodated over 500 passengers.
"All travelers were screened for symptoms at the airport prior to departure, and will be subject to Centers for Disease Control (CDC) screening, health observation, and monitoring requirements," the official said. 
According to the official, the first flight on Jan. 29, accommodated approximate 200 passengers. The two flights, which departed on Feb. 4, accommodated a total of approximately 350 passengers. The majority of travelers on every flight were U.S. citizens, he said.
As far as containing the virus in the United States, the department has limited air travel to foreign nationals who may have traveled to China. Last week the official said that all flights with travelers who have been in mainland China within the last 14 days will arrive at a select number of designated ports of entry.
According to a report in Crain's Detroit Business, 91 cases of coronavirus have been confirmed outside of mainland China, including five in the U.S. 
"The Centers for Disease Control and Prevention has investigated 165 potential cases in 36 states, including four in Southeast Michigan. Three potential cases from Macomb and Washtenaw counties tested negative while a fourth specimen was sent to the CDC," according to the report.
According to a Monday report by CNN, thousands are infected in China, with hundreds of deaths attributed to the virus.