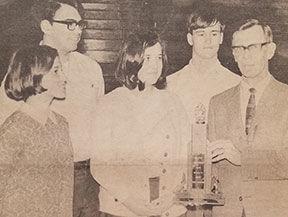 OSCODA – As is tradition the Iosco County News-Herald and Oscoda Press takes an annual look at what news stories were impacting the community 50 years ago. This year we take a look back at the happenings of 1969, in a two-part feature, with the first featuring front-page headlines from January through June of that year.
January
Iosco County's first baby for 1969, Amy Marie Ellwein, was b was born to Mr. And Mrs. Milton Ellwein of Oscoda. Amy weighed six pounds, 12 ounces and was born Jan. 1.
The Army Corps of Engineers announced that Lake Huron's level was approaching average at 578.4 feet above sea level, and was to go down two tenths of a foot before the end of winter.
A severe winter, with many feet of snow, made for a emergency situation for the area's deer and the Michigan Department of Natural Resources acquired surplus corn for residents to feed deer to avoid a loss of population from starvation.
The Tawas St. Joseph Hospital announced plans for an $800,000 expansion of the facility.
February
A snowmobile rally held by the Oscoda Lions Club was deemed successful, drawing in 53 competitors. It featured everything from a jumping contest to races for different classes 
Marge Schaaf of East Tawas raced to four first place finishes, a second place and third to take over all honors in the two-day rally.
The Tawas Ara Industrial Park moved closer to reality with a land swap. The land for the new park, located off Aulerich Road in Baldwin Township was made possible with the purchase and exchange of lands in Muskegon. The land, nearly 100 acres, was exchanged with the U.S. Forest Service.
Three were injured in snowmobile accidents over the weekend of Feb. 12.
March
The first automobile fatalities of 1969 were recorded in early march after an Oscoda crash claimed the lives of an Oscoda resident Marilyn O'Farrell and Tawas City resident Peter Liechty. The crashes occurred four miles south of Oscoda on US-23.
The Oscoda High School's 1969 debate team took first place in Class B state championship debate. 
The Iosco County Board of Supervisors held a meeting to ask area funeral directors to continue providing ambulance service in the county. Funeral directors were getting out of the practice because of increased regulations. At the time the county was investigating a sheriff department-run service for the county.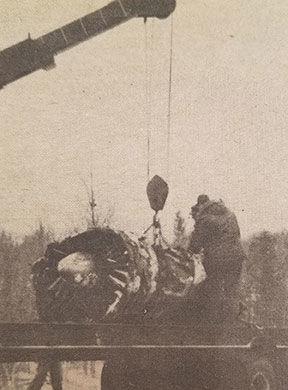 A United States Air Force crew on a training flight with a B-52, made an emergency landing in Osocda after losing two of its engines from the aircraft, and an aditional two more shutting down. No one was injured in the emergency landing from the flight, which originated from the base.
According to a report, one of the engine pods dropped off the aircraft into Foote Pond and the aircraft was forced to fly until a large amount of its fuel was burned to facilitate a safe landing. A second dropped near Whittemore.
April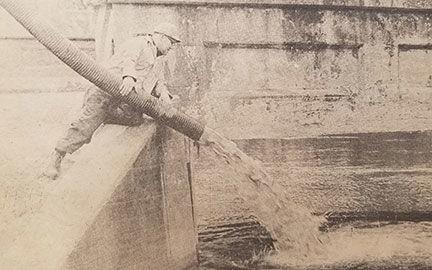 Iosco County's streams were being planted with an abundance of salmon, including the Tawas River, which received 60,000 salmon smolted yearlings. According to the report, 200,000 salmon were to be planted in the Tawas area with 100,000 in the Oscoda area.
Picketing was taking place in the Tawases due to a statewide worker strike against Consumers Energy after contract negotiations broke down in Jackson.
A highway department survey was completed in AuSable Township in preparation of building a new bridge on US-23 over the AuSable River.
The Iosco County Board of Supervisors worked to establish a local governmental ambulance service, reluctantly, after the county's funeral directors affirmed they would no longer provide the service in the county beginning June 1.
May 
A father and daughter were severely burned after a camper fire near Lumberman's Monument. The pair survived the fire, however, and were transported to the Tawas St. Joseph Hospital.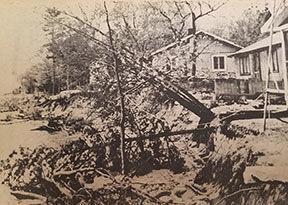 Students conducted a cleanup of the AuSable River was conducted over two weekends by a group of fourth, fifth and sixth grade students from the Blue Horizons Project. According to the project, seven truck loads of refuse were cleaned from the river, of which about 65 percent were beverage cans. Other items picked from the river included a truck chassis and body.
A 55 gallon drum of sea lamprey killing poison was stolen from a Michigan DNR site in Tawas City, but was later recovered in the woods by workers with the Iosco County Road Commission and then returned to the Iosco Count sheriff Department. 
June
An operating millage request by Oscoda Schools failed at the polls, failing three to one at the poles. 
East Tawas officials stepped up to the plate to purchase two ambulance units that would service the southern half of Iosco County. The council voted to apply for a $7,000 grant, which would cover half the cost of two ambulance for the new service.
Two Ann Arbor men won the 16th annual Tawas River Canoe Race. The winning team was John Baker and Richard Kuski.
Due to a lack of funding that year, the 22nd AuSable River Canoe Race, known now as the AuSable River International Canoe Marathon, was canceled.
The Third highway death of the year was reported after Harold Katterman of Tawas City smashed his dump truck into the rear of another truck in Tawas City.
1969 product prices
An Iosco County grocery store was offering ice cream on sale at 50 cents a half gallon, angel food cake, 49 cents a slab, Hills Bros Coffee, $1.89 for a three pound can and bananas for 10 cents a pound. 
A local automobile dealership was advertising 1969 Chevrolet Impala Custom Coupes, equipped with powerglide, power steering, power brakes and a set of whitewall tires with hubcaps $3,150.
A cable television service was being offered for an installation fee of $19. The service, under General Television of Michigan, offered "five channels for your viewing pleasure."
At the movies
In the first half of 1969 "Bullitt" starring Steve McQueen, appeared in theaters, giving movie goers one of the best car chase sequences in movie history.
Also showing the spring of 1969 were "Pinocchio," "Dr. Dolittle," "It Takes Two to Skidoo" and "The Night They Raided Minsky's."
Other notable movies were Charlton Heston in "Planet of the Apes" and Sharon Tate in "Valley of the Dolls."