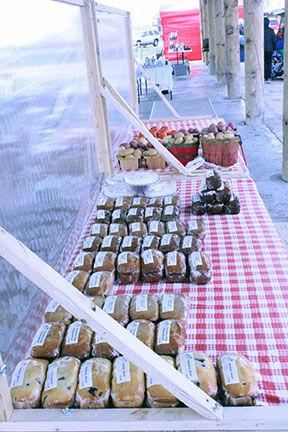 AUSABLE Twp. – The Northeast Michigan Regional Farm Market (NMRFM) kicked off their season in Tawas City on Saturday, May 9, and in AuSable Township on Wednesday, May 13.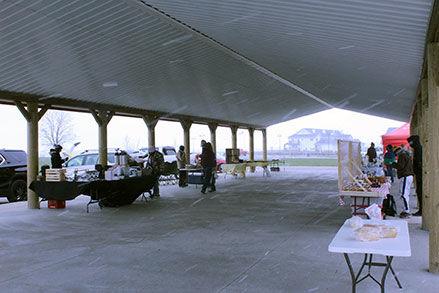 The first market day of the season was met with blustery snow and cold temperatures; however, that didn't keep vendors and customers away. From the morning until mid-afternoon vendors gathered at Gateway Park masked up and six feet apart to sell their goods including honey, jams, maple syrup, eggs, a few fruits and vegetables, hot meals of breakfast burritos and gyros, decadent desserts and freshly baked bread amongst other items.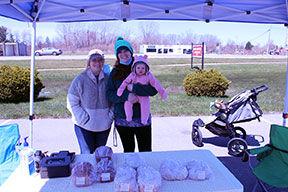 Bundled up, vendors grinned from ear to ear under their masks with each customer that walked by or purchased a product. With the new restrictions in place, its easy to wonder how vendors feel about the circumstances. Home Baker Jane Johnson said overall she didn't see much of a difference in the flow of customers, but stressed she was being much more cognizant of cleanliness.
"Well, so far it hasn't really been that different. I mean obviously we're being extra careful with sanitizer and after every time we deal with a customer we sanitize our hands and kinda stay a little bit farther from people, but so far I haven't really came across anything too drastic," said Johnson.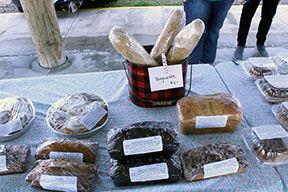 She has been attending both the Tawas City and AuSable markets for the last three and half years selling homemade pies, breads and other rich desserts. Additionally, a returning vendor was overjoyed to see so many familiar faces even in the challenging circumstances. 
I was happy to see people come down here today," said Owens. 
Amanda Owens, Owner of Owens Custom Catering, LLC said that the pandemic has made things challenging for her catering business, but she's grateful and remaining positive. 
"I stay up for the 40 hours leading up to this day, cook my little heart out, so it is all fresh and I figured if nobody shows up at market I've got a lot of people that I can drop it off on their doorstep," said Owens.
This is Owens' second year at the market. She said she likes to cook up a variety of  hot breakfast and lunch meals week to week. She also specializes in mini cheesecakes with flavors like chocolate raspberry, white chocolate almond and matcha.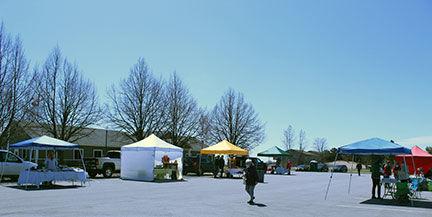 In a strange turn of events, the NMRFM opening Day in AuSable Township was starkly different than the snow flurries experienced on Saturday. Although it was a bit chilly in the morning hours, it proved to be a bright and sunny day allowing customers to purchase foods like baked goods, honey, syrup, jams and jellies, meats, dog bones and freshly baked bread along with some necessary products like soap and dryer balls, laundry detergent and  body butters. 
Vendors appeared joyful and thankful for the sunny day and the patrons who took the time to visit the market. 
"When we're in full swing of course there's a lot more, but really for a first day and I thought we've done quite well. All vendors seem happy with their sale," said Market Master Irene Palmer. 
As expected, vendors attend multiple markets to sell their products, a few that attend both markets include Sunrise Loaves, Johnson, Wandering Winds Farm and Leeseberg Farms among others. 
Although the circumstances are pretty unusual this year, that didn't keep veteran vendors or even newbies from attending the market. Bakers Abigail Hughes and Becca Smith of Sunrise Loaves said this kicks off the first year that they are attending the markets to sell their fresh baked bread and that they sold out of their bread on Saturday which left them pleasantly surprised. 
Another new vendor to the AuSable market is Carmen Nasello of Sunrise Soapworks who is recently somewhat retired and wanted to share her soaps, body butters and lotions with the community. 
"Right now with all the hand washing homemade soap is much gentler on your skin than commercial soap," said Nasello.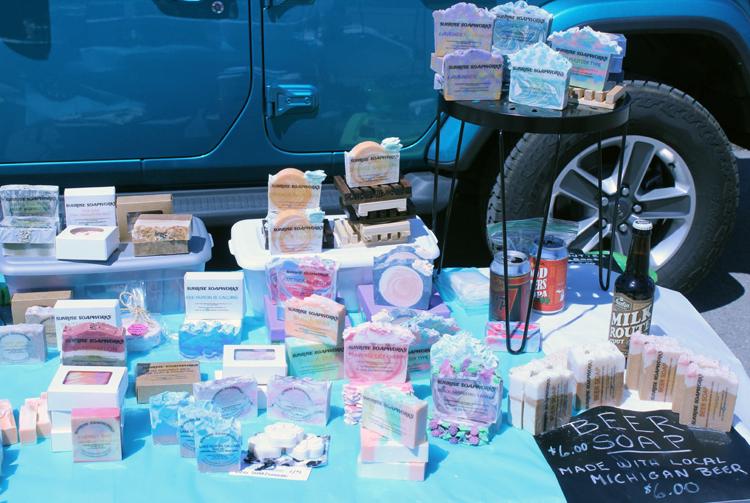 Nasello said she began crafting soaps in September and had plans to bring her products into local stores. With the pandemic and stay-at-home order in full effect, she decided instead to sell them at the market. 
Nasello said she crafts soaps that include simple ingredients like essential oils as well as more  luxury soaps with different butters, goat milk and silk. She also produces a more unusual soap that she named beer soap which includes local beers from the Austin Brothers like Milk Route Stout and Raspberry Vanilla as a ingredient.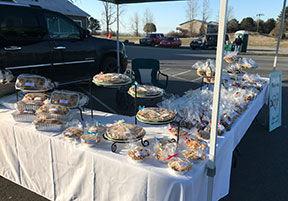 A few veteran vendors were in attendance as well including Made With Love and Leeseberg Farms. Made With Love Owners Lori Keathley and Pam Clute said being that they work at Iosco Regional Educational Service Agency, in these unusual circumstances they were able to be at the market for opening day with schools being closed across the state.
"We love our people. This is great for me right now being social," said Keathley.
Keathley said the duo prides themselves on selling everything baked fresh. Typically the duo have three to four tables of baked goods and they sell out completely week after week. 
"We've got wonderful people," said Keathley.
Another veteran vendor who has managed to have repeated customers year after year is Gary and  Cindy Leeseberg of Mikado with Leeseberg Farms. The duo sell some of the rarest products that the market offers from homemade laundry detergent and wool dryer balls to dog bones and grass and grain fed farm raised Angus beef.  
"We raise everything ourselves," said Gary. 
With the shortage of meat due to the pandemic, the Leeseberg's encourage locals to contact them if they are looking for something specific. According to Cindy there is no steak available until the end of May with the exception of flank steak. Those wishing to pick up meat from the market or curbside at their farm are encouraged to call 335-0904. 
"They can call ahead, place an order and we'll have it waiting for them," said Cindy. 
The duo also said that if customers are looker for a specific meat, they are encouraged to call earlier rather than later. They said they can't guarantee they will have what the customer is looking for in stock right away and the customer may have to wait a few additional days. Additionally, they sell Pure Michigan Maple Syrup for their friends the Miller Brothers from Mio. 
As previously reported, NMRFM Chair Stephanie Wentworth and the market board had to come together to decide whether or not to have the market this year and what precautions and rules needed to be put in place. As previously mentioned, Wentworth said she required all vendors and patrons to where face masks, place themselves at six feet apart, not to allow sampling of any kind and required that money and food are handled by different individuals. 
Although operation was under different circumstances, Wentworth said she felt that both openings went very well and for the most part locals have been adhering to the rules in place. 
"Most people are quite awake and aware and understand the reasons that these rules are in effect," said Wentworth. 
With this in mind she said that there will be changes to come, but at this time the requirements will remain in effect. 
"We'll be monitoring the situation really day by day as new things come out. We'll be evaluating whether or not it applies to us and attempt to put it all together so it works for the customer, so it works for the vendor and so that it works for the safety of everybody," said Wentworth. "We hope people keep coming to the market and we expect to have more and more vendors as the weather improves and the crops come in and we'll just have to monitor week by week and see what's going on and hopefully it will all be good news," said Wentworth.
The NMRFM runs from May to October on Wednesday at Shoreline Park in AuSable Township on Wednesday at Saturday at Gateway Park in Tawas City from 8 a.m. to 1 p.m.