TAWAS CITY – MediLodge of Tawas City was recently the venue for a milestone birthday celebration, as loved ones gathered together Sept. 9 to honor Lela (Hardt) Buckler's 100 years of life.
She enjoyed her birthday fête alongside family and friends, as well as those from MediLodge, where she is a resident.
Well-wishers included her children, Raymond (Claudette) Buckler of Saginaw, Robert (Susan) Buckler of Tawas City and Carol (Andrew) Olay of Otisville. Also joining the celebration were several of Buckler's grandchildren and great grandchildren.
Her family shared the following information about her journeys over the past century.
Buckler was born in Melbeda, Neb. in 1919 and, when she was 3, her father became employed by the Saginaw Foundry.
Buckler, her father, mother and two older siblings traveled by automobile to Michigan. As they traveled, they would stop and camp during the night and have lunch under a shaded tree by the side of the road, her family shared.
Upon graduating from Saginaw High, Buckler attended cosmetology school. She worked for several years as a beautician in the Saginaw area, prior to her marriage and starting her family. 
Those years set the precedence for her life of never leaving her home without it being spotless and herself 'dressed and done,' her loved ones recall.
Buckler and her sisters – and later her daughter – enjoyed many shopping adventures and luncheons at the department stores in downtown Saginaw.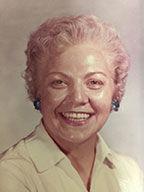 Buckler married Raymond Buckler on June 14, 1941, in Saginaw. She intentionally planned the wedding on Flag Day, and she often reminds her family of that fact. They note that Buckler is a proud American and loves that she lives in the greatest country on Earth.
Buckler and Raymond shared 66 beautiful years as husband and wife, until Ray passed away in 2008 at the age of 90. During those years, family say they made many wonderful memories and passed the importance of family onto their children and grandchildren.
Once Buckler's children were all  of school age, she went to work as a cook supervisor for the Buena Vista School District, overseeing the kitchens of several elementary and middle schools. She worked there for a number of years, before retiring at the age of 62.
Buckler told her family at the time of her retirement that many of the staff would take a lump sum for their pension, but she made the choice of taking monthly payments and retaining her health insurance. Thirty-eight years later, her family says it is obvious she made the right choice.
Upon retiring, Buckler joined Raymond as a member of Twin Oaks Golf Club in Freeland where they enjoyed the sport together, as well as individually on golf leagues. Further, she and Raymond made several trips to Florida, Texas and to the western states. She also had more free time to devote to her grandchildren, who are the loves of her life.
Buckler loved to play cards  and, in true Michigander fashion, Euchre was her favorite game.
She was still playing – and winning – into her mid-90's, her family said. Of all the shared moments the grandchildren and great grandchildren have with Buckler, they note that the card playing is the first to come to mind. Every holiday and get together ended with the cards on the table.
Lela is the last surviving sibling of both the Hardt and Buckler families.