To this day, the smell of a fresh cheese pizza coming out of the oven is enough to make Doug Schmidt's mouth water. He also admits that he still has a strong sweet tooth. But when those cravings hit, you won't find Schmidt in any candy aisle or pulling into the drive-thru of a fast food chain. Instead, he reaches for some fresh veggies, fruit or nuts.
That's because Schmidt, the health and wellness coordinator and an enrichment teacher at Victor Central School District, follows a whole-food, plant-based diet. This includes no oils, dairy or added sugar.
"Because of those three things, that's hard for almost anybody," Schmidt says.
Schmidt doesn't hesitate to recall the catalyst for his strict diet; it's kind of hard to forget, actually. At age 48, Schmidt had a heart attack. After recovering, he researched new diets, listened to experts and changed the way he approached his diet, health and wellness.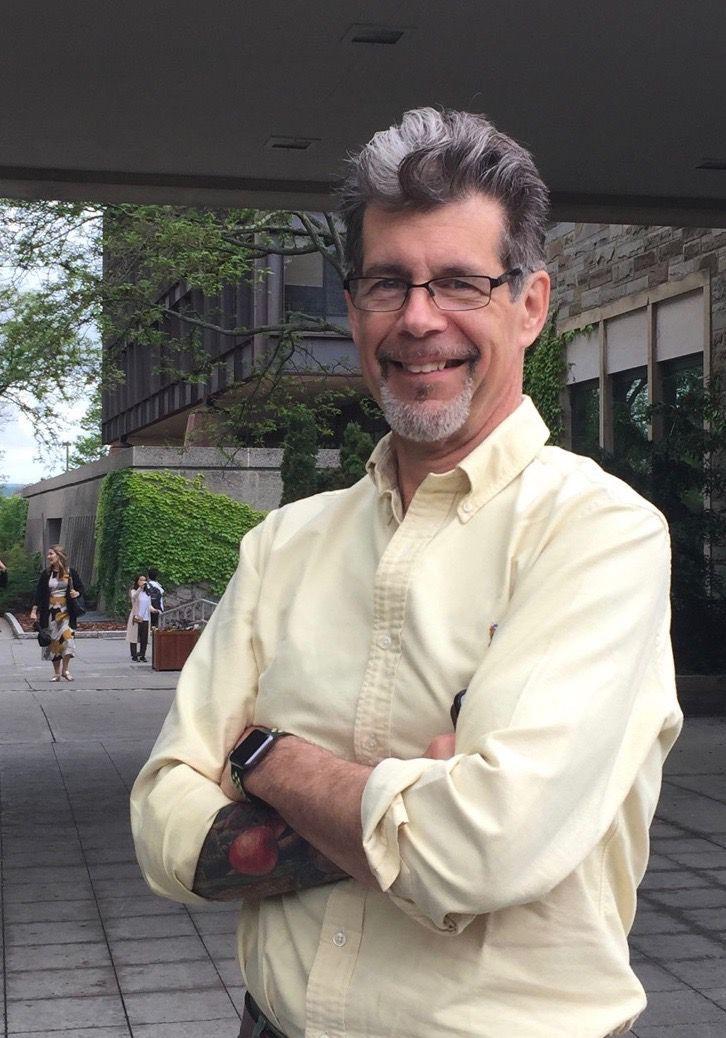 "Because of that, nine years later, I'm off of all medication, not even a daily aspirin, and I just finished my first full marathon," Schmidt says.
He also lost about 60 pounds, and his total cholesterol is roughly 120.
"I've never felt better," he says.
After seeing the success of the diet, Schmidt educated others about it at Victor in the form of a 10-day challenge, where participants followed the plant-based diet. Now, Schmidt has teamed up with Rick Amundson, health and wellness consultant for Smola Consulting, to showcase the challenge on a wider scale.
The Finger Lakes Area School Health Plan, which includes Victor, is a consortium made up of 36 schools and one college. As Amundson explains, each of the 37 different entities in the consortium will have five people participate in the challenge. Amundson and Schmidt recommend that at least each district's wellness coordinator, the superintendent of schools and three other officials of the district's choosing take part in the challenge to see these benefits firsthand.
"There's so much research-based evidence out there that this is a way people should be eating and incorporating the principles into their lives," Amundson says. "If everybody does what they're supposed to do, then we'll have 37-times-five people participating in this 10-day pilot."
Embrace the Benefits
Like Schmidt, Alison Guesno's husband had a heart attack at a young age. To make matters worse, by the time he was 36 years old he couldn't tolerate any drugs because of adverse side effects. With a history of high cholesterol in his family, one of his few options was to turn to a plant-based diet.
"People are realizing that if you can do the diet then it can reverse heart disease in people," says Guesno, head of the physical education department and coordinator for the wellness committee at York Central School District. "It is removing plaque from arteries, and I think that's why we're really trying to open everybody's eyes to the alternative."
Guesno and her family now follow the plant-based diet. While the benefits have been substantial for her husband, Guesno says it was a difficult adjustment at first because of how accustomed everyone was to the Western diet, which typically includes meat, fried foods and added sugar. Guesno recommends to start slowly, first by eliminating something such as dairy from your regular diet, and then moving on and gradually subtracting more foods until you are living a fully plant-based diet.
"People always say the diet is tough — it is — but if you can stick with it, then everyone says pretty much the same thing: You have that clarity, the ability to sleep better, ability to lose weight," she says.
Schmidt says the plant-based diet is scientifically proven to cure most chronic diseases, including heart disease, as well as reduce inflammation. Plants also have natural blood-thinners, which help to lower blood pressure.
"That's why I don't have to take an aspirin anymore, or a blood-thinner, because eating a plant-based diet or leading a plant-based life also helps to reduce blood sugar and blood pressure in these individuals — all things you see in chronic disease," Schmidt says.
Challenge Accepted
As a New Year's resolution of sorts, the 10-day plant-based diet is scheduled to commence in early January. The challenge is inspired by the book, "Engine 2 Seven Day Rescue Diet" by Rip Esselstyn. But before participants change their lifestyles, they will first assess where they are in terms of health and wellness with help from Wegmans Food Markets.
Wegmans has teamed up in the initiative to not only provide information about the benefits of the plant-based food diet and healthy produce, but also to give screenings before and after the challenge for participants.
"We feel that there's good information that can be rendered by having a health screening," says Brian Pompo, pharmacy business relations for Wegmans. "A health screening allows you to know your numbers, which is very important, and that allows you to know which direction you need to go in."
Pompo says that during these screenings, a technician will provide blood pressure readings, BMI assessment and a glucose and cholesterol reading. Once those are accumulated, the data is sent to the pharmacist who then conducts a one-on-one counsel with the participant and goes over possible strategies for them to hit the numbers necessary.
"Oftentimes, when people have elevated numbers, it comes down to exercise and what we eat, and in this particular case, we know that eating fruits and vegetables helps to lower blood pressure, typically causes a lowering of the cholesterol, and often helps people lose weight," Pompo says.
Wegmans is also a major proponent of the "Strive for 5," which emphasizes the importance of getting the recommended five cups of fruits and vegetables a day. That can help lower blood pressure by eight to 14 points. Many are also naturally low in calories, saturated fat and sodium.
"If we can support this initiative in a way that helps people do that, then we feel it's good for the community," he says.
Schmidt says that after some people complete the 10-day challenge they go back to eating the way they had previously and notice they don't feel as well. Part of that is because people that typically stick to a Western diet become acclimated to eating foods that are high in fat, sugar and dairy. But Schmidt says by sticking with the diet, people will feel better and notice the positives almost immediately.
"That's what we always say: It's only 10 days," Schmidt says. "See what true nutrition can do for you."