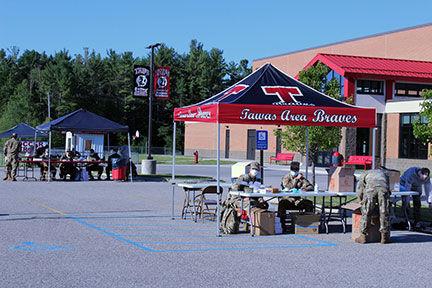 TAWAS CITY – Members of the Michigan National Guard, along with staff from District Health Department No. 2 (DHD2), partnered Friday to provide free COVID-19 testing in both Tawas City and West Branch.
The event in Iosco County took part in the parking lot of Tawas Area High School and was provided free to anyone who wished to get a test. Previously tests were only available to those who had symptoms of the virus.
DHD2 Health Office Denise Bryan said the testing was funded through the Federal Emergency Management Agency, which has been doing similar programs in other parts of the state.
Bryan is also the health officer for District Health Department No. 4, and said the National Guard and staff from that health department did a two-day testing program on May 30-31 in Mackinaw City.
"The state made the National Guard available to all the state of Michigan, to align with the governor's desire to test for COVID-19," Bryan said.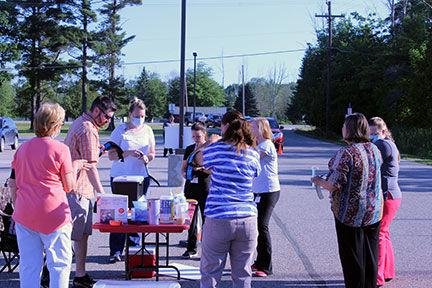 There was 15 National Guard members, as well as 10 staff from DHD2 at the event to help with the testing.
Over the months since the virus' outbreak, there has been trouble acquiring tests for many, from shortages in tests, to restrictions on who can get tested.
During that she said they were able to test nearly 500 individuals for the virus. She said during the testing there was not a single positive test that came through.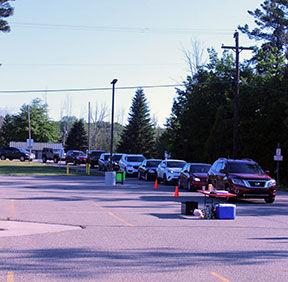 Those tested during the drive did not have contact with the staff. She said typically a person drives up, they are given a welcome packet through their car window.
"They read information in their cars, they are told not to roll down their car's window," she said. "They press their driver's license against the window and we fill out the forms, we give them the information sheets and everything is then put on the car's windshield wiper." 
As far as when this type of testing can be conducted again, Bryan said that Michigan no longer will have the National Guard helping with COVID-19 in the coming weeks, but said DHD2 wants to continue with periodic testing programs.
"This is a one-time thing with the National Guard," she said. "But there is another company that likes to work with rural counties, so we're exploring whether we can work out a contract with them. 
Bryan said she thinks that it is very important for periodic testing of individuals for the disease to help mitigate its spread, especially in the summer months when people are traveling more.
"It was a great opportunity for our residents to get tested and if they wanted to know," she said. "I think that it is good data for the health department. I think a lot of people are curious if its here, or incubating, so it's a good tool."