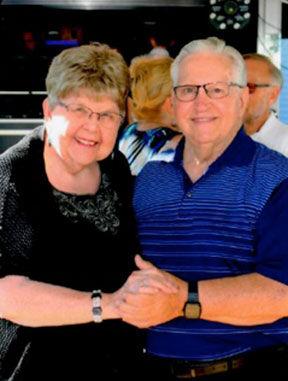 HALE – Hobby and Helen Hobson are celebrating their 70th wedding anniversary today (Wednesday).
The Hobsons were married Feb. 24, 1951 at North Baptist Church in Flint and are celebrating seven decades of happiness and 25,550 days of memories.  
They have three loving children, Carol, Gary and Debbie, nine grandchildren and 17 great grandchildren.
Their faith, and focus on family and friends, shines through everything they say and do. They retired in 1994 and moved to Bass Lake in Hale. They have been members of Hale United Methodist Church for over 25 years and are very active at the Hale Senior Citizen Center, American Legion, VFW, Shriners, Lion's Club, Eagles and more.
Hobby served in the Army during the Korean War from 1951 to 1953 then returned home to Flint.  He started Hobson Electric which he owned for over 20 years, prior working in Skilled Trades at GM for 23 at Fisher Body-Coldwater Rd. 
Helen focused on supporting, loving and serving her family and friends while managing the family business. She was, and still is, an unofficial Hallmark greeting card ambassador. Everyone who knows her has been blessed by her special cards.
A family celebration is planned for this summer.