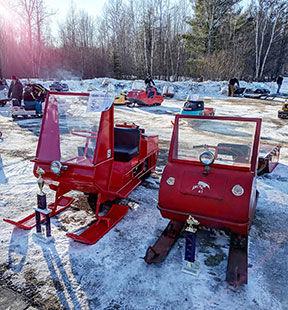 HALE – Fifteen years, 17 trophies awarded, 115 machines on display and a large spectator turnout. It was all about the numbers this past Saturday during the Hale Antique, Vintage and Classic Snowmobile Show and Swap.
Although COVID-19 constraints led to a venue change shortly before the event, fans and participants remained steadfast in ensuring another successful show. The 2021 exhibit was only 10 sleds shy of the count the prior year.
With the current restrictions being mandated for indoor gatherings, the show could not be held at its usual location, American Legion Post 422 of Hale.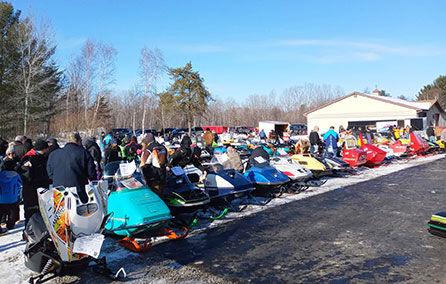 But, luckily for snowmobile enthusiasts, their passion is meant to be enjoyed outdoors. So, local resident and show coordinator, Greg Eno, offered to host the activities on his own property – which proved to be a seamless transition.
Aside from the surroundings being different, the show's 15th rendition on Jan. 9 still brought the same wintertime fun as always.
To accommodate those who attended the free, public event, there was a food truck and restrooms available, along with plenty of entertainment – such as the always amusing children's Kitty Kat Race, which is just as engaging for onlookers as it is for the racers themselves.
With temperatures staying under 30 degrees for the duration of the event, ample sunshine and an on-site bonfire made the cold virtually unnoticeable.
The annual affair also added a new class to its display lineup, allowing more options for registrants and greater viewing variety for the crowd. Along with participants showcasing their antique snowmobiles, dated 1968 or earlier, and vintage sleds from 1969-1980, the 2021 event was the first time that classic machines – those made between 1981 and 1999 – were featured.
Regardless of the category, all of the sled presenters were well-prepared to impress guests with their distinct displays. This included returning registrant Mark Kopfman, South Branch, who brought a 1977 Arctic Cat Panther 4000. In tow with the machine was a 1973-74 vintage Arctic Cat Kitchen Cutter, outfitted with a propane-powered grill, range and everything one would need for a treat while out on the trails.
It wasn't just for show, either, as the portable kitchen is fully functional. In fact, Kopfman shared that he would be using the grill the following day, when he took part in the AuSable Valley Vintage Snowmobile Ride and Hot Dog Roast.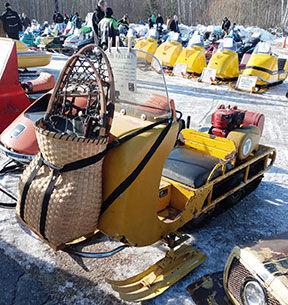 As for the event in Hale, Kopfman was among those who remarked that the Eno property was a great venue for the activities. And, even with a large turnout, he said that everyone appeared to be following pandemic protocols and maintaining a safe social distance.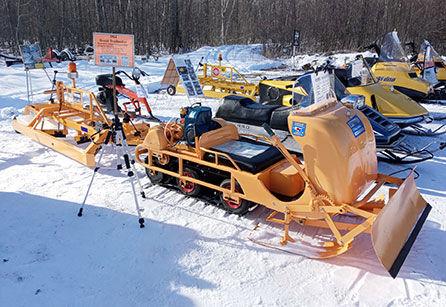 Other standout sleds included the numerous, 1960s-era Ski-Doo Bombardier snowmobiles, displayed by Chuck Ulch, Harrison; a pristine, restored 1964 Trailmaker, showcased by Scott Havercroft, Greenbush; and a 1965 Hus-Ski Model 600 single track machine, exhibited by Tim Reiter, Ray.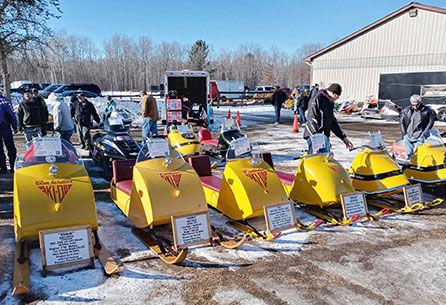 While each and every snowmobile was a unique sight to behold, trophies were given for those which particularly captured the attention of the judges. The categories, award recipients and machine types are listed as follows:
• Restored Antique, First Place: Matt Chazick, 1971 Johnson.
• Restored Antique, Second Place: Scott Havercroft, 1971 Sno Pony.
• Most Original Antique: Charlie Vallier, 1965 Arctic Cat Kitten.
• Restored Vintage, First Place: Jeff Johnson, 1973 Ariens.
• Restored Vintage, Second Place: Jerry Choike, 1971 Skiroule.
• Most Original Vintage: Doug Lubahn, 1966 Arctic Cat.
• Classic Original and Restored, First Place: Jeff Johnson, 1992 Arctic Cat.
• Classic Original and Restored, Second Place: Kevin Meyers, 1981 Arctic Cat.
• Best Rear Engine: Scott Havercroft, 1970 Sno Bug.
• Best Display: Chuck Ulch, for his series of Ski-Doo sleds.
• Best Race Sled: Tim Kreager, 1975 Drake.
• Best Mini Sled: Leland Kandal, 1970 Wolverine Cub.
• Youngest Entry: Avery VandenBosch, 8.
• Participant's Choice (as determined by fellow registrants who displayed a snowmobile): Jerry Choike, 1971 Skiroule 440 + Cutter.
• Show Favorite: Doug Lubahn, 1963 Bonham Spartan-Travel Aire.
• Fred Edgerton Trophy for the Longest Haul: Dave Shope, Rapid River, Upper Peninsula.
• Tamra Edgerton Memorial Trophy for the Oldest Sled: Tim Reiter, 1957 Polaris Trail Master.
In reference to the last two trophies, Fred Edgerton and his wife Tamra previously ran the Hale snowmobile show together. Fred took over these duties after Tamra passed away in 2014, and did so until handing things over to Eno, starting with the 2020 event.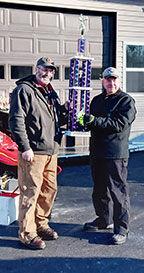 Although he no longer coordinates the show, Fred still remains involved with the annual activity, and his Longest Haul trophy is awarded to the registrant who traveled the most miles to take part in the event.
Trophies were also handed out to participants of the Kitty Kat Race, designed for those age 9 and younger. Going off-course, accidentally making an extra lap and even a tumble off the machine here and there are commonplace during the fun competition.
The frozen, snow-covered pond on Eno's property created an ideal racing surface for the children, who were timed during their second of three laps. Claiming the first-place win, at 15.70 seconds, was Gavin Choike, 9, Kingsley. Coming in second was Jaxen Bondy, at 16.31 seconds, while the third place finisher was Leland Kandal, 9, Sterling, with a time of 17.37 seconds.
Results aside, all 12 participants – hailing from such areas as DeWitt, Standish, Kingsley, Goodrich, Sterling and Hale – received a trophy.
A couple of the older children in the crowd who were just above the age cutoff also made a few laps, just for fun.
In all instances, the spectators gave plenty of cheers and encouragement to the youngsters.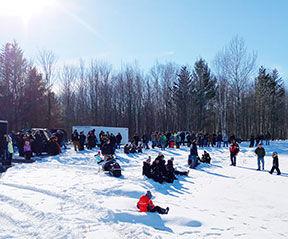 This was the greatest turnout for the Kitty Kat Race to date, surpassing the previous high count in 2020, which featured eight riders.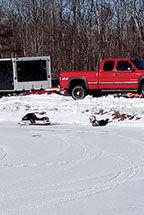 Among the other offerings at hand on Saturday, the Ogemaw Hills Snowmobile Club was selling raffle tickets for a shot at winning an Arctic Cat ZR 120.
The 2021 Hale Antique, Vintage and Classic Snowmobile Show and Swap was sponsored by Wilson & Sons Septic Cleaning, and Wilson Trucking & Excavating. Along with Greg Eno, other significant contributors to this year's show included Becky Eno, Michelle Eno and Buster and Jackie McDonald.
Greg Eno commented that the attendance was great for this latest event.
As he has explained, many people in the snowmobiling circuit have long enjoyed the vintage and antique models. There has been an increasing interest in classic machines now also, as a way to keep the younger generation involved.
He said that the idea of introducing the classic category in 2021 was to not only help maintain such shows and events, but to actually increase participation and promote the growth of these kinds of activities.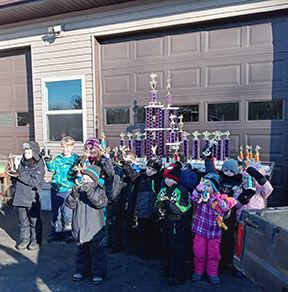 Eno added that, with so many other snowmobile functions having been cancelled or postponed this season, people were excited and anxious to show off their sleds at the Hale event.