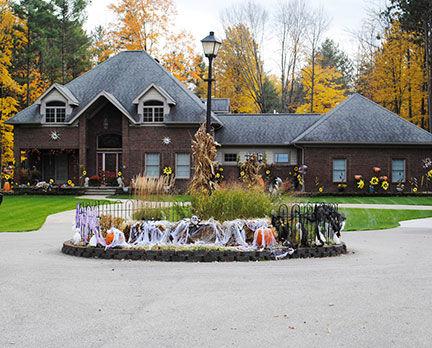 EAST TAWAS – The creativity that comes with designing one's Halloween costume, or decorating their home, won't be the only things taking on a unique spin this spooky season.
While some of the favorite fall traditions in Iosco County have been cancelled as a result of the COVID-19 pandemic, numerous entities are still ensuring that seasonal celebrations are offered for the ghosts and ghouls in the area. But, just as with the changing colors of the leaves, some of the events will be a little different in 2020 than in past years.
The Oct. 31, Halloween holiday falls on a Saturday, which is when most of the county-wide activities will be held. A schedule of the eerie entertainment on deck is listed below, along with tips for both children and adults to keep in mind while taking in the scary sights.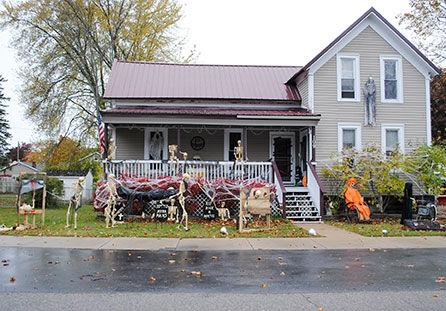 There are no designated times for trick-or-treating, but children throughout the county typically begin going door-to-door at approximately 5 p.m., and stroll the neighborhoods until about 8 p.m.
Tawas City and East Tawas
Starting things off in Tawas City on Halloween morning – and serving as a prime example of how businesses are adapting to the current times – will be those from MediLodge of Tawas City.
In lieu of the facility's annual haunted house and trick-or-treating activities, they have arranged a Halloween Parade which will wind through several different venues.
Mallory Gould, the life enrichment director for MediLodge, says that anyone who would like to participate is invited to line up at 10 a.m. in the parking lot of Tawas United Methodist Church, located at 20 E. M-55. "We encourage drivers to decorate their cars but it is not necessary."
Upon departing at 11 a.m., the vehicles will be led through Lakeview Manor Healthcare Center, located at 408 N. Fifth Ave., will traverse through the neighboring MediLodge property and then conclude with a stop at the Iosco County Medical Care Facility, situated at 1201 Harris Ave.
Gould will be on hand to coordinate the procession, and further questions may be directed to her by calling 362-8645.
She also credited one of MediLodge's Senior Companion Volunteers, Debby Draper, for all of her hard work in making this event possible.
Draper is reminding people that since March, because of the pandemic, the residents of these local facilities haven't been able to enjoy as many activities as usual. So, she has encouraged the public to take part and decorate their vehicles, or even just create a "Happy Halloween" sign for the parade.
Along with being one of the stops on this route, the fun will continue at Lakeview Manor later that same afternoon. From 1-3 p.m., all of the children in the community are welcome to arrive for some outdoor trick-or-treating. For additional details, call 362-2211.
The Iosco County Medical Care Facility also has a tradition of hosting trick-or-treaters but, due to the pandemic, this has been cancelled for 2020. However, for those who want to share some goodies and bring a smile to the faces of the residents, staff and the employee's children, donations of wrapped candy are being accepted at the facility. For more information, call 362-4424.
Just before the youngsters hit the streets in search of treats on Oct. 31, the East Tawas Business Association will be presenting its yearly parade – which, for 2020, is being dubbed a "Mask-O-Ween Hall-O-Ween."
All are invited to show off their costumes and join the procession – either as spectators or participants – which will commence at 4:30 p.m. near the Post Office on Newman Street. Organizers encourage event goers to wear a mask, and to try to either spook them or make them laugh with the mask creativity.
Immediately following the parade, attendees are welcome to drop by the downtown businesses along Newman Street, which will be giving away candy outside of their establishments.
Once the event wraps up at about 5:30 p.m., it will unofficially signal the kickoff of trick-or-treating in the community.
Getting a head start on the Halloween fun in Hale this year will be those from Rogers Family Foods, located downtown on M-65.
From 5-7 p.m. on Friday, Oct. 30, the business will be hosting a free event called Kid's Night Out, complete with cookie decorating, games, prizes, snacks and more. For further details, call 728-2711.
Just a short distance down the road, two events will be held – both from 5-7 p.m. – on Saturday, Oct. 31. One is the Plainfield Township Fire Department's annual Trunk or Treat event at the fire hall, which is located at 220 N. Washington St. (M-65). Everyone is welcome to join in and set up their trunks, to pass out candy for the costumed kids who will be coming through.
Adjacent to the fire hall will be the Iosco County Trunk or Treat celebration, which is also slated for Halloween, and will be held at the county fairgrounds. All are invited to hand out goodies to the local youngsters, and dress up their trunk/vehicle during the festivities. To learn more, call 372-0298.
Also taking place from 5-7 p.m. on Saturday in Hale, will be the American Legion Auxiliary's drive-thru children's Halloween party. It will be hosted on the American Legion Post 422 property, at 429 W. Main St.
"We will have decorated pop up canopy tents and the ladies will be in costumes handing out bags of candy to the children," says Auxiliary representative Marlene Polishak.
Further inquiries can be addressed by calling 728-5055.
With the Halloween holiday looking a bit different this year due to the threat of COVID-19, locals are being more careful and cognizant of how they spend their Saturday evening; however, many in Oscoda are still putting on fun events for children to enjoy while maintaining a six-foot distance. 
Beginning on Thursday, Oct. 29 (tomorrow), volunteers are needed to help unload pumpkins and carve them starting at 4 p.m. at the former cue stick factory near the Pinecrest Cemetery in Oscoda. The former factory is located at 3202 Railroad St. 
Each year, for approximately 28 years, Joey Beckner, family members and locals have carved hundreds of pumpkins in memory of Beckner's brother. As mentioned, carving will begin this Thursday at 4 p.m. and run until all pumpkins are carved. Beckner estimates it may take until 10 p.m. or midnight. 
On Friday, all the pumpkins will be distributed throughout the cemetery around 2 p.m. and then will all be lit starting at dusk. The public is invited to view the spectacle on foot or in their vehicles. 
Due to COVID-19, Beckner said they are not shooting for 1,000 pumpkins like normal, but closer to 500. Questions can be directed to Beckner by calling or texting him at 616-430-6329. 
Throughout this week, Robert J. Parks Library will have a Dia De Los Muertos (Day of the Dead) activity available for local children to participate in. Those interested are asked to visit the library located at 6010 N. Skeel Ave. For more information, contact library staff at 739-9581. 
Leading up to Halloween, this Friday, Oscoda Fields Assisted Living will be holding a Trunk or Treat event in their parking lot with cars beginning to line up at 4:30 p.m. The event is expected to tentatively run until about 7 p.m. 
Participants to pass out candy, as well as donations of candy, are needed and appreciated, according to staff. Oscoda Fields Assisted Living is located 5113 Cedar Lake Rd., in Oscoda. For more information, call 569-6766. 
On Halloween, the festivities will begin at 3 p.m., and Anchorage Retreat Center in Oscoda will be hosting a Halloween Family Yoga event held outside. Participants are asked to dress up in costume, but dress for the weather as well. 
Shortly after the completion of the class, the Oscoda Church of the Nazarene, located at Second and Pierce streets in AuSable Township, will be handing out candy at 4-6 p.m. on Saturday, Oct. 31, in front of the church. 
Around the same time, the Oscoda/AuSable Senior Center will be hosting a Halloween Trunk or Treat on Saturday at 5-7 p.m. The center is located at 653 State St. in Oscoda. 
The event is completely free and children of all ages are welcome to participate. Staff at the senior center are looking for businesses and locals to pass out candy. If interested call 739-3312 or 739-8807 to reserve a spot. 
Throughout this week, the Alcona County Library will have a Teen Grab N Go Craft for ages 12-18 to pick up. The craft contains a nightmare catcher activity, a Halloween game and a candy bar. According to staff, supplies are limited. Those interested are asked to visit the library at 312 W. Main St. in Harrisville and call 724-6796.
On Friday, the library will hold a Halloween themed story time and craft for children event at 10:30 to 11:30 a.m. Social distancing will be practiced and seating is limited. Call 724-6796 for more information. 
While out and about on the streets during trick-or-treating and other festivities, in the current circumstances with COVID-19, the following safety tips have been shared by the Michigan Department of Health and Human Services (MDHHS): 
• Stay home from trick-or-treating if you are sick.
• Maintain social distancing of at least six feet from others not in your group. 
• Wear a cloth mask that covers both the mouth and nose. 
• Wash your hands frequently or use hand sanitizer containing at least 60 percent alcohol. 
• Participate in one way trick-or-treating and guide children to stay to the right to ensure social distancing. 
• Avoid congregating in groups around house. 
• Don't substitute a costume mask for a cloth mask. Also, do not wear a costume mask over a protective cloth mask as difficulty breathing can ensue. 
• Only go to houses with safety measures in place.