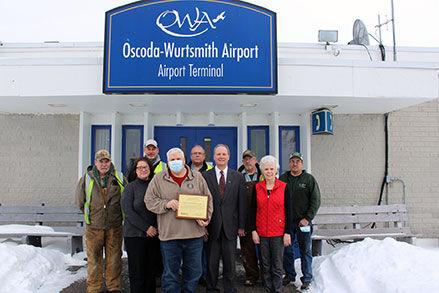 OSCODA – Employees at the Oscoda-Wurtsmith Airport (OWA) received the Airport of the Year award in the General Aviation Category from the Michigan Department of Transportation Office of Aeronautics Management Staff, during the 2021 Michigan Airports Conference, held on Thursday, Feb. 18. 
According to staff at MDOT Office of Aeronautics, the award is presented as recognition for the outstanding contribution and sustained excellence toward aviation progress in the State of Michigan.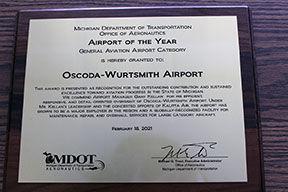 The award states, "We commend Airport Manager Gary Kellan for his efficient, responsive and detail-oriented oversight of Oscoda-Wurtsmith Airport. Under Mr. Kellan's leadership and the concerted efforts of Kalitta Air, the airport has grown to be a major employer in the region and a globally-recognized facility for maintenance, repair and overhaul services for large category aircraft."
"We are very pleased and honored for Oscoda-Wurtsmith to be recognized in this manner," stated Kellan in a memorandum to Oscoda-Wurtsmith Airport Authority (OWAA) board members. "Achieving this award is obviously the result of continuing team efforts." 
In the memorandum he thanked OWAA board members, Assistant Airport Manager Jack Brown, airfield maintenance employees, Administrative Assistant Brenda McNeil and Accountant Karen Arnold. 
He also recognized Phoenix Flight Services, Oscoda Engine Services, P & L Development, InstaCoat Premium Products, Sage International, Phoenix Composite Solutions and Kalitta Air. Additionally he thanked Jared Kowalewsky, Stephanie Ward, Bob Leisenring and the team at Mead & Junt Inc. 
"From the perspective of the Office of Aeronautics Management Staff, I suspect the basis for their recognition may include the airport authority's performance when planning and implementing airfield capital improvement projects," said Kellan. "Therefore I felt it was very important for us to say that we can't really say enough about the positive professional planning and construction support services that we enjoy from our consultants." 
He also thanked MDOT Office of Aeronautics Executive Administrator Michael G. Trout, Bryan Budds. As well as OWA's own people including, Project Manager Laura Wise, Block Grants Coordinator Betsy Steudle, Project Planning Support from Mark Noel. Tech Ops Mike Soper and Contract Specialist Anu Taneja. 
During the Feb. 18, OWAA board meeting, following the announcement of the award, a number of OWAA board members spoke up to credit Kellan for his continuous efforts towards the airport. 
"Thank you for your great job," said OWAA Representative Dave Dailey. 
"Gary is very cognizant of what has to be done and he works with everyone on the board as well as the tenants to make sure that things get done," said OWAA Representative Mike Munson.