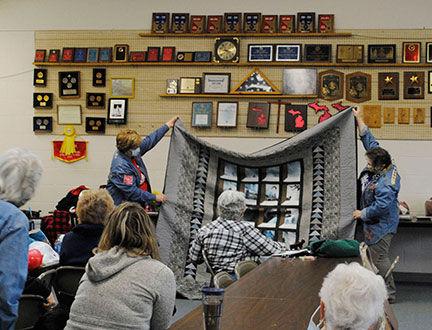 HALE – A new piece of bedding may not seem very significant to some, but having an item such as this to call one's own can make a world of difference to those in foster care.
In a show of support for these youth in the area, members of the Hale Country Quilters made 285 pillowcases and 34 quilt tops, which they have donated to the nonprofit Rayola organization.
As for why these types of articles are requested, Rayola President Keri Withers explained that one goal of her team is to provide  comfort items for children and youth in the foster care system, as well as any child in need.
Withers said that quilts and pillowcases are exactly that, especially considering that when a child is removed from a home, they often don't have a lot – if they even have any possessions, at all.
"So this is just something they can have, and it can be theirs and it was made out of love from someone else," Withers said. "So hopefully they feel that support from their community in the situation that they're in."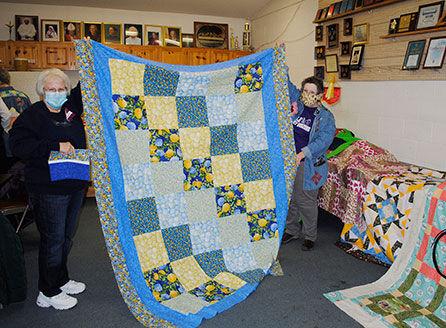 She attended the April 1 meeting of the Hale Country Quilters, held in the Knights of Columbus hall, to pick up the donations.
Following the meeting, guild members took part in a show and tell, to describe the pieces they created for Rayola.
The hand crafted items were all worthy of double take, and there were some which particularly stood out. This included two quilt tops made by Phyllis Seitz, which will also serve as a fun, interactive experience for whoever the recipient may be.
One of Seitz's quilt tops mimics the classic "I Spy" game, and features a multitude of colorful images to be sought out. The other showcases a whimsical bike against a vibrant background, but the charming cartoon characters which make up the border were intentionally left blank. Whoever ends up owning the item will be able to color it with crayons as he or she chooses, after which it can be ironed to maintain the hues.
Withers works with the Department of Human Services agencies in northern Michigan and, while her current contact is in neighboring Ogemaw County, this individual is also helping her to get contacts in other counties.
According to Withers, the items from the Hale Country Quilters will be distributed in local communities first. The overflow will then be spread out further, but will all remain within northern and central Michigan.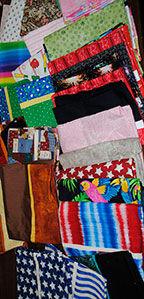 She added that Rayola began its pillowcase drive in January, which ended on March 31. "And our goal was 1,000 pillowcases, but we have collected over 1,400."
Hale Country Quilters Treasurer Susie McAdoo said a couple of the members donated to Rayola last fall. This is how the rest of the quilters became familiar with the entity, and why they chose to make this latest set of creations.
The quilting group is comprised of 50 or so participants, but McAdoo notes that many of them travel to warmer locales in the winter. So, for the Rayola project, there were 19 people who cranked out the more than 300 items.
She said the team worked hard over the winter months on this latest batch. The pillowcases generally take anywhere from 30 minutes to an hour to create, while the quilt-making time varies, depending on how much detail is put into each piece.
The contribution to Rayola is only a small sample of the quilters' giving spirit. "We do a lot of community work," McAdoo points out.
This includes raffling off an elaborate quilt each year at the Iosco County Fair, the proceeds of which go right back to the event.
McAdoo says the group also makes "quilts of service" for military personnel, firefighters, law enforcement members, those in the medical field and other deserving individuals. They give to nursing homes, baby pantries and additional organizations, as well. "We do a lot. Whenever there's a need in the community, we make a donation."
According to the Rayola website, the nonprofit is dedicated to assisting children in the foster care system and any other child in need. It was created to help children who have been detrimentally affected by the actions of others.
"They are loved and we want them to know that there are many people in the world that want to support and help them achieve their dreams," the site reads.
"I created Rayola because I wanted to help improve the lives of struggling kids, whether in the foster care system or elsewhere," Withers states. "Every child deserves to know that they are seen and loved even if their situation doesn't always make them feel like they are. As a busy mom myself, I decided I could repurpose the talents I already had to help the children in my community feel that love and care."
She also shares that, years ago, her family's life was changed by the miracle of adoption and her eyes were opened to the struggles of children and youth in the foster care system.
To learn more about what drove Withers to establish Rayola, or to see how you can help contribute to the cause, go to https://rayolawb.wixsite.com/rayola or visit their Facebook page.