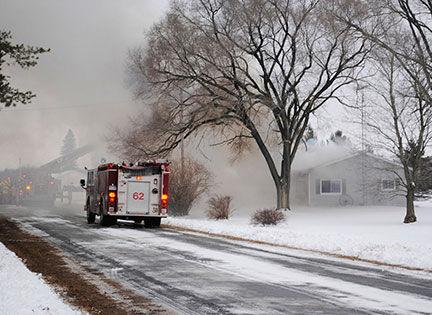 SHERMAN Twp. – A residence on South Sand Lake Road in Sherman Township was deemed a total loss, following a fire which broke out at the home on Dec. 30, 2020.
Tawas City Fire Department (TCFD) Chief Steve Masich states that the TCFD, along with the East Tawas Fire Department (ETFD), were dispatched to the residence at 3 p.m. for a fully involved structure fire.
"Upon arrival the flames had already burnt though a portion of the roof near the garage area," he advised, adding that strong winds  and extremely cold temperatures made firefighting challenging.
In addition to the ETFD aiding the Tawas City crew, those from the Grant Township and Burleigh-Reno-Whittemore fire departments also responded. Masich says they were requested to assist with extra water tankers, in order to keep the water in motion from a local creek to the fire scene.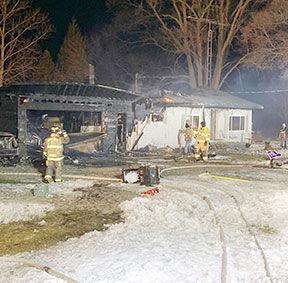 He notes that, in total, it took  the fire departments approximately six hours and 50,000 gallons of water to completely extinguish the blaze.
The incident was called in by an individual who was driving by the house, Masich states. The owners were not home at the time the fire had started.
Although the dwelling has been considered a total loss, Masich says that no injuries occurred.
"The home and contents are covered by insurance," he continued. "The initial investigation indicates that a wood burning stove pipe may have leaked into the attic space."
Along with the other three fire departments mentioned above, the TCFD was also assisted by Iosco County EMS and Iosco County Central Dispatch. Additionally, members of the Oscoda Township Fire Department stood by in the Tawas area as the local teams handled the incident.
Consumers Energy and DTE representatives were observed at the scene, as well.