EAST TAWAS – Lake Orion athletes dominated the top spots in the Olympic distance triathlon held Sept. 12 in East Tawas.
Gary Greib, 55 of Lake Orion, was the top male finisher finishing the course – a 500-meter swim, biked for 40 kilometers starting in East Tawas, up Bridge Street to Monument Road to the Huron National Forest and back and finished with a 10-kilometer run through the residential streets of East Tawas – in 1:54:40. The swim was originally set for 1,500-meters, however, choppy waves on Tawas Bay shortened the swim to 500 meters. The water temperature of Tawas Bay was 64 degrees at 8 a.m. on Saturday, Sept. 12 – a tad warmer than the 60 degree air temperature.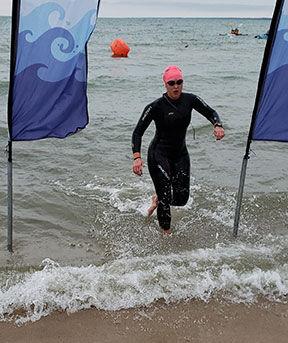 While most of the athletes were from Michigan, the furthest athlete came from Orlando, Fla.
Finishing second overall for the men in the Olympic distance was Stephen Baluch, 37, of Farmington Hills in 1:54:44, while Christopher Hass, 40, of Vicksburg was third in 1:58:06.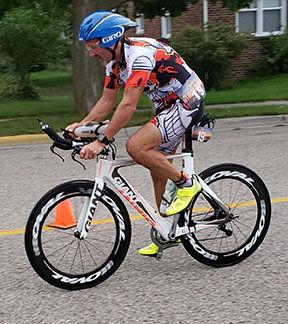 For the women in the Olympic distance, Brittany Kalso, 37, of Lake Orion, finished first in 2:21:16. She finished 14th overall for the distance. Finishing second for the women in the distance was Sydney Walsh, 32, of Royal Oak in 2:26:38, and Samantha Bishop, 30, of Farmington was third in 2:42:28.
Former Tawas resident Jeffrey Stoll, 37, of Grand Rapids finished 10th overall in 2:18:06. He finished second in his 35-39 male age group. Another former Tawas resident, Doug Ferguson, 21, of Ann Arbor, finished 21st overall 2:37:13 and finished second in his 20-24 male age group
A total of 159 athletes – 59 in the Olympic distance and 100 in the Sprint distance – were registered for this year's Sunrise Side Triathlons, the 13th annual event held in East Tawas by the sponsoring Burton-based 3 Disciplines. The triathlon was just one of a handful of events held in Iosco County this year during the pandemic.
Kenny Krell, race coordinator and owner of the sponsoring 3 Disciplines Racing, said participation in this year's triathlon was limited due to the governor's executive order on outdoor events. He said 3 Disciplines cancelled 30 events this year due to the pandemic.
"To be quite transparent, we can't make any money with 100 athletes," he said. "We doing this for the athletes, to give them some sort of normalcy."
In the Sprint distance – a 500-meter swim, 20-kilometer bike and a 5K run – James Stoffel, 60, of Elgin, Ill. was first overall in 1:14:25. Finishing second was Brock Seibold, 41 of Clarkston in 1:26:40, and Scott Mazure, 39, of Bay City, was third in 1:17:57. 
For the women in the same event, Kelly Valente of Dearborn was first in 1:19: 24. She finished fourth overall. Finishing second was Britt Vallas, 37, of Bay City in 1:19:44. She finished sixth overall and was last year's female winner in the distance. Kelci Ramey, 29, of Waterford was third in 1:22:42.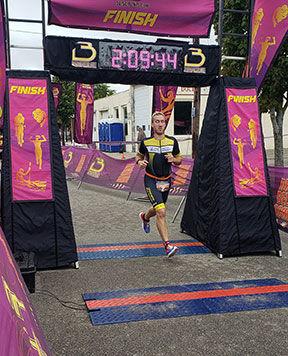 Former Tawas resident Andrew Stoll, 34, of Oak Park was fifth overall in 1:19:37 and won his male 30-34 age group. 
Iosco County athletes who competed in the Sprint distance included James King, 43, of East Tawas, ninth overall and first in his male age 40-44 group, in 1:22:54. Vince Fedel, 56, of Hale was 19th overall in 1:30:27 and was third in his 55-59 male age group; Kevin Couturier, 44, of East Tawas, was 27th overall in 1:34:52 and was fifth in his 40-44 male age group; and Emma Pendergrass, 25, of Oscoda, was 52nd overall in 1:54:25 and finished first in her 25-29 female age group.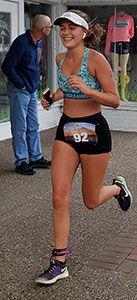 Kate Winslow, 19, of Orlando, Fla. finished 20th overall in the Sprint distance in 1:30:27.
In the Super Sprint distance – a 200-meter swim, 10-kilometer bike and a 1 mile run – Tomas Diaz, 46, of Sterling Heights was first in 38:56; Mark Michaels, 56, of Howell was second in 51:16; and Sara Jones, 31 of Jackson was third in 51:40.
Iosco County athletes finishing the Super Sprint distance were Thatcher King, 9, of East Tawas was fourth in 52:00; Aven King, 9, of East Tawas was sixth in 53:52; William Stoll, 61, of Tawas City, was eighth in 56:35; Aubrey McDougall, 8, of East Tawas was 10th in 1:17:56; and Nichelle McDougall, 34, of Tawas City was 11th in 1:18:32.
In the Duathlon distance – a 2.5K run, 20K on a bike and a 5K run – Duane Amato, 70, of Suttons Bay was first  in 1:15:08; Josiah Woods, 30, of Pinckney was second in 1:15:31; and Mervin Celestine, 47, of Clinton Township was third in 1:19:01. An area athlete, William Richardson, 64, of AuGres was ninth in 1:28:27
In the Olympic Aquabike distance – a 500-meter swim and a 40-k bike – Paul Rivera, 56, no town given, was first in 1:32:29; Richard Filar, 55, no town given, was second in 1:32:30; and Denise Brown, 61, no town given, was third in 1:34:10.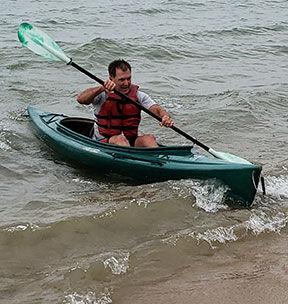 Lastly, in the Sprint Kayak–Tri distance – 500-meters in a kayak, 20k bike and 5k run, Clifford Onthank, 67, of Traverse City was first in 1:11:14; Adriana Fowler, 31 of Lake City was second in 1:13:25; and Brad Kloska, 41, of East Tawas was third in 1:20:21.   
In 2021, 3 Disciplines Racing will hold two events in Iosco County – Paul Bunyan Challenge, Lakewood shores, Oscoda, on June 27 and the 14th Sunrise Side Triathlon/Duathlon/Kaya-Tri, East Tawas on Sept. 11.