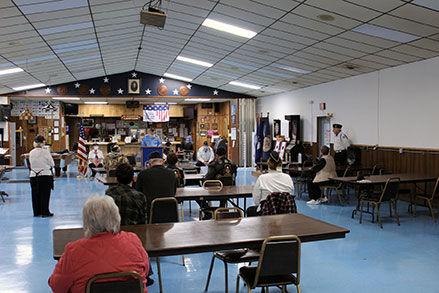 HALE – A Hale Veterans Day Ceremony was put on by members of the American Legion Auxiliary Post 422, the Veterans of Foreign Wars Post 435 and the Vietnam Veterans of America Chapter 882 on Nov. 11 at the American legion. 
A few locals gathered at the legion, masked up and maintained a six-foot distance from one another to minimize the spread of COVID-19. Each year members of the Hale High School choir perform a few songs for the Veterans; however, this year due to COVID, the National Anthem and other songs had to be played via a CD player.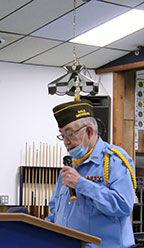 Following a few songs, VFW Post 7435 Commander Jeff Mayer welcomed everyone and touched on the difficulties that Veterans face when returning back home. 
"Many of our nations service members lead back to duty and enter civilian life without much difficulty, but some service members and their families struggle to make the transition. Some Veterans have strong mental health issues. Others suffer from economic hardship, the loss of loved ones or retirement," said Mayer. "These challenges which may effect Veterans of any age also touch everyone in a Veteran's life. Family health is critical to Veterans health, so this holiday season stand by them and make sure Veterans and their families and friends know about the resources available to them throughout the community." 
He added that the holidays can be a stressful time and it can be especially difficult to those in a difficult place. He encouraged those in attendance to support Veterans, their family members and their friends and encourage them to reach out to receive confidential support.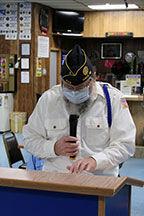 Three other small speeches followed by American Legion Auxiliary Commander Doug Walter, Vietnam Veterans of America Commander Terry Frank and American Legion Auxiliary President Debbie Rodgers. Each speaker touched on a different aspect of Veterans Day. Some looked to the past as to when it began and some thanked Veterans for their service today. 
Walter touched on what Veterans Day is all about. He said that the day is meant to commemorate the service of Veterans of all wars. 
"Remember how men and women set aside their civilian pursuits to serve their nations, defending the freedom of mankind and preserving our precious American heritage," said Walter. 
He said he woke up on Veterans Day like he does every Veterans Day and thought to himself that this is his day. 
"This is our day. This day belongs to the Veterans. It's not that we were the only ones fighting the war. The people back home fought the wars with us and the wars are not over and as far as I'm concerned this Veterans Day makes me proud," said Walter. "Every Veterans Day makes me proud and every day makes me proud that I put my time in and I served as every Veteran should feel the same way."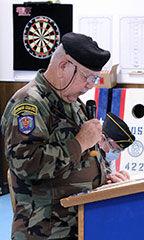 Frank was the third to speak and he touched on the history of Veterans Day and the importance of thanking your Veterans. 
"It is a time to celebrate the time of all Veterans and that includes those who are still on active duty. Regardless of age or background our military service binds us all and that shared experience that devotion to duty is what we are honoring on Veterans Day," said Frank. "It will be more challenging to recognize Veterans Day this year as we're all dealing with the isolation forced upon us by social distancing and local regulations, but that shouldn't stop any of us from offering our thanks. Reach out to all Veterans you know and tell them you appreciate their service. Pick up a phone, send an email or broadcast a message on social media." 
He said further that Veterans Day, originally known as Armistice Day as been celebrated in the United States since Nov. 11, 1918, the day World War I ended. The national holiday was renamed Veterans Day in 1954 to honor World War II and Korean War Veterans.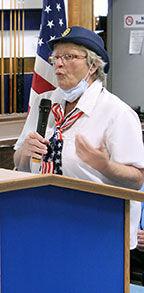 A final speech was given by Rodgers who gave a message of many thanks. 
"I want to say thank you for your service. It is with heartfelt thanks from the Auxiliary of 422. We appreciate your service and we love to honor you and respect you," said Rodgers. 
For those who have questions or are seeking support, they can contact the Legion at 728-5055.