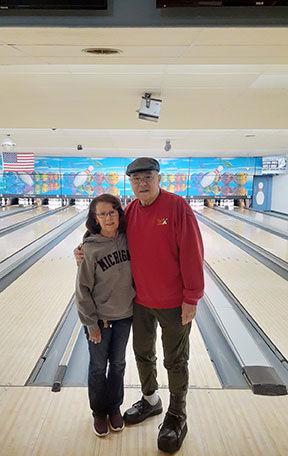 OSCODA – With few options left to save their business, Sue and Bob Huebel, the owners of Vista Lanes, are asking for the community's help. 
For nearly 40 years, the couple have owned Vista Lanes hosting tournaments, family gatherings, fundraisers and much more becoming a gathering place for area residents. State of Michigan mandates closed their family-run business for more than eight months With savings dwindling, the husband and wife team are asking the community for help. 
A GoFundMe was launched to raise money to help with expenses like property taxes and utilities. The goal is to raise $10,000. 
"The Governor's (State of Michigan Governor Gretchen Whitmer) decisions have greatly impacted the operations of bowling centers. We are asking the Oscoda area to support our GoFundMe. Their support will keep a community institution open and available" said Bob. People who support the GoFundMe will receive gift passes to the bowling alley. A person or business can have a lane named after them if they donate more than $1,000." 
"The State has shut us down and impacted our ability to operate, but our expenses have continued. We have almost depleted our savings in order to keep paying bills for Vista Lanes" said Sue. 
Vista Lanes has been a main source of entertainment and functions for the residents of Oscoda for many years, league and open bowling, youth leagues and high school bowling with coaching, tournaments along with community events like weddings, baby and wedding showers, family reunions, and karaoke. People can support the effort to save Vista Lanes by going to https://www.gofundme.com/f/help-save-vista-lanes.
Vista Lanes & Lounge Family Fun Center is located at 5214 N U.S. 23, Oscoda. Questions regarding the GoFundMe for Vista Lanes can be directed to Sue. She can be reached at 739-4515 or at vistalanes@gmail.com.