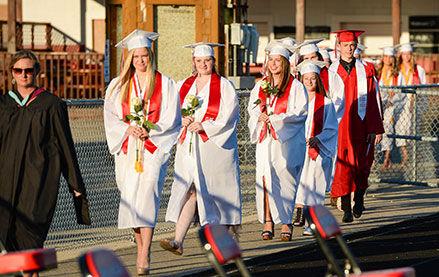 TAWAS CITY – Tawas Area High School (TAHS) held its commencement in five separate outdoor ceremonies on Friday, July 24.
Held at the high schol football field, the ceremonies were held at 3, 4:15, 5:30, 6:45 and 8 p.m. Each ceremony had only 17 to 18 graduates. 
The TAHS Class of 2020 had 96 graduates total, six of them already graduated during the military graduation ceremony. That ceremony was held June 14, Flag Day and the 245th anniversary of the Army, for the students who joined the armed forces of Army and Air Force.
Stacey Mochty, TAHS assistant principal, said many meetings were held by a graduation committee consisting of administration, parents, advisors, community members and other staff members in order to plan event that would celebrate the Class of 2020 and their accomplishment of graduation – especially during this unprecedented time of COVID-19)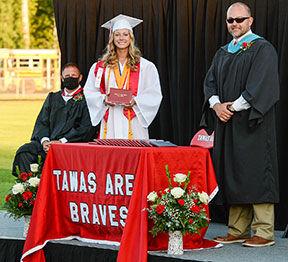 She said the graduation committee had hopes of having a traditional graduation ceremony with all graduates together with unlimited families and guests. Committee members also had hoped that pushing the date out to the end of July would help – if Michigan was in a different phase for COVID-19 that would allow for such an event.
Unfortunately, the governor's current executive order of allowing no more than 100 at an outdoor event superseded such a ceremony. 
Mochty said the plans and the ceremonies followed guidelines of the CDC, local health department, and the executive order. They also were previously approved the the Tawas Area Schools Board of Education.
Graduates and families were to arrive an hour before their scheduled event in order to check temperatures and complete a COVID-19 survey for each participant and audience member. Each graduate was provided four tickets for guests.
Parking for each ceremony was staggered in different parking lots to ensure social distancing; audience members were also separated by families in the bleachers to ensure social distancing Additionally, maintenance staff  cleaned bleachers and such in between each ceremony, Mochtey said.
She said the ceremonies held no more than 100 people at each event; this included any staff member, administrator, health screeners, senior advisor, maintenance, families, guests and graduates.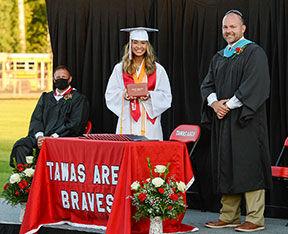 The Class of 2020's five co-valedictorians were separated in each ceremony so each ceremony had a valedictorian speech. The two co-salutatorians were scheduled for the last ceremony. Ceremonies were established according to alphabetical order.
Tawas Area School teachers did not attend the ceremony in order to allow graduates to have their families/guests as part of the 100 headcount.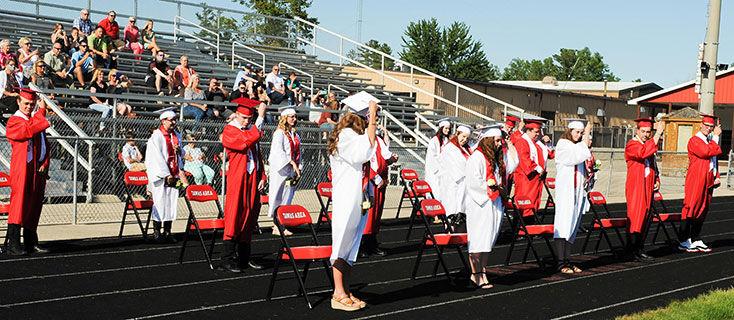 Mochtey said the "ceremonies went off without a hitch" which  included introductions, Star Spangled Banner, acknowledgment of honors students, valedictorian and  salutatorian speeches, presentation of diplomas, and proclamation of graduation and dismissal.  Graduates exited with the playing of their class song "See You Again" by Wiz Khalifa, featuring Charlie Puth.
The class flower is a white rose, class colors are red and white and is the class motto is  "Chase your dreams but always know the road that will lead you home again," by Tim McGraw.