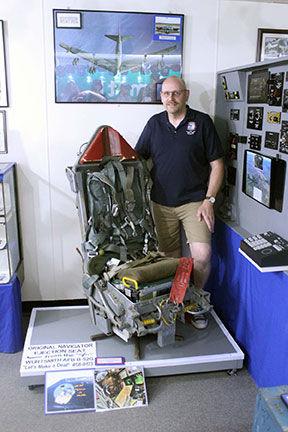 OSCODA – Wurtsmith Air Force Base (WAFB) Veteran and Wurtsmith Air Museum (WAM)Board Member Rick Hawn of Alexandria, Va., donated a original navigator ejection seat to the museum to be displayed. 
"This is quite an addition for what we have. Everybody wonders why we didn't get a B-52, but we couldn't maintain it anyway," said WAM Curator/Director Chuck Shuler. 
The journey to locate an artifact to be added to the museum started in August 2019, but in September Hawn traveled to the Aerospace Maintenance and Regeneration Center, better known as The Boneyard in Tucson, Ariz. Originally Hawn was hoping to locate a Wurtsmith aircraft to be donated to the museum, but after touring the center Hawn was able to locate parts of 13 Wurtsmith B-52s. 
"Despite the heavily reclaimed condition of Wurtsmith's B-52's, please know that each one has contributed essential parts to keep the operational B-52 fleet flying (yes, there are parts on the G model that are interchangeable with the current H model.) So, in a manner of speaking, Wurtsmith plans are still flying and fulfilling a vital role today," said Hawn. 
Due to the cost and requirements of the government, Hawn was unable to secure Wurtsmith B-52 parts for display in the museum; however, he did take photographs that will be available for viewing in the museum's Wurtsmith room once it opens. In addition to a plane, Hawn said he was also on the lookout for a yolk, which is a stick pilots used to fly the plane, and the tail section of a B-52. After traveling to Tucson he discovered that no yolks existed any longer and that the cost of the tail section would set him back $75,000-$100,000 and he knew the museum didn't have the storage space.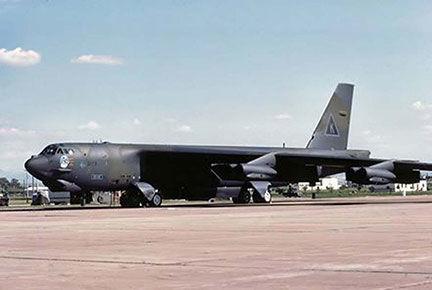 After coming up short, Hawn was still on the journey to locate an artifact to be donated and displayed to the museum. According to Hawn, while in Tucson he was encouraged to get in touch with Jon Drieling from Columbus, Ohio who had a original navigator ejection seat that resided in the 'Let's Make a Deal' plane – which was stationed at WAFB for several years. According to Hawn, he located Drieling on Facebook and learned that he had the ejection seat in a storage facility and was eager to get rid of it. 
"He was a instructor for a B-52 out of Griffiss Air Force Base in New York. He had a buddy that was flying down to The Boneyard and he asked him to pick something up for him, one of these chairs. He wanted one out of a plane that he had flown in from Griffiss. Unfortunately, he got this one which is nice, but it was not what he wanted," said Hawn.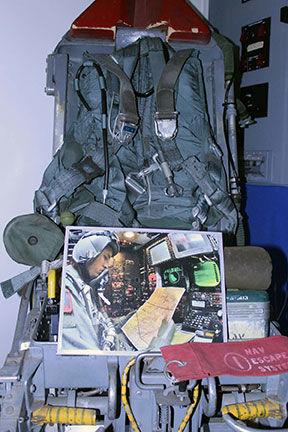 Back in January Hawn made plans to pick up the seat with a 90 day turn around. He said he bought tickets and rented a truck to travel to Columbus to pick up the seat. However, when the Coronavirus hit around Mid-March, traveling in April became less and less possible. With this in mind, Hawn decided to wait until June to pick up the seat and set out to Columbus the second to last week of June and delivered it to the museum on Friday, June 26.
Hawn, who served at WAFB in 1983-87 as the security police in the alert area said it was important to him to find something significant to donate to the museum since he travels up north with his wife three times a year and has a strong connection to the museum.
"It was a mission I was on for myself and the museum to try to get something else in here because we visit three times a year and we always volunteer," said Hawn. "People are always looking for something from the planes because obviously we can't have a B-52 here, but we're trying to get pieces, so we've got this."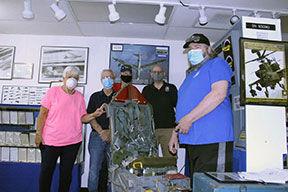 The original navigator ejection seat resides in the WAM and can be seen in person next year when the museum opens in May. For more information on the WAM or to make purchases at the online store visit https://wurtsmithairmuseum.net.