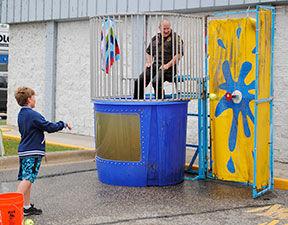 TAWAS CITY – The weather was less than ideal on July 7, but there was no shortage of smiles during the Iosco County Toys for Tots dunk tank fundraiser, held at Neiman's Family Market in Tawas City.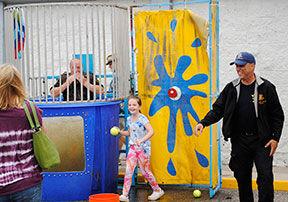 Following a long and busy Independence Day weekend, local law enforcement and firefighters were ready to let loose, while also contributing to a good cause.
Those who volunteered to sit on the dunk tank platform – as Toys for Tots supporters tried to hit a target and send the participants sliding into the water below – were members of the Michigan State Police (MSP), East Tawas and Tawas City police departments, Iosco County Sheriff's Office and Tawas City Fire Department.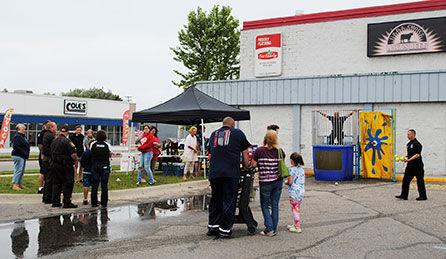 Hal Neiman, who started the  family's market business with his wife, Jean, also offered to brave the wind and cool temperatures. To the amusement of onlookers, he was dropped into the dunk tank by none other than his own spouse.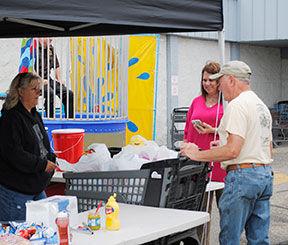 With assistance from the MSP, the inaugural event was put on by Iosco County Toys for Tots Coordinator Tracy Danek. Her husband, James, and her father, Edwin Krasinski, also played a big part in the occasion, with the family handling everything from accepting donations to keeping the grill going as they served hot dogs and other snacks to guests.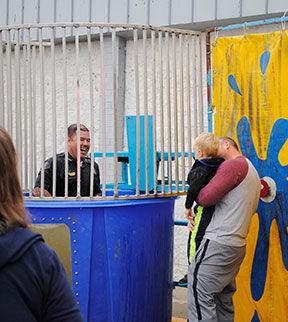 While Danek said that there would have been a bigger turnout if the weather were more favorable, the charitable group – part of the Marines Corps Reserve Toys for Tots Program, which provides gifts to children in need – still brought in more than $2,000 and 74 new toys at the dunk tank event.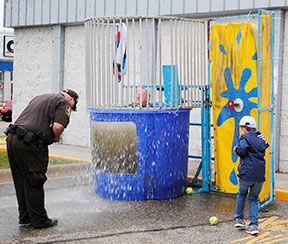 Additionally, Danek said that Tawas City resident Jerry Motz dropped off several bags of his handmade wooden toys for the organization, which keeps all contributions within Iosco County to benefit local children.
Those who donated had their names put into a raffle for various prizes, including a $50 gift card from Neiman's Family Market.
The store also hosted a dessert contest that day, for which the maker of the best homemade dish earned $50, and the second place winner claimed $25.
Danek said that Lynn Costo came in first for her thunder cake, after which she donated her winnings back to Toys for Tots, to be raffled off. The second place winner was Janet Coyer, with a custard rhubarb pie; while in the Neiman's associate category, Bridget Sappho took the top prize for her lemon meringue cupcakes.
Two children's bikes, donated by Dean Arbour Ford of Tawas, were also raffled off to a couple lucky young attendees.
Among the other supporters, Danek said that a donation was made by Make Way Move All, while Alpena Alcona Area Credit Union covered the cost of the dunk tank.
The comical contraption brought plenty of laughs, all around, from both those attempting to hit the target and the participants who showed that they were nothing but good sports when taking a dive into the chilly water.
Some people couldn't get enough and, after playing for a bit, it wasn't uncommon to see visitors heading back up to the tank to try some more throws.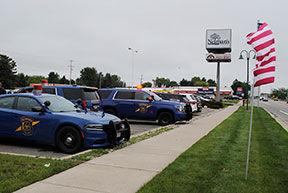 MSP Community Service Trooper Shane Noble, who helped coordinate the event and also served as one of the dessert contest judges, remarked that there was a wonderful turnout, especially considering the weather.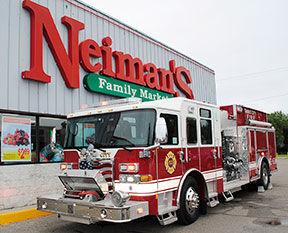 He added that it was a lot of fun, and that the MSP hopes to be able to help run this activity again in the future.