TAWAS CITY – Six seniors from Tawas Area High School (TAHS) who are entering military service upon graduation were honored at a special commencement ceremony on June 14. 
The event was held on the TAHS football field in front of their families. Crowd size was limited and social distancing guidelines were mandated as public gatherings were opened to groups of 100 or less pursuant to Michigan Gov. Gretchen Whitmer's executive orders related to the COVID-19 pandemic.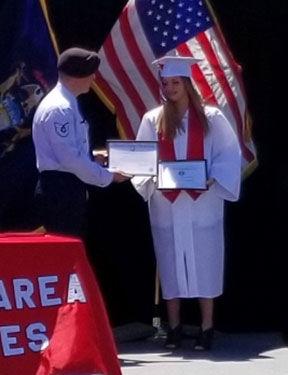 Graduating seniors Jacy Buckler, Toby Green, Brandynn Lehmann, and Cohvi Moyer, who are entering the U. S. Army, and Evan Koehn and Mattisen Pearson, who have joined the U. S. Air Force, are likely to be called to active duty for basic training before the full Class of 2020 Commencement Exercises tentatively rescheduled for July 24. 
The full graduation ceremony had been postponed due to the COVID-19 crisis, and the six military entrants are unlikely to be available to attend that event. Consequently, Supt. John Klinger and TAHS Principal Toby Suttle received approval for this special ceremony from the Tawas Area School Board at its meeting on June 8.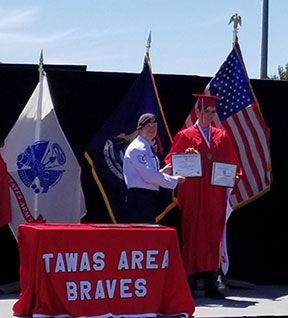 After the traditional Processional accompanied by Pomp and Circumstance by Elgar, Klinger presented his welcome address and introduced guests at the event, including Army recruiters SFC Derek Gullett and Sgt. Forrest Post and Air Force Recruiter TSgt. Kenton Disbrow. A recording of the Tawas Area High School Band playing the Star Spangled Banner was followed by Suttle's introduction of honor students Koehn and Pearson.
Pre-recorded addresses delivered by the five TAHS valedictorians and two salutatorians were followed by a recording of the U. S. Air Force Band playing Cohan's You're A Grand Old Flag. Buckler, Green, Lehmann, and Moyer then received their Army appointments from Gullet and Post, along with oversized faux checks representing the $155,000 each recruit will earn toward their college degrees as a benefit of their enlistments. Koehn and Pearson were presented with their Air Force appointments by Disbrow, who outlined the assigned duties for which each graduate volunteered.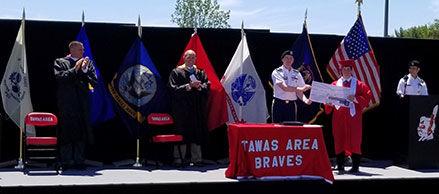 Suttle presented diplomas to each of the graduates while adhering to social distancing, which included no-contact high-fives and fist bumps between the principal and graduates. Klinger then issued his Proclamation of Graduation, and the ceremony ended with a Recessional to Stars and Stripes Forever by Sousa.
In his comments prior to presenting his recruits their Army Appointments, Gullett complimented the Tawas Area, noting that while approximately one percent of the population nationwide volunteered for military service, more than six percent of the TAHS Class of 2020 enlisted.