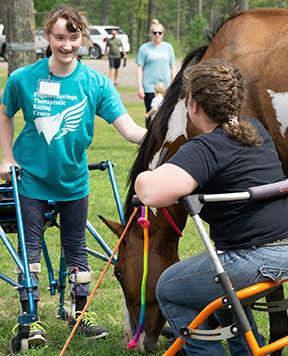 NATIONAL CITY – Horses have long been hailed as fascinating creatures with an admirable work ethic. But what some people may not realize, is that these animals can also help bring relief to those with cognitive, physical and emotional disabilities.
The benefits were described on July 18, during a day-long event at Pegasus Springs Therapeutic Riding Center (TRC) in National City.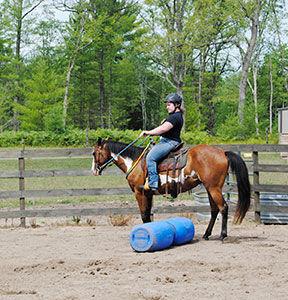 In addition to offering adaptive riding to persons 3 years and older – who live with Down Syndrome, emotional trauma, spina bifida, Multiple Sclerosis and other conditions – TRC is also rolling out a new program for military veterans affected by post-traumatic stress disorder (PTSD).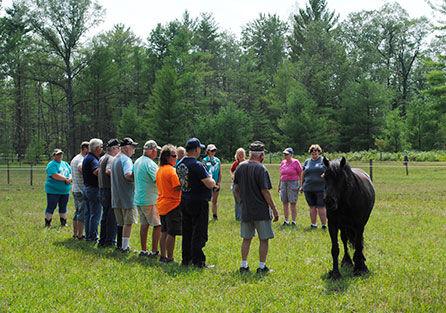 Huron Heroes & Horses is set to begin its inaugural run this August, and the TRC event concluded with a demonstration of what program participants can expect.
The recent gathering at Pegasus Springs – which is a federally registered 501(c)(3) nonprofit – featured a packed schedule, starting that morning with the Volunteer "Hoof" Camp Training.
Founder and Executive Director, Barb Clare, has explained that volunteers are an integral part of what goes on at the center, as up to three helpers are needed per rider.
With 25 people taking part in the latest training, Clare said she couldn't have asked for a better turn out.
She has also noted that those who donate their time are given a very unique and rewarding volunteer opportunity, and that there is something for everyone.
As the training continued, attendees were able to watch and/or join in on multiple demonstrations, such as leading the horses around the arena before trying their hand as a side walker.
According to TRC Instructor Mary Kate Anthony, a side walker is the rider's "buddy" and is there for support, as well as to ensure the participant's safety, assist them with mounting the horse, aid them with various exercises and so on.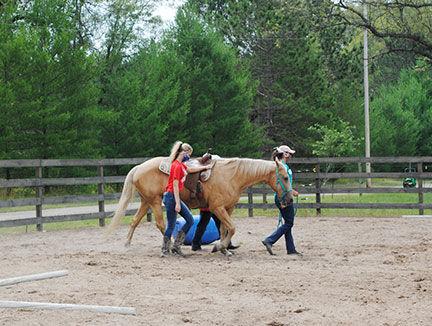 Anthony also stressed that each rider is unique, and it is important for the helpers to be proactive when it comes to reading a participant's body language and recognizing other cues. For example, a non-verbal child may use an array of different means to indicate that he or she is upset or scared.
As part of the training, Anthony and others from the TRC team also showed the volunteers how to properly aid a rider with mounting and dismounting a horse, how to react in an emergency situation, how to reposition a participant if they become unbalanced while atop a horse and more.
They also learned that adaptive riding impacts each individual in a different way and, while a change may be noticed in one rider after just a single session, it could take longer for another participant.
Anthony added that it can be intimidating for somebody to hop on an animal weighing upwards of 1,000 pounds. Some riders have bad days, but the situation may be completely different when their next session rolls around.
This was highlighted even further during the Pegasus Springs event by TRC participant Mikayla Dougherty, 16, Hale – who was admittedly nervous when she first began riding at the center last year.
It didn't take her long, though, to warm up to the lessons. Clare says that Dougherty's first instructor, Anthony, connected with Dougherty's abilities and had her building confidence from the first lesson. "She set her goals high and was constantly challenged, within her capability, to do things out of her comfort zone."
Dougherty was among those who helped give the demonstrations on July 18 and, prior to this, Clare asked her to write about her experience so that others may see the possibilities for themselves.
In her first-hand account,   Dougherty states that the therapy aspect of this type of horseback riding only scratches the surface.
"This applies to me and the many other riders that go there for riding lessons. Not only does it help us get closer to accomplishing things we never thought we could, but it also helps us emotionally," she shared. "It does so much more than typical therapy, meaning the therapy you think of every time you hear 'Physical Therapy.'"
She says that it teaches participants how to properly care for a horse which, by doing so, helps the rider to gain the trust and love of the horse.
"Personally, I believe that children like me can really benefit from the unconditional love of an animal," she expressed.
In Dougherty's case, she says that Holly – the horse she uses during sessions at TRC – quickly became one of her best friends. "I instantly clicked with her on a level I don't think is possible with anyone but her. I trust that horse, and she trusts me."
In addition to accomplishing personal milestones and gaining confidence, "it can give you someone to confide in when needed," she continues.
"I can't count how many times just lying on the horse and listening to her breathing while she walks around has helped me. Sometimes, not just with kids like me, but with anyone, it can help to know you aren't alone," Dougherty states.
"A horse will listen to whatever you have to say and, given the fact that it can't speak, hold the secrets you tell them close to their heart," she went on, adding that this experience has been one of the greatest of her life.
"My confidence level has definitely soared through the roof thanks to these amazing people. It gave me a great friend who, surprisingly, isn't even human," Dougherty writes. "Holly is an outstanding horse. Even when she doesn't want to work, all it takes is the promise of food when she's done and she will do it in a heartbeat."
In fact, Holly is a big part of why Dougherty has found this therapy to be so fun. While learning to ride is exciting, she said the best part is getting to know the horses and their personalities.
Before joining TRC, Dougherty remarked that she found other therapy to be repetitive and boring, with the same routine over and over. "Now with Pegasus Springs, as I make progress, the riding instructor changes a step or two in the routine to make it harder."
Following the first set of demonstrations, attendees sat in on a presentation from Jorie Barrett, 18, Durand, who has spina bifida.
"I'm just amazed by her," Clare expressed of Barrett, who was born into the equestrian lifestyle. As Clare has noted, Barrett began riding as an infant. "Her mother, an Occupational Therapist and horsewoman, along with her grandmother, who taught her natural horsemanship, served as inspiration for Jorie."
Barrett showcased her skills in the arena, both on and off her horse Sixx, who has been her partner since 2017.
Sixx's original owner initially wanted him to be trained and then sold but, with the quick bond that he developed with Barrett, she said she decided that Sixx would be staying with her.
The affection is mutual, with one TRC staffer commenting after the display that she could tell how much Sixx wanted to please his rider.
As part of her presentation, Barrett also shared details on her experience with what is known as natural horsemanship. She said this practice – which focuses heavily on a horses natural instincts/behaviors, and is considered a more humane training method – gave her a whole new perspective when it comes to these animals.
Barrett pointed out that connecting with one's horse is what it's all about. A prime example of this was witnessed when she did some "Liberty" work with Sixx.
Further strengthening a rider's connection with their horse, this training style allows the animal to be completely unrestrained, and exercise their more natural movements as he or she interacts with their human partner. This has been proven to enhance communication between a person and their horse, thus, also building their trust and bond with one another.
Joining the lesson was Barrett's mother, Rachel Barrett, who added that just about any therapy which can be done on the ground can also be accomplished on a horse.
She said that absolutely nothing replaces the gait of a horse, and that just the movement alone is therapeutic; not to mention the cognitive aspects.
When Barrett wrapped up, attendees took a break to enjoy a cookout lunch. A number of area establishments contributed food for this, as well as other supplies to help out with the "Hoof" Camp and Eagala demonstration.
Businesses which donated to the event consisted of Klenow's Market, Kentucky Fried Chicken of East Tawas, Freel's Market, Neiman's Family Market and Roger's Family Foods.
Along with other presentations and lessons throughout the day, participants were treated to a military services program demonstration as the finale event.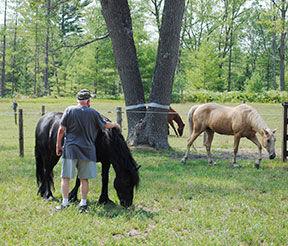 Huron Heroes & Horses will feature the Equine Assisted Growth and Learning Association's (Eagala) equine-based psychotherapy model for U.S. Military Veterans.  
This method was summarized by Beth Harzinski and Delena Austin, who also shared some helpful resources for the military members in the crowd. Both are certified equine specialists through Eagala, with a host of other credentials.
According to Austin, Eagala is very unique and concentrates solely on mental health and learning, with all exercises conducted on the ground.
She explained that horses are prey and herd animals, who are sensitive to their environment, as well as the energy that people bring to their space. As a prey species, horses need a certain sort of equilibrium, so to speak. They can pick up on one's stress and fear, and will then try to challenge the person.
In other words, Austin says  that horses want anyone in their pasture or herd to be on the same page.
According to information from Eagala, herd dynamics help clients understand their own lives. Further, the horse's reactions provide unbiased and real-time feedback.
Austin says the program works because, while somebody may tell another person that they are doing well – even though they're actually having a bad day – a horse is not as easily fooled.
Austin notes that horses are gifted when it comes to "pulling things up." When these issues do bubble to the surface, Eagala participants need to know how to then deal with them.
She and Harzinski reiterated that the animals are going to challenge veterans to do the work, and also promised that the participants are going to have epiphanies. The program is experiential, and continues to work long after a session ends.
Austin shared that, in her experience, Eagala therapy moves things along faster for veterans. This tends to be more of a short-term relationship with the Eagala team, typically six to eight weeks.
She also pointed out that there are a range of options and variations when it comes to this type of therapy, with veterans being able to choose from group sessions, solo work, weekend long retreats or weekly sessions and so on. Either way, Eagala strives to make sure each participant is working on their own individual goals, without forcing them.
For example, Austin said that Eagala is much more than simply petting a horse. However, if someone shows up for a session and all they feel like doing that day is standing in the pasture, "then that's what we'll do."
For the July 18 event, a group of area veterans were able to get a sneak peek of the program by familiarizing themselves with the horses at Pegasus Springs, and working on some teamwork exercises.
The Eagala representatives noted that this was just a demonstration but, once veterans actually join the program, a mental health professional would also speak with them about their experience during the lessons.
Austin said the main goal of Eagala is to move people past whatever it was that prompted them to seek help.
Huron Heroes & Horses will be available to Iosco County veterans, thanks to a collaborative effort between Clare and Ron Whitney, along with guidance from Harzinski and Austin.
Whitney, Iosco County Veterans Service Officer, attended the demonstration with fellow local veterans, as well as one from Arenac County.
There will be no charge to the Huron Heroes & Horses participants, who will attend the program once a week for six weeks. At press time, Whitney said 10 Iosco County veterans are set to take part in this offering at TRC.
He says he thinks that Huron Heroes & Horses will be a beneficial program, and that he is proud to have been a part of getting this off the ground.
He added that Clare is looking into additional grants, to continue and expand the program.
As Clare has explained, the Eagala model can help families, children experiencing loss and individuals looking to find answers that traditional therapy hasn't offered. Anyone can benefit from equine-assisted work; not just therapy clients. Future programming is being developed to assist families and individuals, civilian or military, using such therapies.
According to Clare, Iosco County has more veterans than any other county in Michigan, per capita. Therefore, the Huron Heroes & Horses program will be huge for this area. The goal is for TRC to expand the program to active military personnel and civilians in the near future.
"We will also be using this program next school year to benefit youth at risk with a grant we received from the Iosco County Community Foundation," she has stated. "We will be able to facilitate corporate retreats and church groups, and offer personal coaching, as well as help with parenting and family dynamics," she notes.
Clare encourages all veterans who are interested in such programs to contact the Veterans Affairs Services Officer in their county.
Pegasus Springs, which opened in 2019, is the only center of its kind in Northeast Michigan.
"We served seven children from age 4 to 16 last summer with various cognitive, emotional and physical disabilities, all of which will return again in 2021, with  two of our riders becoming volunteers," Clare says.
For more information about TRC, the other programs offered or to make a donation to the nonprofit, visit www.pegasusspringsmi.com or send an e-mail to pegasusspringstrc@gmail.com. Further inquiries may also be directed to TRC representatives by calling 820-1787. Those interested in learning more about the Huron Heroes & Horses program may call or text the number above, and ask for Clare.