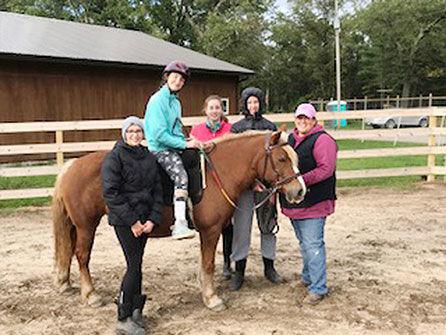 NATIONAL CITY – A packed summer schedule is underway at Pegasus Springs Therapeutic Riding Center in National City, which caters to those with various disabilities.
Among the latest announcements from the 501(c)(3) nonprofit, is that the organization has welcomed its first professional intern, Paige Bleck.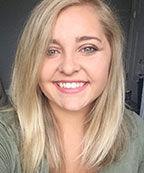 Pegasus Springs' Executive Director, Barb Clare, says Bleck is a 2015 Tawas Area High School graduate. She is completing her degree in Recreation & Event Management at Central Michigan University (CMU) with a 15-week internship, and optional extension into later this year.
"I have a strong passion for bringing people together and improving the quality of life for those around me.  I love living in a small town and seeing the potential for amazing opportunities in our rural community," Bleck says.
Clare expressed that she was thrilled to hear from Bleck. "Paige contacted us at a critical time in our organization, and we've had to be creative with the massive changes brought about by the virus pandemic."
Clare notes that, due to COVID-19, she and Bleck have been working virtually via phone and online since early May. They were to begin working on site as soon as the state and CMU protocols allow.
"She will be a great asset, with a fresh and relevant approach to our planned events for the remainder of 2020," Clare adds of Bleck.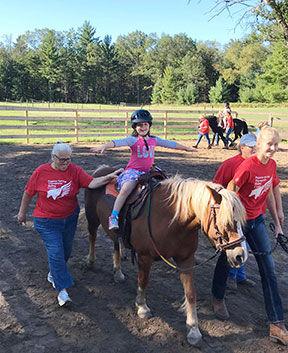 Pegasus Springs, which opened in 2019, is the only center of its kind in Northeast Michigan. Located on Old State Road, the venue offers adaptive riding to persons 3 years and older with cognitive, physical and emotional disabilities. This includes those living with PTSD, Down Syndrome, spina bifida, Multiple Sclerosis and other conditions.
Although the center has canceled regular program sessions, horse camps and barn birthday parties for the safety of their riders and clients this season, there are still many events planned outdoors while utilizing social distancing.
"Paige will be heading up our Volunteer Camp on [Saturday] July 18, from social media posts to directly contacting persons who are interested in volunteering as well as managing the event," Clare says.
The Volunteer "Hoof" Camp at Pegasus Springs Therapeutic Riding Center will go on from 9:30 a.m. to 1:30 p.m.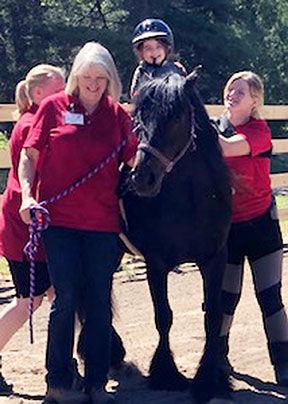 Clare says the team is very fortunate to be able to offer in rural Northeast Michigan what is available in most larger cities, referring to the activities as recognized and highly valued services.
Volunteers are a necessary part of this, with up to three helpers needed per rider, according to Clare. "This is a rewarding opportunity to support our community."
She advises that, while it is preferred, no horse experience is needed since each volunteer is trained and selected based on his or her ability.
The camp will feature therapeutic riding demonstrations, volunteer training, other presentations/activities and details on the Huron Heroes & Horses program.
For the latter, Clare says she has been working with Iosco County Veterans Services Officer Ron Whitney to make this program available to several area veterans in early August. Similar equine therapy has led to some amazing results for veterans with PTSD.
Clare reports that, per capita, Iosco County has more veterans than any other county in Michigan; therefore, the Huron Heroes & Horses program will be huge for this area.
Pegasus Springs will be sharing additional details in the coming weeks, on what they will be offering to veterans.
Clare notes that everyone from teenagers at least 14 years of age, (and with parental approval), to retired adults will enjoy the camaraderie and rewarding experience of assisting Pegasus Springs riders. "This is a time for us to build a solid team of volunteers for the remainder of this season and to return in 2021 for our riders."
For those interested in lending a hand, attendance at one of two volunteer open house events is required, along with applying online, reading/watching a required training video and volunteer manual and printing/filling out an ICHAT background check form. The $10 fee associated with the form may be paid through the ICHAT website, which can be accessed at https://apps.michigan.gov.
The volunteer open houses  have been scheduled for Thursday, July 16, from 10 a.m. to noon, and on Friday, July 17, from 4-6 p.m.
"It's a great way to see our center and ask questions. There are some persons this type of volunteer work will not suit, and some positions can be physically demanding, like walking or jogging in our sand arena," Clare explains. However, she said there are several types of positions for people to choose from.
This is not an open public event, and participants must have already applied online in order to come onto the property the day of Hoof Camp. Check-in will be at the gate.
Face coverings are required, and a temperature check and hand washing station is the first stop when entering the barn.
"A demonstration with one of our own, a 16-year-old volunteer and current program rider, will show 'real-time' riding instruction with our two instructors, a horse leader/handler and two side walkers in the arena," Clare says.
Some hands-on training of leading and sidewalking will take place, as well.