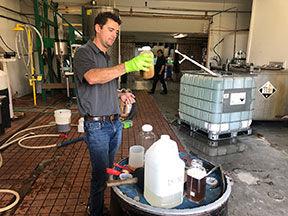 OSCODA – Iosco County residents will now be able to get their water tested for PFAS contamination locally by Enviro Lab, a new company owned and operated by Dean Wiltse of Oscoda.
Wiltse is owner and operate of several Oscoda businesses, including Wiltse's Brew Pub.
Enviro Lab is an offshoot of Wiltse's Enviro-BRITE Solutions cleaning supply company, operated out of the same location on the former Wurtsmith Air Force Base.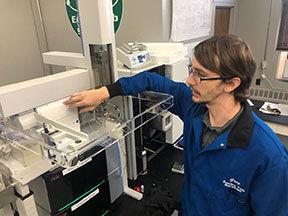 The restaurant owner and brewer, along with his partner Thomas York, decided to branch into a chemical company after noticing a lack of environmentally-friendly supplies for brewers and other industries to use.
Now teaming up with chemist Gregory Rosenhauer, Wiltse and York are hoping to offer fast and affordable water testing for concerned residents. 
"We are aware that in Oscoda, we have a huge problem in the community with the PFAS, and we knew that the defense contractors and the state and everybody involved with the PFAS, that they were having trouble in the beginning getting laboratories that could do the testing," Wiltse said. "So we just got talking and I said 'you know what we oughta be doing? We ought to be building a laboratory here that can do that.'"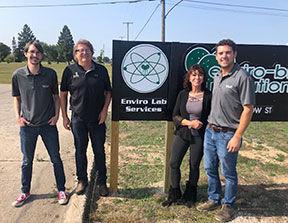 Not only were there limited labs that could do the testing, but it was a complicated process to collect the water, ship it across the state and get the results back, all while residents are wondering if their water could be causing adverse health effects. 
"Some of these samples were taking upwards of a month to get their results and it was just not acceptable," Wiltse said. "Normally this test was about $500 for drinking water which is the highest standard, and for local people in the county that have a concern, the price is going to come down to about $150 for someone to find out, and they're going to find out in a day. We think that's got a huge public benefit."
Getting the lab up and running hit a snag during the COVID-19 pandemic when the shipment of equipment they ordered was delayed. Now that it's been delivered, Enviro Lab is undergoing the accreditation process with the State of Michigan to ensure they can accurately identify contaminants. They're aiming for the highest accreditation to cover drinking water testing.
"I think there's a lot of people around this community that still have concerns about it," Wiltse said. "I was able to test a couple little wells I have around and there's PFAS in the water. Fortunately it falls under what they call the safe threshold, but the fact that it's there is concerning."
The lab will offer the PFAS testing at a discounted rate for county residents through the end of the year, and then they plan on partnering with municipalities and the U.S. Department of Defense to help run their water testing, Wiltse says. They also plan to start testing tissue for man-made chemicals like PFAS, and they want to create a database with the water testing results, so that the public has better access to that data.
"Every city has to have their water tested now for PFAS on some interval, and because we're brand new we think this will be a great way to give back to the surrounding area," he said. "Our next phase is to get into tissue sampling because we all have a small amount of PFAS in us, it came from the teflon pans we cooked in, it came from other sources, and we know that EGLE has found it in our deer, so who knows?"
Wiltse says they plan to combine their scientific knowledge with the customer service that has made them successful in both the restaurant business and the chemical industry. For help with that end, they've also hired officer manager Susan Carolle. It's all about giving back to the community and filling a gap for these services.
"We're going to try to be the friendly lab, the lab where there are no dumb questions, and we're here to help," Wiltse said. 
Wiltse, who served eight years as township supervisor during the base closure, says he's always seen a potential in Oscoda for industries like this. He says having someone like Rosenhauer, who has a master's degree in chemistry from the University of Michigan, is a huge asset for a lab based in such a small town. They're planning to recruit one or two more lab techs who don't mind the 'Up North' lifestyle.
"We want to create opportunities here for a technical workforce," he said. "We want to grow a company that can help the community."