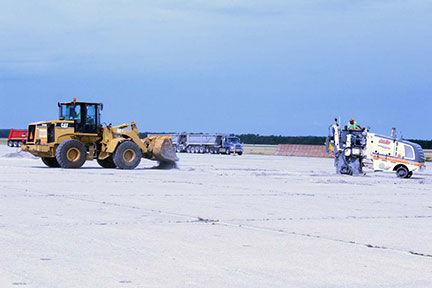 OSCODA – The Oscoda Wurtsmith Airport Authority (OWAA) met on Thursday, July 9, via Zoom for its monthly meeting to discuss a myriad of projects  and updates about the spaceport.
Two projects introduced by Oscoda Wurtsmith Airport (OWA) Manager Gary Kellan included a price quote for asbestos abatement of building 385 – unit 2 and modifications to hangar doors. 
Kellan said the units are typically rented and utilized by tenants for cold storage. He said recently building 385 was vacated. Through testing by airport staff it was determined that the bottom layer of tile in the building was made with an asbestos containing material (ACM) as well as, a failed heating system boiler and pipe insulation which also tested positive for ACM. 
With this in mind, Kellan said that staff requests completing asbestos abatement in building 385 – unit 2 and the mechanical room which contains the boiler and pipe insulation. Two price quotes were received for the job. The first came from Dore & Associates Contracting Inc., for $15,700 and the other came from Mid State Asbestos Removal for $17,200. A motion to authorize Dore & Associates to perform the abatement for $15,700 was made by John Swise and was seconded by Rob Huebel receiving a 7-0 vote. 
A second project introduced to the board from Kellan were hangar door modifications. He said that buildings five, six and 60 are multi-cell aircraft hangars that were designed and constructed in the early- to mid-1950s. The subject buildings include 12 hangar cells and each cell is equipped with two aircraft capable doors that come in three different types.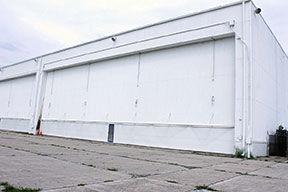 According to Kellan, the largest doors are on cells 9-12 measuring at 33 feet by 100 feet. The doors are raised by electric motors that assists with counter-balance weights or hydraulic mechanisms, stated Kellan's report. Kellan said maintaining the doors is complicated, time consuming and expensive because replacement parts aren't available for direct purchase. 
For this reason, Kellan said that Phoenix Flight Services had to fabricate replacement gears for one of the door hoist systems. Currently, hangar cell number nine is inoperable and requires new doors. In order to have less issues in the future, Kellan said that Phoenix Flight Services suggested that the airport modify the door. 
Kellan received a written proposal from Sidock Group, an engineering/architectural firm that specializes in designing and developing remedies for airport facilities. The proposal includes designing modifications for two of the three door types. The proposed service fees totaled $36,500. Developing reusable construction drawings and specifications for two types of hangar doors is $22,500, assisting airport staff with construction bidding solicitation for the cell number nine project is $4,000 and providing construction administration and inspection services during the cell number nine project is $10,000. 
A motion to authorize the hiring of Sidock Group, Inc to prepare and designs and modifying one door for cell 9 was made by Mike Munson and was seconded by Aaron Weed receiving a 7-0 vote.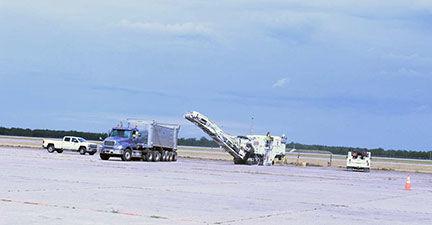 Other discussions about projects previously reported on included phase II of resurfacing the Iosco Apron, phase I of resurfacing Taxiway 'E' and the demolition of building 5006. According to Kellan, phase II of Iosco Apron resurfacing project is underway and began on Monday, July 6. 
Currently work is being done to mill off the layers of concrete and pliable asphalt. Kellan said he predicts the project will cover 16 to 17 acres, or about 30 percent of the apron. Kellan also mentioned the planned phase I Taxiway 'E' resurfacing project which he said is set to take place in September. Additionally he briefly touched on the demolition of building 5006 and said it was scheduled to be completed by the end of October. 
Along with project updates, members of the authority had ample discussion about Oscoda-Wurtsmith Spaceport Development work representatives. Kellan requested that OWAA representatives determine if members of the OWAA board would participate in spaceport workgroup committee work sessions and if so, who would participate. 
Ample discussion took place on the topic with a myriad of members sharing their thoughts and opinions. One motion requested that Munson, Dave Dailey and the current Oscoda Township (OT)Supervisor hold the position; however not all members approved so a second motion to approve Munson, Dailey and Chairman Kevin Boyat was made. 
Concern arose about the OT supervisor not being involved, so a third motion was made in which it was requested that Boyat, Munson and the current OT supervisor hold the positions. The motion was made by Dailey and was seconded by Kevin Beliveau receiving a 5-2 vote with Weed and Huebel dissenting. 
A brief mention of the community advisory board – as reported on during the June meeting – for the spaceport was also discussed in Kellan's comments with follow-up information. 
"The board agreed that staff should pursue this. We've developed a description of service that's been evaluated by representatives of Michigan Aerospace and OT officials and basically that will be used as the initial description of work. Once the committee gets formed they'll probably better define what their mission will be going forward with additional input from Michigan Aerospace," said Kellan.
He said staff intends to advertise as directed by the board. 
"We are receiving letters of interest and applications from individuals that are interested on serving on the community advisory committee."
Kellan said further that those voted to serve as work group representatives, i.e., Boyat, Munson and the OT supervisor, will also be members of the community advisory committee. Kellan said it is recommended that the board consist of seven to nine individuals. 
"The committee would boil it down and bring that recommendation to you," said Kellan referencing the work group individuals.
• Approval of the June 2020 financial report which includes payment transactions totaling $217,440.88. A motion to approve was made by Beliveau and was seconded by Swise receiving a 7-0 vote. 
• Authorization to share and pay half of the exhibitor booth fee at the North American Space Summit. A motion was made by Dailey and was seconded by Swise receiving a 7-0 vote. According to Boyat, Dailey, Munson, Weed and Kellan will be in attendance at the summit. 
• Airport comments from Kellan about MEDC site readiness program professional services solicitation, special projects coordinator and the 2020 pilot training & aerospace education scholarship. Munson suggested that the scholarship be postponed to 2021 due to the submission of one application.