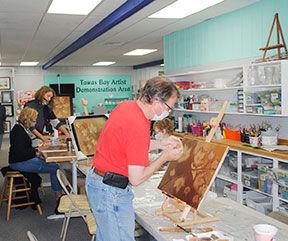 EAST TAWAS – "It's very important to promote the artist in all of us," says Tawas Bay Art Gallery member/artist Kate Kelsey.
As human beings, she notes that creativity lies within each of us, be it using our hands to turn wood, submerging them in clay or grasping a paint brush.
"We all have a creative side; we just have to find it. And in order to find it, you have to explore all the avenues," Kelsey says, adding that the gallery wants to be that vehicle for people to embrace their artistic side.
Situated in downtown East Tawas, the venue currently features the works of 28 different artists, all of whom reside in Iosco County. The items range from paintings, photography, stained glass and handmade jewelry, to wood carvings, fiber art, pottery and more mediums.
And the gallery's commitment to community stretches far beyond that of providing a space for local artists to showcase their pieces.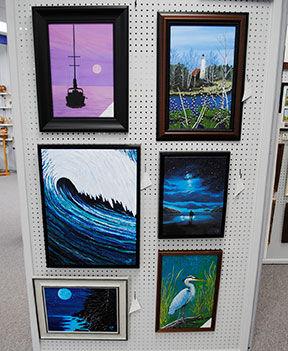 The members are more than happy to share their skills with others, as well, by offering to the public a variety of painting, sign-making and other classes.
As a self-supporting organization itself, the representatives also know the importance of lending a hand and giving back to the people in their neighborhoods.
One way they have put this into action, is through their participation in the annual Empty Bowls Project to benefit underprivileged families in the area.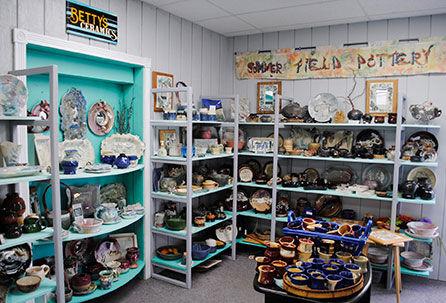 The artists of Summer Field Pottery – which also has a space within the gallery – are among those who donate their time creating and decorating soup bowls that can be purchased to support the project.
Empty Bowls is a worldwide effort, to which a number of different entities contribute. For the event in East Tawas, Kelsey says the gallery provides the artists and the potters, as well as the venue in which to hold the fundraiser.
A silent auction is conducted, and local restaurants whip up a selection of soups for the buyers to enjoy, which is served in a separate dish. The bowls purchased by the visitors are wrapped up and sent home with them.
Kelsey points out that along with the artists, other volunteers and businesses, the Empty Bowls Project at the gallery is made possible through such organizations as New Hope Church in East Tawas and the Salvation Army.
All proceeds from the sale of the bowls are used to assist needy families, particularly during the holidays.
Kelsey estimates that $2,500 was raised locally, at last year's event. The funds are used to purchase food, including turkey, pies, vegetables and so on. The church members and others from the community then gather to bag up the items and load them into vehicles so the food can be distributed to the families.
In addition to this, Kelsey says a major focus at Tawas Bay Art Gallery – which is also incorporated into their mission statement – is to work with the school-age children in the area, and provide them with a venue in which to experience art. "And we help them along in their creative journey."
She says that, fortunately, there are still art programs at Tawas Area Schools (TAS). "However, so many schools do not have that. But we support that."
In just one example, the gallery sponsors the annual fine arts festival at TAS, and provides checks to the winning students.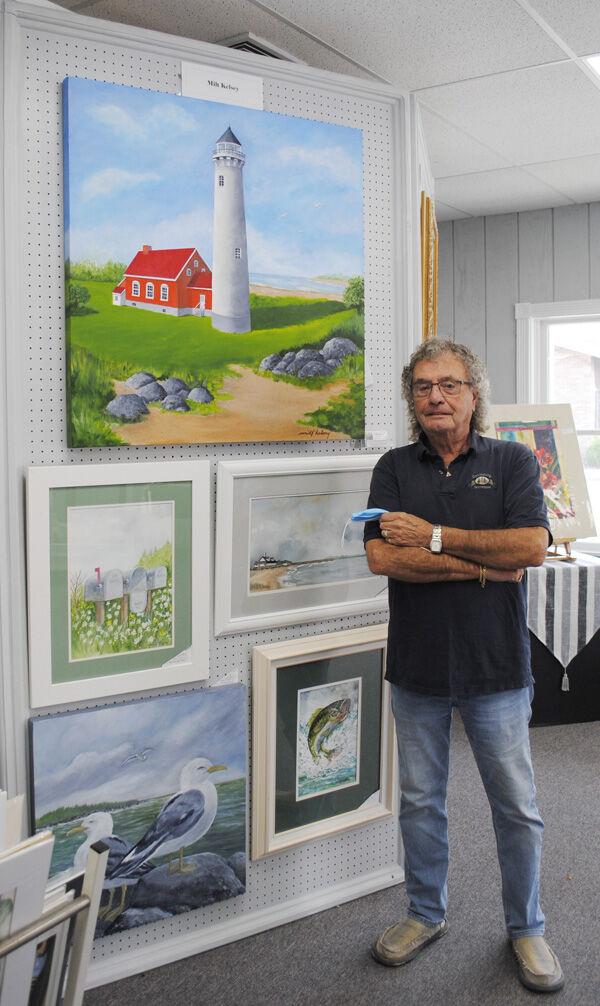 "Our members usually do the judging for that," says Tawas Bay Art Gallery President, Milt Kelsey. When he and his wife Kate moved to East Tawas in 2011, they joined the gallery and have stayed on as members/artists ever since, with Kate also serving on the advertising and marketing committee.
The committee chair, Judy Howe of Tawas Township, is also the group's treasurer. Kelsey says that Howe – who joined in 2004 and also served as the gallery president for five years – is one of the pillars of the organization, and has been a dedicated member.
Augmenting Kelsey's earlier remarks, Howe says that children are very important to those at Tawas Bay Art Gallery. One of the big things they do every year, is an art camp for youngsters. "And no child, if they do not have the money, has to pay."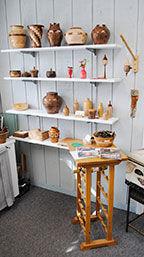 Kelsey adds that a lot of people who visit the area actually plan their vacations around this activity.
"Those kids become friends and they communicate all year long, and can't wait to get back so they can see their friends," echoes Howe.
"It's a one-week, creative journey for the children who participate," Kelsey describes, saying that the participants do at least three different projects in a variety of mediums.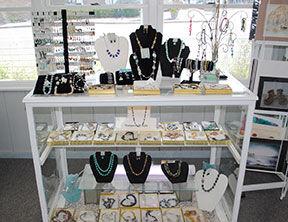 "We teach them everything," Howe says of the camp, which caters those age 7 up through high school seniors, with separate sessions for the different age groups. "And our members usually volunteer to teach the classes."
"We really believe in supporting the aspiring artists at the school-age level" Kelsey reiterated, also noting that the members elected to have a high school student display his or her art at the gallery. The work is showcased for a full month, after which a new young artist is featured.
"We've been doing that for a long time," says Howe, adding that some of the previous students and TAS art festival participants have come back to assist the gallery with its lessons or lend a hand during different projects.
In another outreach to the youth in the area, she says the gallery has craft kits available for children to take home. This has been a particularly big hit during COVID-19, as people have spent more time indoors.
The representatives are also happy to have recently been able to reengage their drop-in classes for young people at the gallery.
Kelsey says that since the pandemic, the organization has found a new way of doing things in order to support the community and the gallery, while also helping other businesses in the process. For example, they buy as much as they can from local merchants, and part of this has been the children's craft kits.
Howe says that some of the supplies were extras from the art camp, but the other materials are donated by gallery members. "And that way, it keeps the price down."
"And all the money goes back to the gallery, so that we can stay afloat," Kelsey explains. "Being a nonprofit in this environment is very difficult right now."
Although the pandemic put the kibosh on some of the gallery's 2020 events, the organization is well-known for drawing in large crowds to its annual affairs. This includes the Tawas Bay Waterfront Fine Art Festival, held at Tawas City Shoreline Park, which would have marked its 60th run this year.
Howe, the event chair, credits the City of Tawas City for bending over backwards to provide the tent, the park and to make sure the show goes off without a hitch.
Kelsey says this is yet another hand in glove example of how the local businesses and groups work together on a common goal for the community, by helping people in the area, which is something the gallery really tries to promote.
She adds that the Tawas Bay Waterfront Fine Art Festival is always held the first weekend in August, and they hope to be able to bring this back in 2021.
Along with their Spring Into Art and Fall Into Art events, another popular activity the members take part in is the annual Art Stroll, in a partnership with East Tawas establishments.
"The businesses provide a venue; we provide the artists. It's a win-win situation," Kelsey says.
She and some of the other gallery members have also taught classes for those in assisted living and long-term care facilities. The residents have stopped by the gallery to work on projects, as well, including paintings for their rooms and personalized name plaques to put on their doors.
"And they were so excited to go somewhere that was creative, that was uplifting and participate. They had a good time," Kelsey recalls of one such experience.
Not all art is visual, and she also told of the time she held an evening with Edgar Allan Poe event at a local facility. It was Christmas Eve and, since not everyone can get out and not everyone has family, she did readings of Poe's work and spent time with the residents.
Ahead of the activity, she went to St. Vincent de Paul in Tawas City and told staff that she was looking for holiday coffee mugs. "And they sold me every Christmas cup they had, for 50¢," she says, pointing to further evidence of those in the community teaming together for the same goal.
Other involvement from the gallery artists includes teaching classes for Sunrise Side Lifelong Learning, participating in the Perchville USA festival and sponsoring activities put on by the local Audubon society. They also take part in and/or give to such events as the Customer Appreciation Block Party in East Tawas, Tawas Bay Insurance Agency's Halloween Challenge and the Tawas Uncork'd Wine, Ale and Food Festival.
Past involvement has also entailed donating to the children's art project during the Great Lakes Lighthouse Festival in Alpena; providing arts and crafts at Tawas Point Celebration Days; and sponsoring Red Hat Tea Parties, which Howe says would bring in more than 200 people – and a lot of business to the community.
Gallery representatives are also very supportive of their fellow members, including photographer Bill Lauderbach, whose work Howe says has been extremely popular this year.
"We're very proud of our artists," says Kelsey, adding that Lauderbach has also been greatly involved in teaching classes. In fact, the two have been discussing the possibility of rolling out a Tawas Bay Art Gallery photography club, for those looking to hone their skills in this art form. While still in the brainstorming stage, the idea is to potentially have one club for adults and a separate one for TAS high school students.
Howe shared that Lauderbach did a photography class for the art camp, and the children just loved it. "In fact, they liked it so much that he had to set up another class for them."
The care for their community could be one of the reasons behind the longevity of the gallery, which Howe says was officially started in 1960. The group has been housed in several different locations throughout the years, including the former Greystone building in Tawas City and a space above the Brew Krew in East Tawas.
Howe says that gallery artist/member Betty Fahselt purchased the current building, from which they have been operating since 2012.
Fahselt, who plays a key part in the Empty Bowls Project and other activities, is also a longtime, dedicated representative of the gallery.
She says that, along with the scheduled lessons, visitors can also arrange for private classes with the artists. For instance, Fahselt has been working once a week with a couple students who are homeschooled, and will also be doing a private class as a team building/staff event for a local business.
Kelsey says the members want to encourage people who are artistic and creative to participate and take classes.
There is also a Patron of the Arts program offered, which she says gives people an opportunity to lend a hand, that then affords them the ability to spend time with the artists and participate in the classes and events. The program also grants patrons a 25 percent discount on their classes.
For those looking to showcase their items in the building, Howe says that memberships are available and the artists have to bring in three pieces of their work. "And we have a jury board that looks at it and decides whether they're going to be a member or not."
Howe says one of the main things is that the members have to be able to work 20 days out of the year. "Because we have to keep it open. If they don't work, we can't keep it open. It's all volunteer."
According to Milt Kelsey, each artist has their own space, labeled with their name, so the items aren't scattered around if someone were looking for a specific artist's work.
For those wanting a hands-on art experience themselves, the gallery is offering at least seven different painting classes in the month of October. Space is limited, so pre-registration is necessary, and masks are required upon entering the building.
For more information about the gallery, the lessons or how to become involved, visit the venue at 302 Newman St., call 362-5613 or check out the gallery's Facebook page.