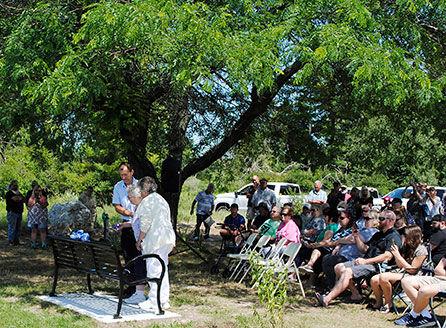 ALABASTER Twp. – Spanning four generations, members of the Erickson family in Alabaster Township have accumulated an admirable 250 combined years of service with USG. To commemorate their long history with both the company and the community, roughly 100 people attended an event on July 10, which doubled as a family reunion.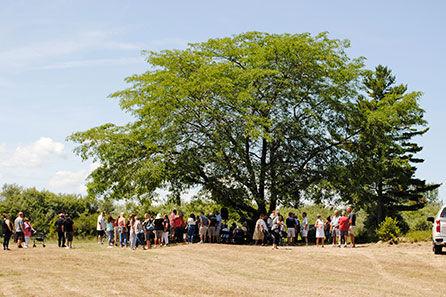 In conjunction with the township and USG, the Ericksons unveiled a bench and interpretive sign which they have erected along the Alabaster Bike Path Arboretum, just a short distance from the Lake Huron shoreline, near Turtle Road.
Among the large group of attendees were family members and friends, Alabaster Township Supervisor Stephanie Wentworth and retired USG employees Tom Coyle and Andy Bischoff.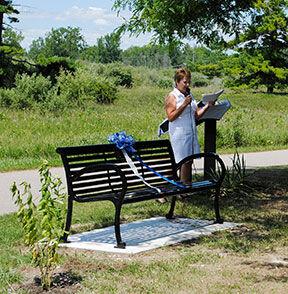 A number of people had a hand in the success of the occasion, particularly Diane Erickson Potts of Standish – the daughter of Pat Erickson – and her husband Clinton, as well as Ruth Erickson Barnes of AuGres – the daughter of Edwin "Bud" Erickson – and her husband, Gary.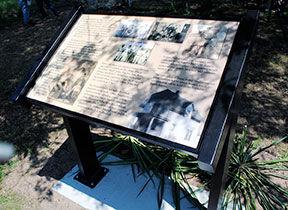 The sign which was dedicated that day features several photographs and historical details, with the language reading as follows:
"Alabaster was once a thriving community that included two churches, a school, a company store, a post office, a town hall, and company rental housing for USG employees. Standing in the town on a typical workday one would be surrounded by the sounds of clanging buckets, rocks being crushed, and the horns of departing freighters laden with gypsum.
"The Erickson Family came to Alabaster after their home and all their possessions were destroyed in the 1911 Oscoda Fire. Seeking employment and housing for his family, Samuel Erickson walked over 20 miles from Oscoda to Alabaster. He found work loading one-ton buckets of gypsum by hand for 10 cents a day and was able to move his family into the company's rental housing. Little did he know this was the start of the Erickson legacy at USG, accruing over 250 years of service over 4 generations.
"Elmer, his oldest son, married Frances McLean and raised 9 children in the village: Elmer Jr., Edwin "Bud," John, Pat, Art, Inis, Betty, Donna and Robert. All his sons worked for USG in various capacities. Elmer Sr., along with his brother Fred, and sons Edwin, John, and Art, retired from USG.
"The Erickson family has many cherished memories of life in the village. Neighborhood family potlucks, attending school, fishing, swimming, and playing baseball were part of the pleasure of living in such a close-knit community. The Erickson boys were standout players for the Alabaster baseball team and were recognized in the N.E.M. Baseball League Hall of Fame. The annual USG company picnic was the highlight of every summer where employees and families would gather to play games, have fun, and celebrate another year.
"The experience of living in this small company town, surrounded by serene beauty, was a treasure that will be held in the Erickson family forever."
Opening remarks were given by Erickson Potts. She shared that when John Erickson passed away in 2020, her cousin Dave Erickson suggested that in lieu of flowers, a bench be situated along the bike path. "And all of the cousins and family members and friends thought it was a great way to honor his memory and our family."
Several other relatives spoke during the event and, like Erickson Potts, they all gave credit and thanks to those who helped make the bench and sign dedication possible. This included Wentworth and others from the township, as well as such company representatives as USG Alabaster Operations Manager Jim Sheehan and USG Manager Matt Craig.
"They have been wonderful to work with," Erickson Potts remarked. As for Wentworth, "This would not have happened, had she not inspired us to put in the effort to tell our story," she continued. "So I am so thankful that you were willing to share this opportunity with us."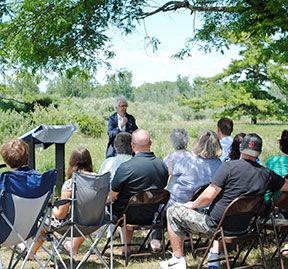 When Wentworth addressed the crowd, she welcomed them to the township, adding, "And I think it's safe to say, welcome home. This is your old neighborhood and we're delighted to have you here.
"When we had the opportunity to work on the bench, that was great. But then when the sign idea surfaced, that was even greater," she went on. "And I'm sure you've all seen it, but be sure and look at it closely; it is wonderful."
She noted that the township has been getting many comments about what a cool thing it is to have the history explained. "A lot of people knew nothing about the village; knew nothing about what took place here for so many years, and now it's very apparent and more questions are being asked. So I thank you for doing this for us here in Alabaster."
Wentworth also pointed out that the bike path is easily accessible and is open for one and all.
When it came time to cut the ribbon for the bench dedication, John Erickson's wife, Margaret, had the honor of doing so. She was joined by her sister-in-law – Pat Erickson's wife, Carol – and her nephew, Dave Erickson.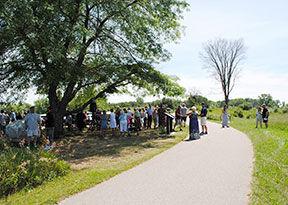 Following an enthusiastic round of applause when the ribbon was snipped, Erickson Potts said that there was a lot of thought put into the location of the bench, as well. The family chose to place it under a large tree, for shade, and to also have it facing the water so that visitors could take in the view. Additionally, "the path that goes along there, is the road that led to grandma and grandpa's house."
Therefore, they made sure that the bench reflected their family and their memories, Erickson Potts explained.
Art Erickson was known for his phlox flowers, so one of these plants were also placed right next to the bench, in his honor. Adjacent to this, near the trunk of tree, is another fitting element for the tribute – a large gypsum stone.
"And we thought that that would be very nice to have, so people could really understand what they did – especially when we go into the narrative about our great-grandfather," Erickson Potts said. "So USG was very gracious in placing the stone over there."
According to her, the interpretive sign took on legs of its own when Wentworth asked about the family's history. "And she said, 'if you're willing to put in the work, we'd love to hear your history; we'd love to hear your story.'"
Via plenty of e-mails, text messages and phone calls, they made it happen. "And through the generosity of others, it helped defray the costs," Erickson Potts said. "And I'm so proud to have our family's history reflected, especially in this spot."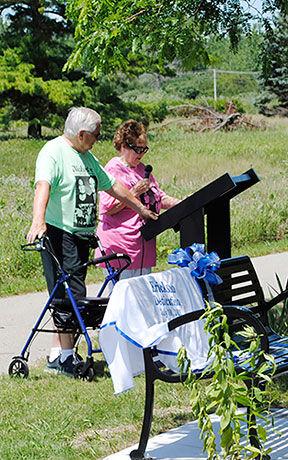 With that, she invited Robert Erickson and Betty Rose – the remaining children of Elmer Erickson Sr. and Frances Erickson – to unveil the sign.
Robert, who made the trip from Phoenix, Ariz. for the event, read the sign for the crowd. Rose, who lives in Freeland, then elaborated with some extra details.
For example, she said that her grandparents migrated to the United States from Finland. They initially lived in Oscoda and, following the fire, Samuel sought employment with USG.
As has been reported in this publication, USG is one of Michigan's oldest companies. In 1902, the Alabaster quarry was one of the first locations to join the newly-formed United States Gypsum Company (now USG). USG has quarried gypsum from the Alabaster operation since the company was founded.
"And then my father, at 16 years old, went to work at the USG plant," Rose continued, noting that he worked for the company until he was 65. All of Rose's brothers were also employed there, with some of them retiring from USG and others eventually pursuing their own business interests.
Rose went on to recall how one of her brothers was in the last class to graduate from the k-12 school in Alabaster, in the mid-1940s. 
"And the families in Alabaster were outstanding. They would help you with anything. It was just a really close-knit community," she said. "And we all lived in the company houses."
She also reminisced on the days when deliveries would be made for the home's ice boxes in the village, when quart-size glass bottles were dropped off by a milk man and when store employees from AuGres would come through to take orders.
"And in closing, I would like to remember those in our family who are in their heavenly homes," Rose concluded, before a moment of silence was held.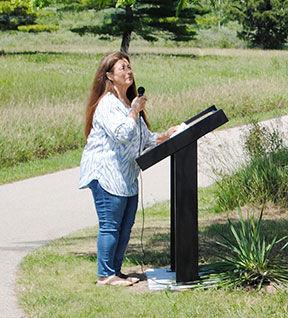 Robert Erickson reflected on his time in his hometown, as well, before he moved to Phoenix in 1969. "I couldn't have grown up in a better place than Alabaster. We made our own fun. We didn't have electronics; we just played ball," he said. "My cousins would come up from Flint and Detroit for a week or so, and they would always say to me, 'do you know how lucky you are?'"
He also shared that at the time he moved from the area, there were about 75 people residing in the village.
Next to speak, and telling her account primarily in the present tense, was Erickson Barnes, the eldest child of Bud and Anna Erickson.
"Before we conclude our dedication ceremony, I'd like to take a trip down memory lane, through the 1950s and 60s, as I remember Alabaster as a child," she said. "We're going to begin at the far south end of Alabaster, by the lake."
With impeccable memory, she proceeded to describe in rich detail everything from the homes in the area and those who lived there at that time, to the sights and sounds emitting from the nearby mill and crusher.
"Of course, you could hear it all the way through the village, and the dust would be flying," Erickson Barnes recalled. "I remember dad said they were blasting in the quarry today. You could feel it miles south of here. In fact, dad would warn us, 'today is a blast day.' And you could actually feel the earth shake, all the way to the Singing Bridge."
When ending her remarks, "I hope you enjoyed remembering some of the families that made this Village of Alabaster what it was," she told the crowd.
Like Rose, Erickson Barnes then asked for a moment of silence – this time, for not only their family members who have passed, but for all of the families which made Alabaster their home.
Along with attendees from throughout Michigan, Erickson Potts noted that family members traveled from as far as Arizona and Texas for the event – representing three generations, with the youngest being 3 months old. For the loved ones who couldn't make it out, the attending family members made sure to livestream the dedication/unveiling.
The family gathering continued later that afternoon in Tawas City, with a get-together under the pavilion at Gateway Park.