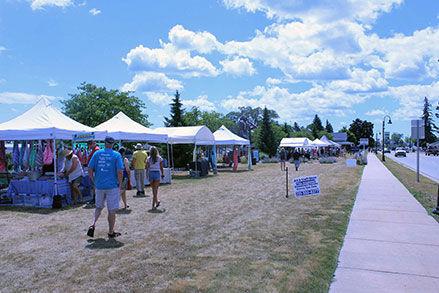 OSCODA – Danielle Lynch of Blue Ribbon Events held the inaugural Fresh Air Market on Furtaw Field last Saturday and Sunday to give locals an event to attend with all the cancellations in place due to COVID-19. 
The two-day event displayed nine vendors from Ear Fashion by Roger, Urban Hippie Trading Company, Waters Edge Creations, Love Leather Wraps, Ultimate Fishing Hats, Colorstreet, Gypsy Rose Studios, Payne Creative Solutions, LLC and a duo from Tawas City with an unnamed business selling resin art, illustrations, dream catchers and key chains. 
The vendors were placed along US-23 on Furtaw Field beside the Paul Bunyan statue. Locals browsed the small market noticing jewelry, art and clothing for sale among other handmade pieces. 
Although new to Oscoda, the duo of Patrick Vanrennes and Holly Smiley, owners of Urban Hippie Trading Company from Knoxville, Tenn., were not new to market life. Vanrennes said he has been making name rings for the last 35 years making all the pieces completely by hand. Further, he said his wife joined him on the adventure 20 years ago making beach bags that turn into beach towels using Turkish material. 
The duo displayed their wares under two different tents to give patrons ample room to browse the goods. Vanrennes said he travels across the United States with Smiley and their son, Paxton Smiley Vanrennes, to participate in as many markets as possible.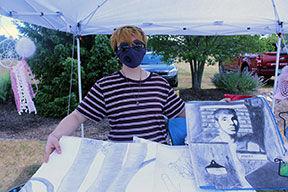 Two newbies to the market life were Danielle Kloc and Payton Suzanne, both of Tawas City. The duo said this was their very first time selling their creations at a market. 
Kloc specializes in illustrations as a self-taught artist with some schooling in art classes from Delta College while Suzanne creates resin art and backpack key chains. The pair were also selling their sister-in-laws' creations, Debbie Boyer, which included string dream catchers.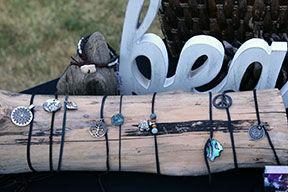 Two vendors from the west side of Michigan made their way to the Fresh Air Market to sell their goods, including Timothy Payne  of Payne Creative Solutions, LLC., and Peggy Gearhart of Love Leather Wraps.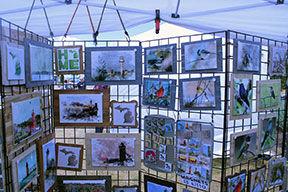 Payne began his tile art business just two years ago when a friend asked him to make something to fill a awkwardly shaped space in their home. From then on he began his tile art business. Payne said his creations start as photographs he has taken, then the photograph is transferred to a tile with a wood plank underneath it to display the unique texture and the final product. Payne also had a myriad of mugs and clothing for sale that he makes through laser engraving. 
Gearhart said she had never seen Lake Huron before and always wanted to, so when the opportunity to be apart of the market came to fruition she decided to jump right on it. Gearhart sells handmade necklaces and bracelets among other jewelry out of leather and has been doing so for the last eight years.