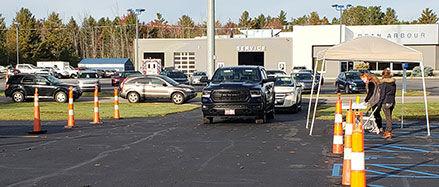 TAWAS CITY – Members of the Michigan National Guard again teamed with staff from District Health Department No. 2 (DHD2) Thursday for a second free COVID-19 testing in Iosco County, both held in Tawas City. 
Cori Upper, DHD2 emergency preparedness director, said the second Iosco free testing was scheduled due to the recent uptick in COVID-19 positive cases in the county. 
"It's a timely event," he said.
It's timely because of the recent increases in positive COVID-19 cases in Iosco County. For example, over a three-day weekend period, Sept. 19-21, Iosco County had 22 confirmed COVID-19 cases – from 147 to 169. As of Monday, Oct. 5 the county is nearing 200 positive cases at 196.
Iosco County had stayed at 11 confirmed COVID-19 related deaths since July 29, however, the number increased by one death, to 12, on Friday, Oct. 2. That number remained the same as of Monday, Oct. 5 at 3 p.m.
Upper said 145 people were tested Thursday, Oct. 1, which was held from 9:30 a.m. to 1:30 p.m., at Tawas United Methodist Church in Tawas City.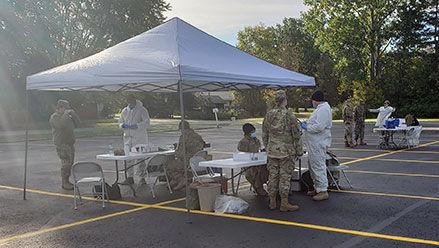 The first COVID-19 testing done by DHD2 and the Michigan National Guard in Iosco County was done June 19, at Tawas Area High School when 247 persons were tested. 
Later on Friday, Oct. 2, the Michigan Supreme Court, on a split 4-3 vote, ruled that Gov. Gretchen Whitmer's executive orders were unconstitutional and she had no lawful authority to extend them, without Legislative approval, beyond April 30.
"Today's Supreme Court ruling, handed down by a narrow majority of Republican justices, is deeply disappointing, and I vehemently disagree with the court's interpretation of the Michigan Constitution," Whitmer, a Democrat, said in a statement released Friday evening. "Right now, every state and the federal government have some form of declared emergency. With this decision, Michigan will become the sole outlier at a time when the Upper Peninsula is experiencing rates of COVID infection not seen in our state since April. 
"It is important to note that this ruling does not take effect for at least 21 days, and until then, my emergency declaration and orders retain the force of law. Furthermore, after 21 days, many of the responsive measures I have put in place to control the spread of the virus will continue under alternative sources of authority that were not at issue in today's ruling. 
"I know this is hard. We all want this crisis to be over, and we all want life to return to normal as soon as possible. But the only way we will get through this is by pulling together as Americans and working as one nation to defeat this virus. That means wearing a mask, washing your hands frequently, and maintaining six feet of physical distancing. Michiganders have grit, and there is no challenge we can't meet. 
"I want the people of Michigan to know that no matter what happens, I will never stop fighting to keep you and your families safe from this deadly virus." 
However, Michigan Republican Party Chairman Laura Cox issued a statement also on Friday regarding the 4-3 decision by the Michigan Supreme Court overruling Whitmer's emergency executive powers.
"This is a great day for the people of Michigan," Cox said. "The court rightly recognized that the constitution gives the legislature a role to represent the people of this state. Governor Whitmer overexerted her powers. The legislature wants to be a willing partner in dealing with COVID-19 and Governor Whitmer should recognize their duly delegated role."
The ruling came following an early Friday morning announcement on social media Friday, Oct. 2 by President Donald Trump that he and First Lady Melania Trump had contracted the coronavirus. That that day he was airlifted via helicopter to Walter Reed National Military Medical Center, where  he remained as this week's edition was put to bed.
"I want to start by wishing the president and first lady a speedy recovery," Whitmer said in a statement, also released on Friday. "This virus doesn't care if you're rich or poor, a Republican or a Democrat, young or old. No one is immune. Not even the president. 
"Here's the good news. We can beat this enemy – but it's going to take every single one of us working together to do it. Right now the most effective weapon we have is pretty simple: it's wearing a mask that covers your nose and mouth. It's washing your hands with soap and water. And maintaining six feet of physical distance from one another."
According to multiple media reports, Michigan Attorney General on Sunday said she will no longer enforce the governor's executive orders on the coronavirus.
Then, on Monday, Oct. 5, Whitmer and Michigan Department of Health and Human Services (DHHS) Director Robert Gordon filed a motion with the Michigan Supreme Court requesting that they clarify that their Oct. 2 ruling does not take effect until Friday, Oct. 30. 
Whitmer said if the ruling went into effect immediately, "up to 830,000 Michigan workers and their families could lose crucial unemployment benefits." Moreover, she said critical measures meant to prevent the spread of the COVID-19 virus would also immediately lapse. 
"Ensuring this transition period will allow the governor, local health departments, and the Michigan Legislature to work together to put protections in place that will keep Michiganders safe and protect our economy," according to a press release from the governor's office.
"We need this transition period to protect the 830,000 Michigan workers and families who are depending on unemployment benefits to pay their bills and put food on the table, and to protect Michiganders everywhere who are counting on their leaders to protect them," said Whitmer. "The Supreme Court has spoken, and while I vehemently disagree with their ruling, I'm ready to work across the aisle with Republicans in the legislature where we can find common ground to slow the spread of the virus and rebuild our economy. 
"It's time for Republicans in the Legislature to get to work and start showing that they are taking this crisis seriously. They can start by canceling their October recess and getting back to work. Let's work together and get this done." 
"The Supreme Court's ruling raises several legal questions that we are still reviewing. While we are moving swiftly, this transition will take time," said DHHS Director Robert Gordon. "Make no mistake, Governor Whitmer will continue using every tool at her disposal to keep Michigan families, frontline workers, and small businesses safe from this deadly virus. 
"The same is true for our department. We will use every statutory tool available to protect our state employees and the residents we serve. We also need Michiganders to do their part by wearing a mask, maintaining six feet of physical distancing, washing hands frequently, and getting their flu vaccine. We will get through this together." 
"A transition period is critical to ensure protections for the 830,000 unemployed Michigan workers and families who are counting on us. These are men and women who lost their jobs due to COVID-19, and depend on expanded benefits to buy prescriptions and groceries, pay their mortgage, and provide for their families," said Department of Labor and Economic Opportunity Director Jeff Donofrio. "During this crucial transition, we will work closely with the governor and leaders everywhere to protect our workers whose jobs were affected by COVID-19."
According to the latest numbers from the state, as of 3 p.m. Monday, Oct. 5 Michigan has 128,923 total confirmed COVID-19 cases. That includes 1,407 total confirmed cases from Sunday and Monday. Over the two days, the average number of new confirmed cases is  about 703  per day. Michigan also now has 6,816 COVID-19 deaths including 15 total from Sunday and Monday. 
District Health Department No. 2 and District Health Department No. 4 Health Officer Denise Bryan issued a statement Monday afternoon regarding the recent Michigan Supreme Court ruling.
"At this point, we understand that the Governor's Executive Orders are in effect for 21 days from the Supreme Court Ruling and the Governor has stated that many of them may be re-issued under other authorities," Bryan said. "The Michigan Department of Health and Human Services (MDHHS) also has several Epidemic Orders in place which are not affected by the ruling. 
"There are also multiple guidance plans and documents in place that serve to continue to guide us including the Return to School Roadmap and the MISafeStart Plan, as well as the comprehensive reopening plans developed by multiple sectors of business. MDHHS has advised us that they are working on their next steps which will take a little time. We believe the best scenario is to assess what future rules or orders may be issued statewide before we determine if any local orders will be necessary.
"From a public health perspective, the safety precautions that are in place and all the work we have done together here in north-east lower Michigan are great reasons to 'stay the course.' Locally we continue to see an increase in positive cases and increased contacts in quarantine. Testing, quarantine, and isolation are foundational strategies in public health to interrupt disease transmission." 
She said public health professionals will continue to recommend during this pandemic:
• Masking around others especially indoors;
• Limiting gathering sizes, especially indoors;
• Six feet physical distancing from others;
• Continue with workplace health screening of employees;
• Get your influenza vaccine.
"We want to remind everyone to continue to work together to keep each other safe," Bryan said. "We encourage all sectors of business to continue to follow the reopening plans you have developed. They are working to reduce transmission of COVID-19. 
"We have worked hard to get this far together, and we encourage everyone to stay the course and continue to protect themselves and each other. I wish to personally thank our public health staff for their tireless efforts to serve our communities, and daily commitment to our public health mission. We will continue to focus our public health efforts on testing, investigation, contact tracing, and timely communication of information to the public as it becomes available."