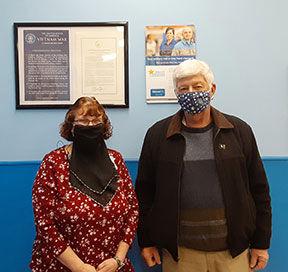 TAWAS CITY – Six military veterans from Iosco County were included in a grant opportunity, for which they each received $100 to purchase groceries from Tawas City Walmart.
This was part of a larger outreach effort, after the Northern Michigan Veterans Coalition (NMVC) received the Bob Woodruff Foundation's Food Assistance Grant, through the Craig Newmark Philanthropies. 
Iosco County Veterans Services Officer (VSO), Ron Whitney, says that NMVC was granted $10,000 to help 100 veterans in Region 3 who are in need of food assistance.
This region is comprised of Alcona, Alpena, Cheboygan, Crawford, Iosco, Montmorency, Ogemaw, Oscoda, Otsego, Presque Isle and Roscommon counties.
According to NMVC Board Member Ryan Sanderson – Senior Chief Petty Officer, USN Retired – the goal was to assist veterans with the purchase of food items from their local Walmart stores in Gaylord, Cheboygan, Alpena, Tawas City, West Branch and Prudenville. This was done through NMVC's partnership with Walmart, and the shopping events were held on Jan. 5.
Sanderson also notes that, along with Walmart, the project was a team effort amongst all of the NMVC Board members, the Bob Woodruff Foundation and the Region 3 VSO team.
To get the process started, the NMVC reached out to all of the VSOs in this particular region, seeking to identify veterans who are in need of food assistance. Following the Jan. 5 event, NMVC paid all the invoices of these pre-approved veteran shoppers, said Sanderson, who is also the Michigan Veterans Affairs Agency Buddy to Buddy Coordinator for Northeast Michigan and Jr. Vice Commander of VFW Post 1518 in Gaylord.
Whitney submitted his list for those in Iosco County, and the program ended up benefitting six local veterans.
In accordance with NMVC assistance guidelines, the nomination forms detailed several requirements which had to be met in order to be considered, including that the participant must be:
• A veteran with an Honorable Discharge.
• Have at least 180 days of federal service.
• Peace time or war time service.
• National Guard must meet the 180 days of active federal service.
• A veteran deemed in need by the veterans services office, through the VSO's previous interactions and financial assessment.
The Iosco County Veterans Services office is located in Tawas City, at 420 W. Lake St. (US-23). For more information, call 362-6571 or send an e-mail to rwhitney@ioscocounty.org.