BALDWIN Twp. – A two-vehicle crash in Baldwin Township on July 18 resulted in injuries to two individuals.
According to the Michigan State Police (MSP), the collision occurred at 3:55 p.m. on Huron Road (US-23), near Tac Trail.
Police advise that Timmy Lester Pelton, 40, Prescott, was towing a large flatbed trailer, while heading south on Huron Road. His passenger was Jason Roger Andrzejewski, 41, Bay City, and neither of the men were harmed during the incident.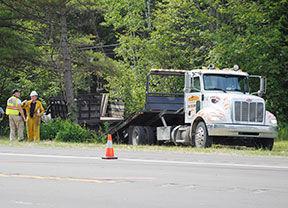 Traveling north on Huron at the time was Kelli Elizabeth Gutmann, 27, Newport, who was operating a Ford Fiesta with Matthew Aaron Trimble, 23, Fairview Heights, Ill., as her passenger.
The MSP states that Gutmann attempted to make a left turn onto Tac Trail when Pelton, who did not have time to avoid the crash, collided with her. The hazardous action on Gutmann's part, as noted by police, was making an improper turn.
Authorities advise that Pelton lost control, went off the roadway and crashed into a tree. Gutmann spun out of control and ended up facing southeast in the northbound lane.
According to the MSP, Gutmann sustained incapacitating injuries, Trimble sustained non-incapacitating injuries, and each were transported by ambulance to Ascension St. Joseph Hospital in Tawas City. Gutmann was then flown to another hospital in Saginaw for further treatment.
Both vehicles experienced disabling damage and had to be towed from the scene.
Police note that neither drugs nor alcohol are believed to have contributed to the event, and all four people involved were wearing seat belts at the time.
In addition to the MSP, assistance was provided on the scene by personnel from the Iosco County Sheriff's Department, Iosco County EMS, Tawas Police Authority and East Tawas Fire Department.