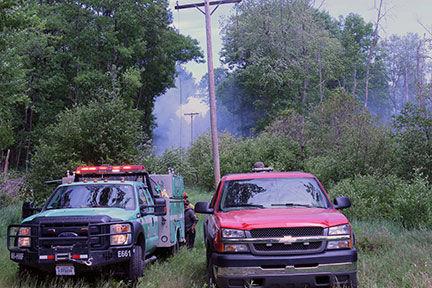 OSCODA – Oscoda Township Firefighters responded to two fires that started as a result of down power lines on June 24.
The larger of the two occurred at 4049 Grass Lake Rd. The Oscoda Township Fire Department (OTFD) were dispatched to at 2 p.m. and arrived five minutes later. Upon arrival, according to a report from the OTFD, the fire first ignited light vegetation. 
Firefighters established contact with the United States Forest Service (USFS). The USFS assisted the OTFD with extinguishment of the fire and provided water shuttle until additional USFS equipment could arrive. 
According to the aforementioned report, firefighters used 1,000 gallons of water and foam to extinguish flames and moisten the surrounding ground. Emergency personnel spent approximately 1 hour and 50 minutes on scene. There were three vehicles and 19 personnel that responded to the call including assistance from the USFS and Oscoda Township Police Department. 
A second fire – also ignited from a down power line – was called in earlier in the day at 12:17 p.m. The OTFD were dispatched to 6719 Woodlea Rd. and arrived at 12:24 p.m. Upon arrival, according to the report, emergency personnel determined an overhead electrical line started the grass on fire.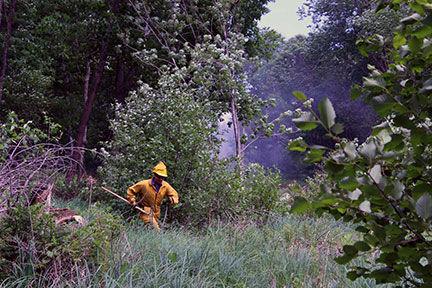 The report stated that the OTFD requested Consumer's Energy for assistance. No water was used to extinguish the fire as it burned itself out. According to the aforementioned report, approximately a 18 inch by 5 foot strip of grass was burned. Emergency personnel were on scene for approximately 40 minutes.