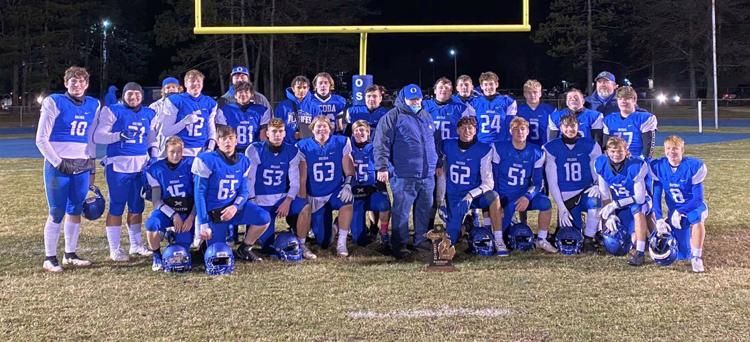 OSCODA – A late rally by Evart made the final score a bit closer than Oscoda would have liked. In the end, it was an Owl victory however, as they were able to fend off the Wildcats and pick up an exciting 38-35 victory in Friday's division seven district championship game. This gives Oscoda's its first district title in program history. 
"For sure it feels great; unbelievable," head coach Mark Whitley said. "To have a team play like they did and have this type of gutsy performance; it was unbelievable. The first district ever for the football team and the kids were just elated." 
A four-yard touchdown run by Owen Franklin gave Oscoda a 38-15 lead early in the fourth quarter, but the Wildcats didn't go down without a fight.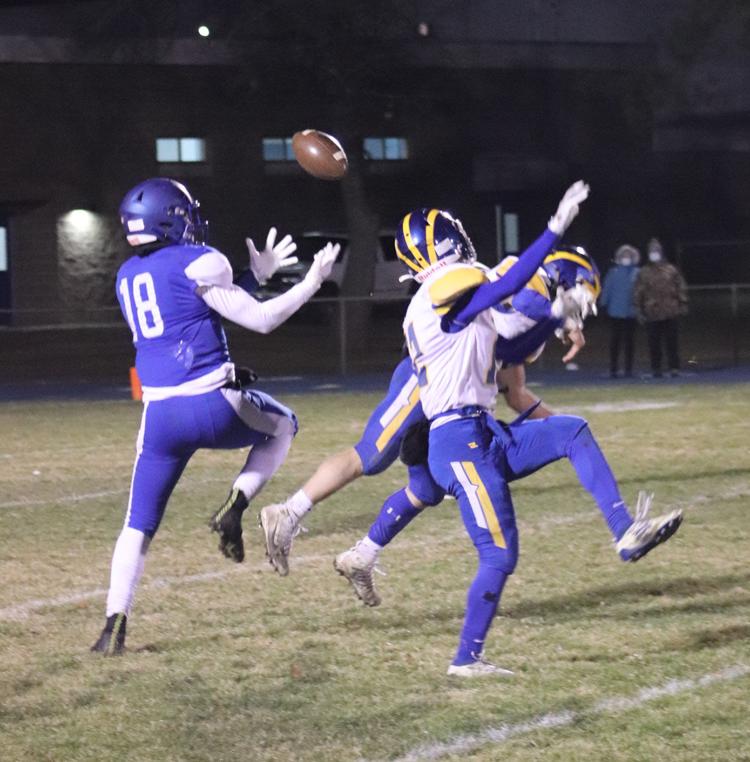 They used a trick play in the form of a half-back pass to get a 34-yard touchdown to pull within 38-21 with five minutes to play. Evart recovered an onside kick and turned it into points moments later, on a 28-yard touchdown run, making it 38-27. 
Disaster struck on the ensuing kick-off. While Oscoda was able to recover an onside kick, they fumbled the ball away in its attempt to return it, putting the ball back into the hands of Evart near mid-field. Two plays later, Evart converted on a 47-yard touchdown pass, making what had seemed to be a certain Oscoda win, drawn into question as it was 38-35 with about three minutes to play.
Carson Harger was able to haul in a high kick with a fair catch on Evart's ensuing kickoff. The Owls, led by some heady running by Franklin were able to run off the clock with thanks to two first downs to secure the victory. 
"We had the game in hand, five minutes to go in the game and up 17 but they made a couple of big plays, I will give them that," Whitley said. "We secured that onside kick but we picked it up and ran with it and they knocked it out of our hands and it came loose. That is something we coach not to do but when that happens, you have to just buckle down and play defense. When we finally got the ball back we made two first downs and won the game in what was the biggest sporting event in the history of Oscoda sports as far as we are concerned."
Up until about midway through the fourth quarter, the Owls had spent most of the night dominating both sides of the ball; taking leads of 30-7 and 38-15 before surviving the rally. Throw in the fact that the Owls were missing three team members who were in self quarantine, after coming in contact with someone who tested positive for COVID-19, it makes the win even more remarkable.
"I think the kids dug down, when you lose a starting defensive end, a starting right tackle and our kicker, all players who are keys part of our family (it's tough)," Whitley said. "We had a couple meetings before the game and we said that we have to play for the seniors and these three players that aren't here tonight and that's exactly what the kids did. I thought for the most part, they played well. For three and a half quarters, they played tremendous football and I think we showed we were the better team right down to the last play of the game." 
Short touchdown runs of two and one yard by Franklin gave Oscoda an early two-score lead, with Franklin also running in what turned out to be crucial two-point conversions to make the score 16-0.
Evart responded with a five-yard touchdown run to pull within 16-7, but the Owls would lead 24-7 by the end of the quarter thanks to a big play by Brennon Mills. Late in the frame, Franklin fired a long pass to Mills. The ball was deflected by an Evart defender, but Mills was able to track down the ball, haul it in and sprint in the rest of the way for the touchdown. Anthony Ward ran in the two-pointer to make it 24-7 after one. 
"Great concentration on Mills' part," Whitley said. "I think Franklin put that ball in as tight a window as you can get, with the safety coming over and double-teaming him there. The ball just hit the defender, popped up and Mills was able to have total concentration and run it in for a score. That was a big touchdown." 
The Owls stopped Evart on a fourth down play on its next drive, setting up another Owl scoring play. It was another Franklin-to-Mills touchdown connection, this one from 13-yards out, making it 30-7.
Evart answered with a touchdown pass of its own, making it 30-15 at the half. 
After a scoreless third quarter, Franklin's four-yard touchdown run early in the fourth, were able to put them ahead 38-15; setting the stage for the near Evart comeback. 
 "Just again a gritty, gutsy performance on our home field," Whitley said. "I think everyone in town was just as excited to be a part of history and be a part of us getting this coveted district championship and putting us into the top eight teams in the state. No one can take that away from us." 
Franklin finished six-of-10 passing for 101 yards, two touchdowns and two interceptions and he also had a big game on the ground, running 28 times for 158 yards and three touchdowns. Zach Ouillette added 67 yards on 10 carries. Mills finished with two receptions for 54 yards and two touchdowns, Drew Hess had two receptions for 32 yards and Ouillette had two grabs for 15 yards. 
Gavin Lueck had another monster night on defense, getting 8.5 tackles and a sack, Cameron Fabyan had 6.5 tackles, Franklin had five and with 4.5 tackles apiece were Ouillette, Chris Thompson and Kadon Schirmer. Anthony Ward also had four tackles and an interception. 
"I thought our offensive line was phenomenal again, as it has been all year long," Whitley said. "We did have a new starter in the line-up with three of our players being out, but Fabyan, I can't tell you enough about what he did for the team. Off the bench and into a starting role and that says a lot about the team and what the team means to each other." 
Oscoda (9-0 overall) was originally scheduled to play at Traverse City St. Francis (7-2) on Saturday afternoon at Thirlby Field. That contest has been delayed, at least for three weeks as a part of latest executive order.