EAST TAWAS – Iosco County's emergency first responder community said goodbye last week to a "good boy" and member of its ranks who first joined in helping the community on Feb. 24, 2011.
They mourned the death of "Cygan," the Tawas Police Authority's (TPA) and Iosco County Sheriff's Office's German shepherd tracking/drug sniffing dog. The dog, who was retired from service, died on Oct. 1.
Cygan started in 2011 with the TPA and was handled by Jail Administer Scott Frank, who was a member of the TPA when Cygan came on board; the dog was purchased for the department through property, assets and cash obtained through investigations and convictions related to drug crimes.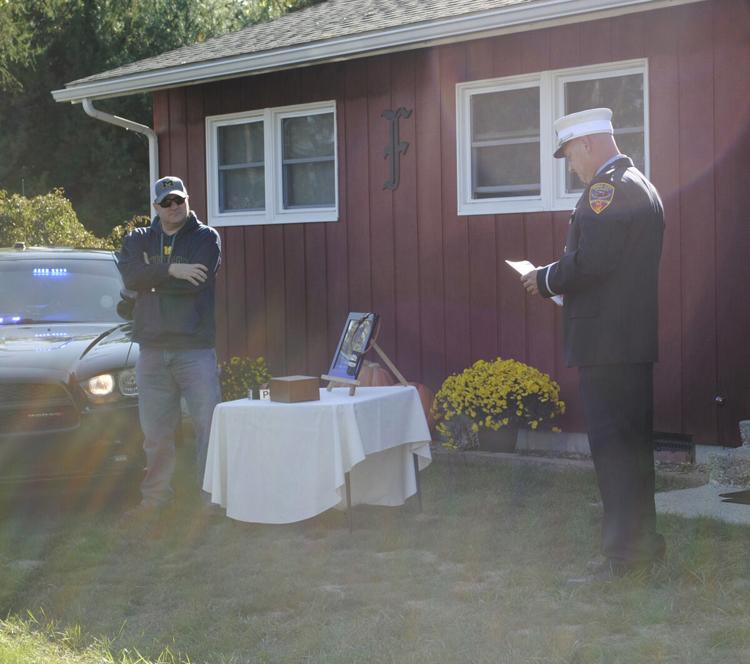 He was imported from Poland by Mid-Michigan Kennels in Eaton Rapids. Frank was Cygan's long-time partner and Frank and Cygan became a certified dual-purpose narcotics detection K9 team.  
According to Frank, Cygan served side by side him and assisted in many arrests, found many illegal drugs and had too many successful tracks to count. 
Frank said Cygan was always a hit with the kids and loved meeting new people from students in the classrooms to the yearly Tawas 4th of July parades. After the dog's retirement, he lived with the Frank family.
Further evidence of Cygan's dedication to his work – and the impact he had on the community – was seen with the large, diverse group of people who showed up for his Honorary Public Safety Ceremony, held on Oct. 5 in East Tawas.
The loss was palpable among the emotional crowd, which included family, friends, community members and local officials, as well as representatives of the Iosco County Sheriff's Office; TPA; Search and Rescue of Michigan; Iosco County EMS; Michigan State Police; Arenac County Sheriff's Office; Iosco County Central Dispatch; Michigan Department of Natural Resources Conservation Officers; and the Tawas City, East Tawas and Plainfield Township fire departments.
The various agencies brought along more than 20 vehicles, with lights flashing, to line Smith Street – where Frank resides – for the event. Once they were situated, Frank arrived to bring home Cygan's cremains, and was met with hugs and handshakes from the supporters.
This included Don Hanson of the Tawas City Fire Department, who has been friends with Frank and his wife Katie for 20 years.
To express the loss of Cygan, on behalf of the community, Hanson shared some words which he addressed to the entire Frank family.
"I trust that by looking around this afternoon you can fully see the concern, respect and love from our entire community to your family as all of us gather today to honor Cygan," he started.
Hanson said that the times Frank and Cygan shared together protecting the community; attending school programs, civic functions and parades; and their countless meaningful conversations together in the patrol car, are all precious memories that Frank will forever hold tight in his heart.  
"Since 2011, Cygan has been an integral member of your family, both at home and with your brotherhood of law enforcement," Hanson continued.
He went on to thank those who attended to give honor and pay tribute to Cygan. Hanson referred to the dog as a very special protector of the community, who faithfully served the Tawas area and all of Iosco County for so many years.
He then gave a prayer of thanks for Cygan followed by a moment of silence for the dog. The Honorary Public Safety Ceremony drew to a close with an End of Watch for Cygan – his final radio page – announced by Iosco County Central Dispatch Supervisor Jason Barnes.
"Iosco County Central Dispatch to K9 Cygan," Barnes said, after which he paused for a moment, then repeated this twice more.
All units were advised by Barnes that K9 Cygan faithfully served the citizens of Iosco County for nine years, and will be greatly missed. "Thank you for your service, we will take it from here. Iosco County Central Dispatch will show Cygan out of service, 1623 [4:23 p.m.]."
Hanson officially concluded the ceremony by stating Cygan's End of Watch – Oct. 1, 2020.