SAULT STE. MARIE – The best player to ever come out of the Upper Peninsula. Foul trouble. A missed call on a three pointer. Things were certainly stacked up against second Oscoda in its division three boys basketball regional championship game against third ranked Iron Mountain on Thursday. The Owls battled admirably through it all, but ultimately came up short as the Mountaineers ended the game on a 14-0 run to hand Oscoda a 63-52 season ending loss, in a contest held at Sault Ste. Marie.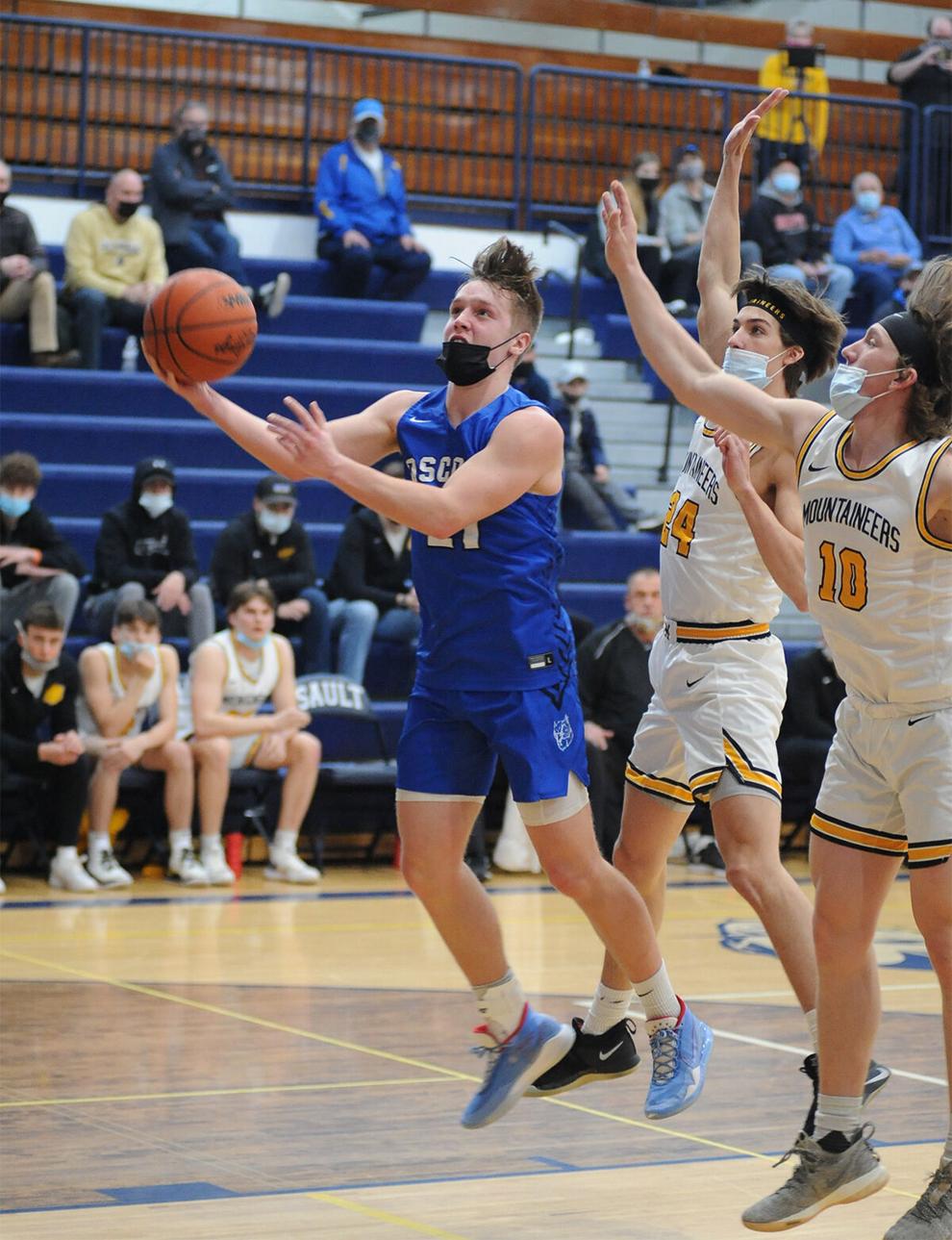 "I couldn't be more proud of our guys," head coach Mike Poland said. "As devastating as it was for me, for them, our staff and our town to not attain our goal, we did everything we could. I don't think we have anything to hang our heads about. We are disappointed but we have been unbelievably successful the last three years. I just give the kids all the credit in the world; they did whatever possible to attain our goals. 
"It was definitely a difficult loss, but this is just a part of life," he added. "We wanted that regional championship so bad, it was probably one of the most devastating locker rooms after a game I have ever been in."
Iron Mountain senior Foster Wonders certainly put on a show. Needing 10 points to break the U.P's all-time scoring record, he reached that mark in the first quarter alone and finished with 31 points on the night, brining his career total to 2199 as the Mountaineers led 14-6 after the first frame.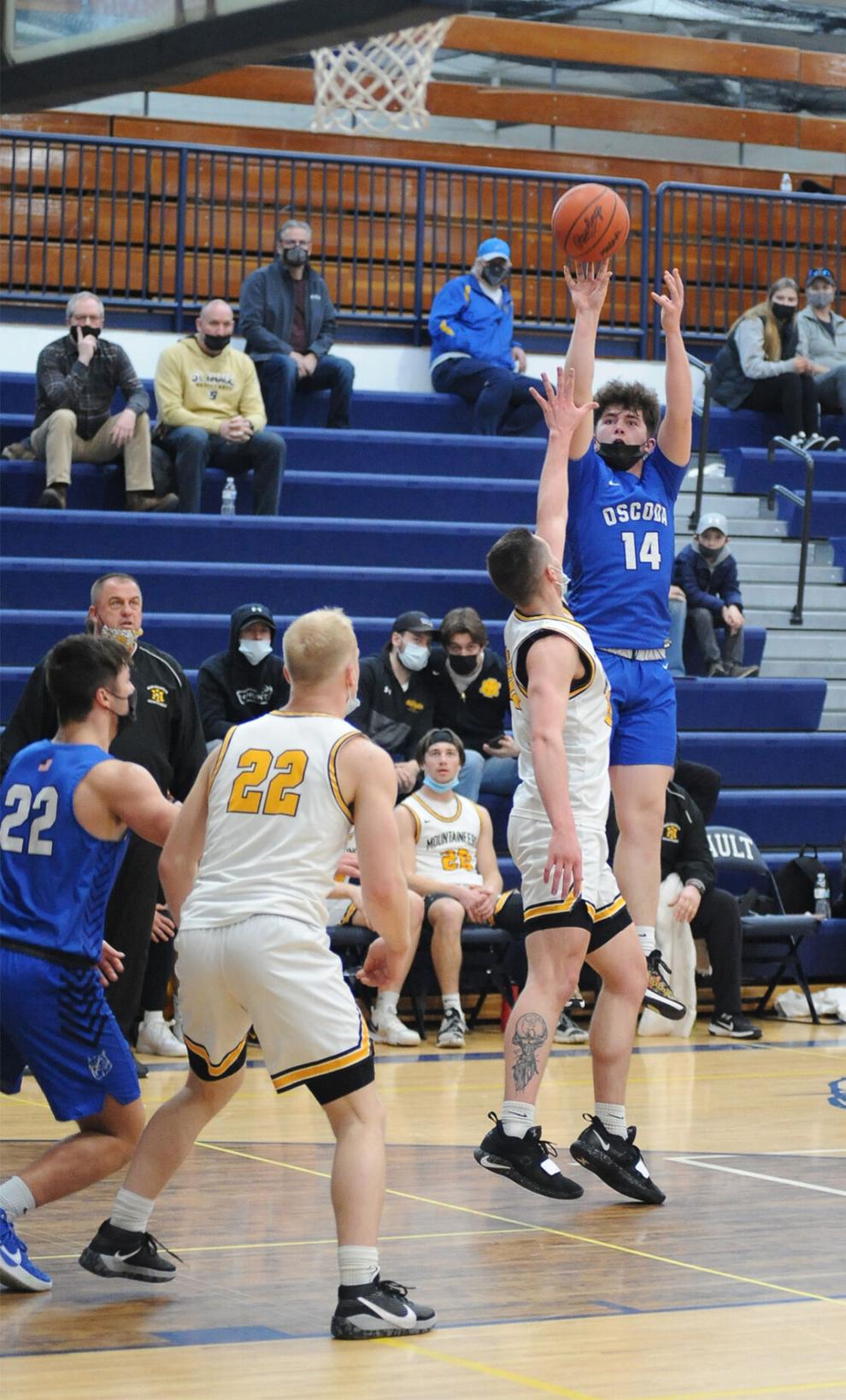 Wonders did this despite a fine defensive performance by Brennon Mills, as he face-guarded the division one college recruit all-night.
"Mills was on him the whole game and Drew Hess did a good job chasing him into a double team," Poland said. "Wonders is a fantastic basketball player, he scored 31 points but that's not bad for a kid that shoots two-thirds of the team's shots. He is just a fantastic basketball player and he made some really, really tough shots and that is a credit to him. I give our guys credit too, we wanted to wear him down and we did just that, but the ball didn't bounce right." 
The Owls faced their biggest deficit of the season after the first quarter, but they turned the tables in the second with what might have been their best quarter of the playoffs. 
Baskets to open the stanza by Franklin, Drew Hess and two by Michael Gepfrey pulled the Owls within 17-14. Franklin followed this with an and-one play and Hess canned a three moments later to send Oscoda ahead 20-17.
The Owls controlled the rest of the second quarter as well, and received a three pointer late in the half by Gepfrey to make it 29-22 at the half.
"I thought we played well enough in stretches to win and we made a really nice run in the second quarter for a nice lead at halftime," Poland said. "We felt comfortable at halftime, but things flipped on us in the third quarter." 
Gavin Lueck picked up his fourth foul early in the third, though long threes by Franklin and Hess helped keep the Owls ahead 35-27. 
Gepfrey was called for his third and fourth fouls on back-to-back Iron Mountain trips down the floor, and with Gepfrey and Lueck on the bench, the Mountaineers took advantage, pulling ahead 40-39 with about a minute to play in the third. 
The foul calls were clearly a key factor in the game. At one point in the second half, Oscoda had been whistled for 10 personal fouls, while Iron Mountain was called for just one.
"The fouls racked up," Poland said. "That was tough for us to go through. I am not telling you that we didn't commit any fouls, because we did, but that hurt us. They were in the bonus about four minutes into the third and that allowed them to shoot free throws. I certainly thought there some fouls missed (by Iron Mountain players) but those are judgement calls and I am not going to blame the refs. That made it difficult for us though."
On top of the lopsided foul calls, the Owls were also on the receiving end of a blatant missed call by the officials. 
Still trailing 40-39, Caleb Nagel launched a three pointer from the left side of the court. The ball hit the rim, bounced off the top of the backboard and through the net. For a moment, it appeared as if the Owls reclaimed a two point lead, but the refs incorrectly ruled that the ball had hit the metal support beam behind the top of the backboard. 
"That three really hurt us, I think it was a missed call," Poland said. "We could have had a lead there and three more points in the fourth quarter that would have made a big difference. That is a judgement call and I understand that, but I asked them to review it as a group and they refused to do that. 
"Again, that is a judgement call, but I think it was a good three pointer and that really hurt us in a tight game, but it was called the other way," he added. "I don't know if I am as disappointed in the call as I am that I couldn't get them to discuss it. If they get together as a group and it goes against us, that is one thing, but they just pushed the game along and that bothered me." 
Iron Mountain responded with an and-one play on the other end to take a 43-39 lead entering the fourth, but the Owls showed their mettle with solid play down the stretch.
Hess launched a three from beyond NBA-range that swished through to make it 43-42. Lueck and Mills were each two-for-two from the line that saw the score 45-44 and 47-46 and an and-one play by Franklin put the Owls ahead 49-47.
Iron Mountain tied the game at 49-all on its next trip, though Franklin gave Oscoda its final lead and final basket of the night moments later, making it 52-49 as he sank home a contest three from well behind the line. 
The Owls had two starters foul out of the game and another pick up a fourth foul down in the final three minutes, as Iron Mountain reeled off the final 14 points of the night.
"I am proud of our guys, we fought back," Poland said. "We took a (late) lead but it just slipped from us; the foul trouble in the second half really hurt us. We went up to the U.P. on Wednesday and we prepped for two days. We pushed every button and didn't leave a stone unturned. They fought until the end and we had a couple bounces and a couple calls not go our way, but it was up for grabs until it slipped away at the end.
"It was a really good experience," he added. "It was a super tough regional and sometimes the best games of the playoffs are not going to be played in the finals. 
Franklin led the Owls with 18 points, despite being guarded by Wonders most of the night, Hess finished with 17, Gepfrey added seven, Mills netted six and Lueck finished with four. 
On Tuesday, March 30 the Owls were able to claim a well-played win over 10th ranked Charlevoix, in the regional semi-finals, 60-55, at Johannesburg-Lewiston.
"I thought it was really a fantastic basketball game," Poland said. "It was a fun regional, with several all-state caliber players. We got Charlevoix to miss at the end of the game and that made the difference. We got the rebounds and hit six straight free throws to end the game." 
The Owls led the contest by as much as 10 points in the second half, but the Red Rayders chipped away at the lead, pulling within 38-36 entering the fourth.
Charlevoix took leads of 44-43, 47-45, 49-47 and even led 52-51 on a three pointer with 1:30 to go. Franklin had the answer on the other end however, knocking down a contested three pointer from the right corner to swing the Owls ahead 54-52. 
A Charlevoix miss turned into a pair of Franklin free throws for a 56-52 advantage with 33 seconds to play and Franklin and Hess each made two more charity shots in the closing moments to finish off the win.
"Franklin hit a huge three pointer, we have a special play for that situation and he nailed it," Poland said. "They are a really good team and really well coached and it took six straight free throws to fend them off."
Franklin also had a pair of three pointers in the first quarter as Oscoda led 17-10 after one, and that lead grew slightly by the half, 28-20.
A mid-range bucket by Hess gave Oscoda its biggest lead of the night at 30-20, but Charlevoix responded with a 12-2 run to tie the game at 32-all and things were nip-and-tuck from there.
"I thought we did a nice job defensively, we held them to 45 points which is what we were hoping to do," Poland said. "We were excited to win, we had dreamt about it and just wanted to get back to the regional finals." 
Leading the way in this one was Hess with 22 points, Franklin netted 21, Mills finished with nine, Lueck had six and Gepfrey netted two. 
Oscoda finishes the season 20-1 overall and won its third straight North Star League Big Dipper title and second straight district crown; after the 2020 district tournament was not completed. The Owls graduate the program's all time leading scorer Franklin, 1600-plus point scorer Hess along with other key pieces in Nagel, Mills and Lueck. 
"A great group of seniors, they were fantastic," Poland said. "They are going to be tough to replace, but I couldn't be more proud of this team, they did everything we could ask for. We have nothing to hang our heads about."