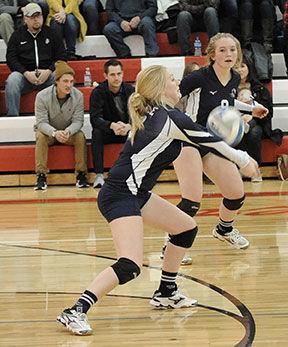 BEAR LAKE – The competition at the regional level always makes a steady increase. The Hale volleyball team found this claim to be true on Tuesday, Nov. 12 as the Lady Eagles lost their Division 4 regional semifinal contest against Traverse City Christian at Bear Lake, in straight sets. 
"The girls played hard during the game," head coach Toni Nieman said. "They did not give up at all during the game and gave it their best. I am proud of the way that the girls played throughout the entire game." 
The Lady Sabres proved to be a steep challenge for the Lady Eagles, as they used several quick strikes at the net to claim a 25-21, 25-19 and 25-11 victory. TC Christian had a big height advantage over Hale and were led by sophomore standout Emma Mirabelli, daughter of former MLB-player Doug Mirabelli. 
"They were a quick team defensively and an aggressive team offensively," Nieman said. "They were a fun team to play because of the challenge that they presented. It is always tough to see a season come to end, but this group of girls have a lot to be proud of with their season this year."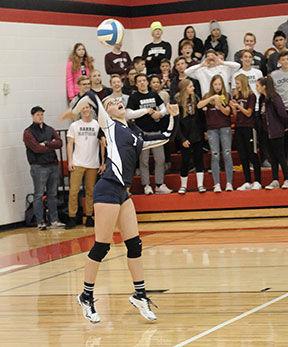 After dropping a competitive first set, the Eagles were able to hold an early lead through much of the early portion of the second set. The set was knotted at 5-5 and 6-6, with Abby Parkinson getting back-to-back aces that gave Hale a 10-9 lead. 
The Eagles took a 13-11 lead on a spike by Kaylee Collins, and led by as much as 16-11. 
The Sabres scored the next seven points to take an 18-16 lead, and though Hale was able to knot things back up at 18-apiece, TC Christian scored the final seven points to take the 2-0 lead. 
Collins had two early kills in the third set that made it 2-2, Morgan Vance had a spike at 3-3 and the set continue to go well early, with Hale claiming a 5-3 lead on an ace by Kiara Ludwig. 
The Sabres went on an 11-1 run to take a 14-6 lead and the Eagles weren't able to get any closer the rest of the way. 
Parkinson did swat back an incoming free ball for a kill at 16-8, but they fell behind double digits at 19-9 and were outscored 6-2 in the final eight points. 
"The girls played together as a united team during the game," Nieman said. "They congratulated and consoled each other through the entire game.  One of the team's goals this year was to become more of a united team.  They demonstrated the achievement of this goal during our game." 
The loss ends Hale season, but the Eagles did win the North Star League Little Dipper title and second district crown in the last three seasons. 
"I really enjoyed coaching this group of girls," Nieman said. "The team set goals, both personal and team, at the beginning of the season.  As a team, we achieved every goal that they set.  I couldn't be more proud to be this team's coach. I have some key players graduating, so I am looking to see what changes I need to make for next season."