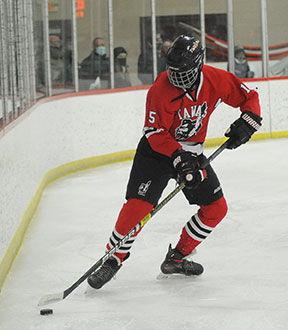 TAWAS CITY – After waiting for its season to start since November, the Tawas Area hockey team had a busy week on the ice last week. The Braves played in three contests in the first week that action was permitted, most recently on Saturday in an 8-3 loss at New Boston Huron at the Mike Modano Ice Arena in Westland.
"We had played the night before, so it is always tough on the back-to-back games, our numbers are a little low," head coach Mel Rettell said. 
The game was deadlocked at a goal apiece after the first period, but New Boston Huron netted four goals to take a 5-1 lead. The Braves rallied to net a pair of goals to draw within 5-3 entering the third period, but gave up two more in the third.
"(Down 5-1) could have been a good time to cash out, but we called a timeout and we got our act together," Rettell said. "We played strong in the third and had a couple of chances and closer to the end they put one in and that took the wind right out of our sails. We were there though." 
Matthew Binder led the attack with two goals and Cooper Gorman netted one. Kyle Indreica had two assists, and with one assist each was Kaden Trafelet, Joey Ernst and Zach Huitema. 
Zac Bocker was in goal and made 42 saves. 
On Friday, Tawas played a game at Crystal Fieldhouse in Burton, where it lost to Grand Blanc, 7-5. 
Tawas held a 1-0 lead early on, but the Bobcats scored a pair of goals late in the opening period to lead 2-1. Grand Blanc pushed its lead to 4-2 after the second period, though the Braves rallied to tie the game at 4-4. Grand Blanc scored the next three goals to take control from there however.
"We are staying competitive, so we will just keep building off of that and try and find that 'W'," Rettell said. "We kind of ran out of gas (after tying it at four)."
Ernst had two goals and one assist, Trevor Balagna had two goals as well, Binder added one goal, Indreica had two assists, with Taylor Williams, Ben Bolen and Jakob Hazen adding one assist each. 
Bocker took the loss in net.
On Monday, Feb. 8 the Braves opened the season at the Bay County Civic Arena, where they lost to the Bay City Wolves (Bay City Western, Bay City Central co-op) 5-1. 
"That is a pretty decent team, so we just keep finding all the good parts and now we just have to put them all together at the same time," Rettell said. "We don't have that big goal scorer so we are going to have to work hard and they realize that. I am just really proud of them, they play with pride and work hard and not doing anything that is stupid and those are good things to build a program on." 
The Wolves scored a pair of goals less than 10 seconds apart late in the opening period to take a 2-0 lead into the second. The Braves trailed 3-0 after the second and had Ernst score their lone goal of the night in the third, on an assist by Balagna.
Bocker was in net to take the loss. 
Tawas (0-3 overall) heads to Southgate Anderson and plays at Legion (co-op of several thumb-area school) on Saturday. 
"I have my hat hanging on that we have a shot to win both of them," Rettell said. "We will go in with a good attitude, have a good week of practice and I am looking at two wins this weekend."