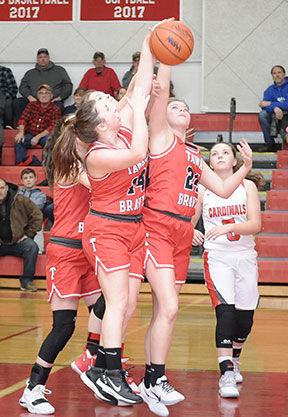 WHITTEMORE – The Tawas Area girls basketball team dropped three games against some tough competition to close out 2019. The Lady Braves got 2020 started off on the right foot on Wednesday, as they snapped their three game losing streak with a 46-29 victory. 
"This was a good win for us coming out of holiday break," Tawas head coach Lindsay Lewandowski said. "We were able to take advantage of our size against them. We finished with a few tough games before break so to come out and get a win was nice."
For the Cardinals, it was a bit of the same story in what was their fourth straight loss. 
"The girls tried hard, they box out and they battle it is just no one is over 5'4"," W-P head coach head coach Jayme Nickell said. "They work hard and they try hard and they had a lot of fight, we just didn't execute on offense. We defend well and make them miss the initial shot but we just can't get the rebound from there." 
Cameron Gibson started off the game with a three pointer to give W-P an early lead, though it would be its only time ahead on the night. 
Tawas responded with back-to-back buckets by Lexi LaJoice and Carley Bolen, and Bolen added another bucket, this time by getting a basket to fall in transition, giving Tawas a 7-3 advantage. 
Jessie Shaw drilled a long two-point shot to keep the Tawas lead at 11-7 and in the closing moments of the quarter, Bolen was able to haul in a defensive rebound and sprint the other way for a fast-break lay-in at the buzzer, putting the score to 13-9 after one. 
"Carley has really come into her own with becoming our scoring leader," Lewandowski said. "Last year she struggled with that role, but this year has proved that she is definitely one of the top players in the area." 
A 16-footer from the hands of Olivia Wallace put the gap to 16-9 moments into the third quarter. W-P's Ali Schmidt answered with a short field-goal to pull the Cards within 16-11, though Wallace connected on a nice entry pass to Sarah Murringer, who turned and flipped in the ball for an 18-11 lead.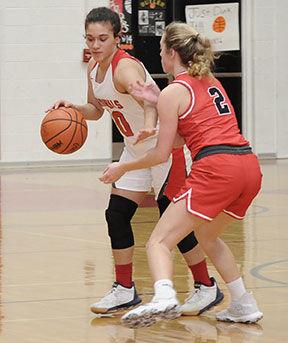 The Cards answered with Americus Caron getting a bank-shot to fall in at 19-13, though Tawas took a double digit lead by the half, 24-14. 
Bolen's strong night continued in the third quarter, as she swiped the ball on the defensive end and earned another fast-break bucket, setting the score to 26-14. Schmidt gave W-P an answer at 26-16 but the Braves ran away from there, ending the period on a 14-3 run to lead 40-19 entering the fourth. 
"The third quarter was a little rough, we only had five points to their 16 and that was the difference," Nickell said. 
The 29 points was the second time this year the Braves have held an opponent to under 30 points. 
"Defensively, we were able to use our quickness to put pressure on their ball handlers," Lewandowski said. "(Rebounding) was definitely an advantage we had, we used our size and rebounded well against them." 
The Braves were led by Bolen with 22 points, LaJoice finished with seven, Murringer netted six, Wallace had four, Frank added three and Shaw and Kori Schaaf each netted two. 
The Cards had Schmidt net 11 points, Gibson put in seven, Sarah Santiago had four, Caron had three and with two each were Brianna Listeman and Kylie Billeter. 
"Cameron really stuck out, she had 11 rebounds and three assists to go with our seven points," Nickell said. "She has been a bright spot for us. She worked her way into the starting lineup, with our lack of rebounding she really took it upon herself to make sure she could do that, which is great for us with our lack of size."
The Braves hosted Midland Calvary Baptist on Friday, and had the contest slip away late, falling 47-44.
"This loss definitely hurt, I think Calvary Baptist worked really hard to do the little things right and we did not," Lewandowski said. "We got out-rebounded and that just can't happen. We haven't had that close of a game yet and I think we executed our plays really well in the end, we just couldn't sink the buckets. We had our chances to win, it just didn't go in our favor." 
Bolen led the way with 23 points, LaJoice had eight points and Frank was able to get 11 rebounds.
Tawas (3-5 overall) was at Coleman on Monday, hosts Standish-Sterling tonight (Wednesday) and hosts Alpena on Tuesday. 
W-P also played at Mio on Friday in a North Star League Big Dipper game, dropping that contest 57-39.
"We got off to probably the slowest start we possibly could, only scoring 13 in the first half," Nickell said. "Then the third quarter we really got after it and had a 21-point quarter, but we didn't get the stops we needed to get back into the game. Mio played hard and all the credit goes to them."
Leading the way on the night was Schmidt with 15 points, Gibson netted 10 and Caron finished with six. 
W-P (1-6 overall, 1-3 NSL) hosts Oscoda on Friday and stays at home with Hale on Tuesday.