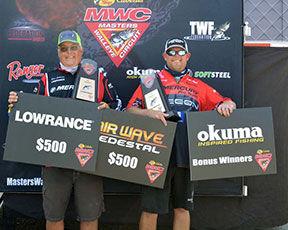 AUSABLE TWP. – Angler's from across the nation made their way to the AuSable Harbor of Refuge on Friday and Saturday for the annual Master's Walleye Circuit. 
The circuit which typically takes place on the Detroit River in April was canceled due to the threat of the Coronavirus. With that in mind, anglers' were looking for a new location and they came up with Lake Huron as a suggestion.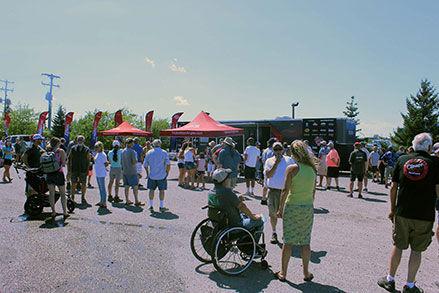 The two day tournament kicked off at 7 a.m. with daily weigh-ins beginning at 3 p.m. The winners hailing from Fayetteville, Ohio and Milford, Ohio were Dan Johnson and Larry Rhoads in boat 29. The pair caught a total of 10 fish over the weekend weighing in at 35.11 pounds and receiving 150 points. 
Johnson and Rhoads brought home over $13,400 in cash and prizes, including the $7,200 first-place cash payout, $3,200.50 option pot cash, $500 Lowrance bonus, $500 AirWave certificate, $200 in Okuma reels, a TH Marine Atlas Awards bonus and a $1,000 Bass Pro Shops and Cabela's National Team Championship Prize Package, including paid entry into the Bass Pro Shops and Cabela's NTC, travel stipend, team jerseys and plaques. 
Second place was taken by the duo of Steve Vandemark of Linwood and Jerry Fox Jr of Harrison Twp. in boat nine with 10 fish weighing in at 34.04 pounds and receiving 149 points. The pair were awarded $3,700 cash and a $1,000 Ranger Cup bonus.
Third and fourth place were swept up by out of towners. Kevin Dahl of Muskego, Wis., and Travis Pisarek of Chippewa Falls, Wis., who collected 10 fish weighing in at 30.08 pounds and collecting 148 points in boat 28. The duo collected $2,450 cash and a $2,000 option pot cash. Additionally, the duo of Rodger Riggs from Cleveland and Jason Kopf from Avon Lake, Ohio took fourth place with 10 fish weighing in at 29.10 lbs and collecting 147 points in boat 24. The pair walked away with $1,600 cash and $1,250 option pot cash.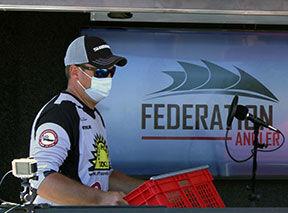 Locals Adam Hume of Oscoda and Mike Karner came in sixth place in boat 14. They collected eight fish weighing in at 29.06 pounds and received 145 points. Others who competed locally included Jesse Whipkey of Oscoda and Pete Studders of Pinconning in boat 21. The duo placed 27th of 38 and caught five fish weighing in at 15.01 pounds and collecting 124 points. 
Hailing from Tawas City and Grosse Ile were the duo of Matt La Freniere and Alan Szoke who took 31st place and caught two fish  with lost points due to one fish dying coming in at 9.08 pounds and 120 points collected.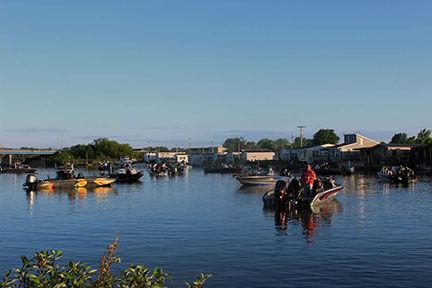 Overall, the anglers' caught 252 fish in total and released 239 of them with the total weight, with 37 teams involved, coming in at 725.09 lbs.