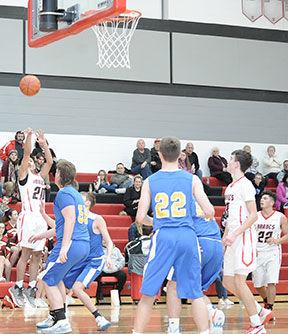 TAWAS CITY – All things considered, Tawas Area's 67-45 win over Harrison on Monday, Jan. 6 was a pretty good way to start the new year. The Braves were playing without two key players but were able to get enough offense from other places, allowing them to pull away from the Hornets as the night wore on to pick up the win. 
"The energy that our guys played with was really good, you never know how guys are going to come out and play after three weeks off, and we were pleased with the effort and focus," head coach Todd Kaems said. "Camden Groff did a nice job getting to the basket, finishing, and distributing.  We hit nine threes from six different guys. Nice job on the glass as a team. Overall, as well as we have played all season, and on the first night back after break is really promising."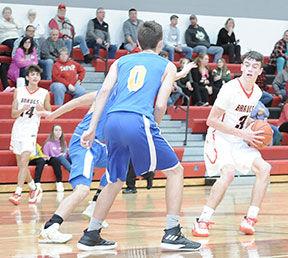 A pair of early baskets by Nick Maynard helped Tawas get off to a 6-2 lead, and a mid-range shot by Eddie Klenow kissed off the glass to make it 8-2. 
Maynard followed shortly after with a three to make it 11-6, though Harrison responded with a three of its own to make it 11-9. 
The Braves closed out the quarter on an 11-2 run to lead 22-11 entering the second, though Harrison was able to pull within 22-20 by scoring the first nine points of that frame. 
Elijah Gatica-Gonzalez got a 10-footer to fall to end the scoring drought and Groff had a lay-in to make it 26-20. 
The Hornets closed the gap to 26-22 but a Groff three helped jumpstart a 10-2 Tawas run to make it 36-24 at the half. 
Harrison opened the third with a bucket to make it 36-26, but Tawas scored the next 16 points to take command of the game, leading 52-26. The run was highlighted by back-to-back threes by Maynard and Klenow. Groff also hit one from behind the long line late in the quarter, as Tawas led 57-32 entering the fourth. 
Logan Gould drilled a three early in the final frame that made it 60-33 as Tawas rolled to the win. Rodney Reedy put a final exclamation point on the win as he emphatically blocked a Harrison players' shot away from the basket with just two seconds left to play. 
"The ball movement to open the third quarter was great, and we hit open shots," Kaems said. "It is often tough to get open looks, but the guys were patient and when we had chances, we converted.  Klenow, Groff and Maynard shot the ball well for us, especially in the third. We were a little shorthanded, and you never know how guys will respond, but all of our guys responded really well. The goal is to improve every day, and right now we are moving in the right direction. Guys coming off the bench are working hard, getting better, and that is great."
Groff finished with 27 points to lead all scorers, Maynard netted 14, Klenow had nine, Gould and Gatica-Gonzales each had five, Jace Lear had three and Reedy and Kenneth Manombilang had two apiece. 
On Tuesday, Jan. 7 the Braves notched a 72-49 win over visiting Whittemore-Prescott. The Braves had to survive a 40-point night by Cardinal Dana Thorson to get it, but were sparked by a career high 33-point night by Noah Davis to get the victory. 
"It was a nice win, and being up 20 at half, it felt like we were in control, but Thorson just kept knocking down shots to keep them within striking distance," Kaems said. "We could never put them away, and it was really because of him.  As crazy as it sounds, when a player puts up 40, you would have to fault your defense, but I thought we guarded him pretty well. We will have to do something a little different next time."
In the first, Davis had seven points and Groff netted five, as Tawas led 23-7 after one. The Braves pushed that gap to 36-16 at the half. Davis scored all 16 of Tawas' points in the third, as the Braves led 52-31 entering the fourth. 
"We did a nice job in the transition game, which starts with Groff, but everyone did their job tonight and that was nice to see," Kaems said. 
To go along with Davis' 33 points, Groff netted 14, Kayden Spencer had 13, Guold netted seven, Reedy had three and Maynard netted two. 
On Friday the Braves won their third home game of the week, 67-40 over Midland Calvary Baptist Academy. 
Davis hit a quick three to help Tawas get to a 15-4 lead after the first quarter, with the Braves holding edges of 34-14 at the half and 45-27 entering the fourth. 
"We got off to a great start and after that I thought we became a little lethargic," Kaems said. "We did a really nice job on the glass Monday and Tuesday, and then on Friday, we reverted back to some of our old ways with not blocking out on the defensive rebounding side. We will address that early this week at practice. If we don't play more physical on the defensive end, we are going to be in for some long nights with the schedule ahead. Davis had another efficient night offensively and we are doing a nice job moving the ball at times. Just need to keep working and continue to get better. It's hard to complain about a three win week, but the guys know."
Leading the way was Davis with 29 points, Groff added 14, Spencer netted six points and Maynard put in five. 
Tawas (4-2 overall) heads to Ogemaw Heights on Thursday and is in Gladwin on Tuesday.