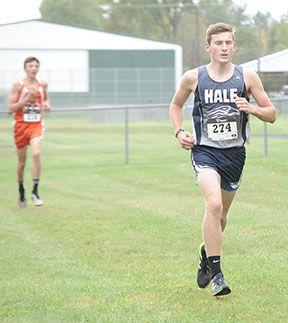 HALE – In order to have a chance at the North Star League championship, the Hale cross country team had to take care of business in the third conference jamboree on Thursday. The hosting Eagles did just that as they were able to edge Fairview, the winner of the first two jamborees. Hale tallied 39 points, just ahead of Fairview's 42. 
"I'm very happy with the way that the kids ran, they ran hard," head coach Steve Bradley said. "Fairview has three runners that run very close together but our kids ran hard to break up that group." 
Hale had a boost in new team member Joseph Kimmerer running his first race of the season. Kimmerer led through the first half of race and finished in second, with a time of 19:11. Logan Lewis was able to finish in fourth at 20:28, Britt Parkinson was eighth at 21:05, Dylan Koepke ran a 21:45 and was 10th, with Alex Fritzler and Jason Guoan coming in 15th and 16th in times of 23:22 and 24:02. 
"Joseph came out and ran very well," Bradley said. "Basically all the kids ran well. Britt had a good showing and Alex ran a little bit hurt but he still ran very well."
Hale ran at the final league jamboree in Fairview on Tuesday. With a win the Eagles would claim the conference championship. Hale also runs on Saturday at Fairview again, for the Leroy Maxie Invitational and hosts its own invitational on Tuesday. 
"Our goal is to beat Fairview and win the league championship," Bradley said. "In order for that to happen all of our runners have to run a personal record and I think they're very capable of doing that."