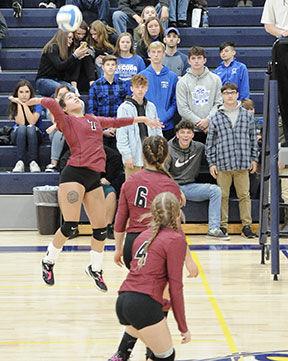 LINCOLN – Whittemore-Prescott gave heavily favored Oscoda a battle in its Division 3 district semifinal game at Alcona on Wednesday. 
The Lady Cardinals couldn't quite overcome the North Star League Big Dipper Champion Lady Owls, however, falling in four sets, 25-19, 22-25, 25-21 and 25-22.
"We're disappointed with the result, we worked all season for districts, but I'm very proud of how hard the girls played," head coach Cathy Blust said. "They fought hard for each point. "I couldn't ask for anything more from them."
The Owls jumped off to a 10-3 lead in the first set, though the cards were able to pull within 15-9 after a tip by Skylar Swanson. 
Marissa Schmidt had some strong play in the middle of the set for the Cardinals. First, she spiked back an incoming free ball to trim the gap to 19-14 and she had back-to-back blocks to pull the team within 21-17. She followed with a spike at 22-18, but W-P could only add one more point the rest of the set, falling 25-19. 
Oscoda seemed to be in command of the second set as well, as it jumped to a 12-4 lead. A spike by Schmidt closed the gap to 15-11 but the Owls clipped along to a 22-14 lead late in the set. 
A spike by Swanson helped turn the tables, as she started an 11-0 run off with a spike. 
Cyrenia Hepfer followed with a kill at 22-16 and Jayda McKuen had back-to-back aces to trim the gap to 22-19. 
A net foul and a two Oscoda attack errors helped W-P surge ahead 24-22 and Swanson closed out the set with a spike to make it 25-22. 
Oscoda largely dominated the third set, though a kill by Schmidt kept the Cards within striking distance, down at that point 10-6. An ace by Americus Caron saw W-P in an 18-12 hole and though a kill by Swanson saw the Cards down just 24-20, Oscoda closed out the set two points later with a spike, 25-21. 
Swanson started the fourth set out strong, getting two spikes and an early block to help keep the set tied at 4-4, though Oscoda surged to a 17-10 advantage.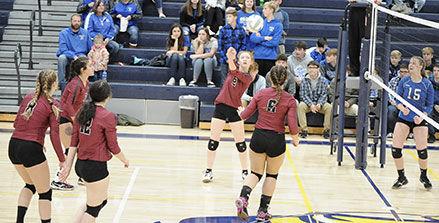 Kills by Swanson and Schmidt with an ace by McKuen brought the Cards within 17-13 and another Swanson kill helped the Cards draw within 22-20. 
W-P was able to get another spike by Swanson at 24-22, but the Owls scored the next point on a tip to end the Cardinal season.
W-P finishes its strong season 33-16 overall. 
"We had a great season, we accomplished a lot," Blust said. "It is big to say that we had a winning record and two tournament wins. I look forward to next season."