STANDISH – A tight game on Tuesday. A shutout on Thursday. The Tawas Area girls soccer team had both last week, with the end result giving them a Division 3 district championship. The finals saw them playing tournament host Standish-Sterling, a contest they won 4-0.
"Once again, our girls were hungry for that district title and I don't think they were going to let anything get in their way this year," head coach Adrienne Dittenbir said. "We looked good and we played strong and smart, driving the goals into the net." 
Colleen Kubisiak netted the team's first three goals, with Carley Bolen booting in the final tally. Bolen also had two assists, with Kaylee Dittenbir and Sydney Broughton adding one apiece. 
"We were all excited to see our freshman all star pull off a hat trick with our first three goals of the game," Dittenbir said. 
Tori McEwan was in goal and made nine saves. Chelsea Hedglin had nine defensive clears and Madison and Megan Pintar had four clears apiece.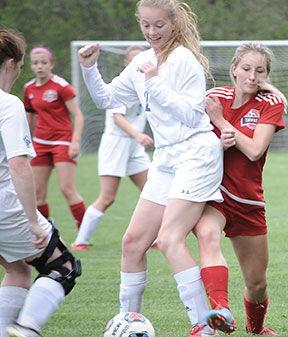 On Tuesday, May 28 the Braves won in dramatic fashion, 3-2 over Gladwin at home. 
"It is always a great game against Gladwin, but our girls played tough, they looked good and they walked away with the deserving win," Dittenbir said. 
Megan Pintar and Shimmell had one goal each in the first half, with Dittenbir getting an assist, making it 2-2 at the break. 
Midway through the second half, Dittenbir was advancing the ball inside the Gladwin 18-yard line, where she was taken down from behind, awarding the Braves a penalty kick.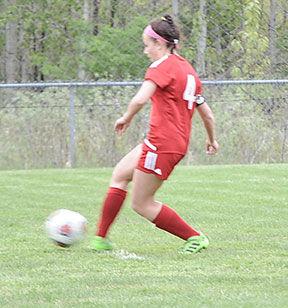 Megan Pintar took the ensuing kick, drilling it into the back of the net for what turned into the game-winner. 
Both teams had nine shots on goal, with McEwan making nine saves or blocks and Hedglin had 17 clears. 
"The girls looked really good throughout the game, applying pressure while on defense and working the ball down the field on offense," Dittenbir said. "The girls knew the title was on the line and they really wanted it and it showed in their performance."
Tawas (16-3-1 overall) plays in the Clare regional this week. The Braves played Boyne City in the semifinals with Freeland and Ludington playing in the other semi-final. The finals are set for Thursday with the winner advancing to the state semifinals on Tuesday in Cedar Springs.