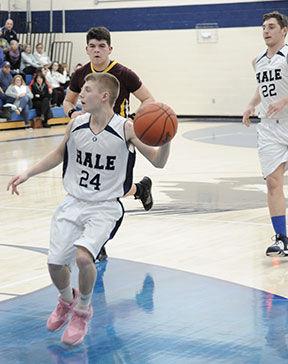 HALE – Hale is knocking on the door of some history. The sixth ranked Eagles, hosting AuGres in a North Star League Little Dipper boys basketball game, had an easy time with the Wolverines, playing their way to a 74-33 victory and moving within one win of securing their fourth straight conference title. 
"We moved the ball well and played with good tempo but we didn't shoot it that well," head coach Joe Kimmerer said. "Defensively we were really good at times but we have to make sure we don't gamble too much. Our help defense had to work more than I would like to see it and it puts us in a little bit of a scramble."
The night started off with a bang, as leading scorer Joseph Kimmerer was able to slam home a one-handed dunk in the first quarter, as the Eagles rolled to an 18-5 lead after one. 
Kimmerer calmly knocked down a long-range three to start the second with a 21-5 lead and Connor Ready followed that by battling down low for a lay-in at 23-7. Ready also had a pair of free throws to make the lead swell to 25-7 and David Wanty canned a three at 28-9.
Kimmerer and the Eagles continued to roll the rest of the half, as he was able to get a steal under the basket and send the ball in for a quick bucket. 
The half closed with Garrett Beebe converting on a physical lay-up and Keaton Ludwig hauled in an offensive rebound for a basket to make it 37-14 at the break. 
Hale continued to be untested in the third as they coasted to a 64-22 lead entering the fourth. 
Kimmerer finished with 29 points, eight rebounds, three steals and three assists, Wanty added 14 points and four steals, Joel Bovee had nine points, Beebe finished with seven points and nine boards and Ludwig had six points, seven rebounds and six assist. 
Issiah Thomas led AuGres with 13 points and Evan Saunders netted nine. 
On Saturday, Hale notched a non-league win over Lake Leelanau St. Mary, 81-60. Hale wasn't able to get much distance early on, as it led just 14-12 after the first and even trailed 33-32 at the half. Hale regrouped to lead 49-44 entering the fourth and used a monster offensive final frame to secure the win. 
"It was a hard-fought game, they came out and went after us," Kimmerer said. "It was a good test and they are a good team. I didn't think we played very good on the defensive end in the first half and I let them know that at half time. The boys responded, I believe we played our best defense of the season in the second half and that helped us gain confidence on the offensive end."
Pacing the team once again was Kimmerer with 33 points, 10 rebounds and five assists, Wanty added 22 points and four rebounds, Trent Kangas had nine points and five rebounds and Beebe added eight points, five rebounds two blocks. 
On Tuesday, Feb. 4 Hale was used a program record for points in a game to top NSL Little Dipper foe Fairview, 97-50. 
Hale led just 17-10 after the first quarter but rolled to leads of 43-26 and 68-41 after the other quarter breaks. 
"Fairview out played us for most of the first half and we couldn't make a free throw or a layup," Kimmerer said. "We finished the half strong and played hard in the second half. We need to be able to control our emotions better and that starts with me."
With 35 points, 17 rebounds, five steals and four assists was Kimmerer, Ludwig had 16 points and 12 boards, Wanty added 16 points, five assist and five steals, Kangas had 12 points and two assists and Beebe had nine points and 11 boards. 
Hale (14-1 overall, 8-0 NSL Little Dipper) was at Posen on Tuesday with a chance to clinch the Little Dipper, hosts Atlanta on Friday and is at home against Mio on Tuesday.