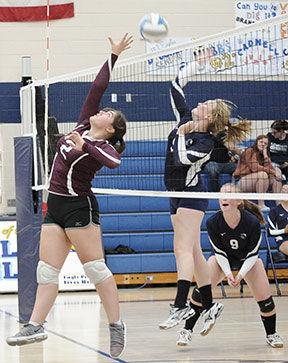 HALE – The Hale volleyball team made quick work of Fairview in its North Star League opener on Thursday. The host Lady Eagles dominated the entire way, picking up a straight sets win, 25-7, 25-10 and 25-13.
In the first set, Hale raced to a 14-0 lead, with back-to-back kills by Sophie Augustyniak-Irwin that made it 18-6. Morgan Vance followed that with an ace and Abby Parkinson had a well-placed tip-kill at 22-7. 
Jori McKulsky had a kill to push the score to 23-7 and Hale added two more points to take the set 25-7.
Brooke Pelton had two aces in the second set to put Hale ahead 7-1. Vance had a spike and Kiara Ludwig added an ace to make it 10-1 and a kill by McKulsky put the Eagles well ahead at 22-9, with Hale easily holding on to that set, 25-10.
In all McKulsky led the team with six kills, Vance had five kills, Ludwig had three digs, Pelton had 18 assists and also had nine aces. 
On Saturday Hale competed at the Birch Run Invitational. The Eagles dropped a game to Frankenmuth 25-11 and 25-10, fell to New Lothrup 25-19 and 25-22 and came up short against Valley Lutheran 25-14 and 25-20. Bracket play saw Hale end its day with a loss to Laingsburg, 25-14 and 25-23.
Kaylee Collins had 10 kills to lead the offense, Parkinson had six kills, Pelton had 24 assists and three aces and Ludwig and Pelton led the defense.
Hale heads to AuGres on Thursday, hosts Posen on Tuesday and serves as hosts to Atlanta on Thursday, Sept. 19.