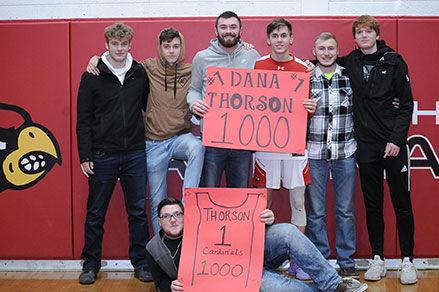 WHITTEMORE – There was no shortage of points in Thursday's North Star League Big Dipper game between Mio and host Whittemore-Prescott. The Thunderbolts kept their feet on the gas pedals a bit longer, however, as they were able to hand the Cardinals a high-scoring 95-51 setback.
"That's a lot of points," head coach Dave Mervyn said. "They shot really well but we didn't defend very well either. Plus, we just don't have enough size to rebound. That's not an excuse, we need to box-out better." 
The night was highlighted by W-P senior Dana Thorson reaching the 1,000-point mark, thanks to continued hot-shooting. He needed 28 points to reach the mark and did so on a lay-up late in the first half. Thorson finished with 35 points on the night, 29 of which came in the first half when he single-handedly kept the Cards in the game with seven three pointers, several of which came from well-behind the arc.
"That was his goal at the beginning of the season, to get to 1,000 points," Mervyn said. "He has only had one game this year where he has scored under 30 points. It was a good night for Dana. That has been in the back of his head and hopefully now that relieves some of the pressure." 
A pair of early threes and a drive through the lane by Thorson helped W-P take an early 10-6 lead. The Bolts pulled ahead 19-12, though a three by Thorson and a steal and fast-break bucket by Kyle Hottois brought W-P within 19-17.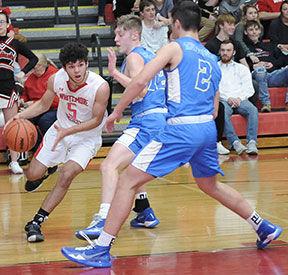 Mio closed the period on a quick 6-0 spurt to lead 25-17 after one. 
Thorson banked in a long-range three pointer early in the second, as W-P pulled within 28-22, though Mio netted the next eight points to lead 36-22. Thorson drilled three more treys in the frame, including another one that kissed off the glass, though Mio held a 55-35 late in the half. Thorson broke the century mark by getting a hoop to fall in transition with just seven seconds left to play, making it 55-37 at the break. 
Thorson started off the second half with a quick bucket and he also had a three shortly after that made it 56-42, but he was held scoreless the rest of the way. The Bolts didn't slow down, however, as they sprinted to a 77-46 lead after the third and led 90-48 with just over five minutes left to play. The running clock finally slowed Mio down, as it settled for the 95-51 win.
"We scored 51 points and that's right about what our average is this year," Mervyn said. "The games that we've won we've had three kids in double figures against Hillman and two in double figures against Midland Calvary Baptist. I thought we took the ball to the basket pretty well, but we also turned the ball over way too much. We are going to have to get another person to score to be competitive and share the ball a bit better than we have at times." 
Thorson finished with 34 points, Cody Steinly had six points, Hottois finished with four and Alex Kendra had three. 
On Tuesday, Jan. 7 the Cardinals lost a non-league game at Tawas Area, 72-49. The Braves jumped to a 23-7 lead after one, 36-16 at the half and 52-31 entering the fourth. 
Thorson drilled 11 threes and finished with 40 points and Steinly finished with four points. 
W-P (2-4 overall, 1-2 NSL) heads to NSL Big Dipper leading Oscoda on Thursday, travels to Hale on Monday and hosts AuGres on Thursday, Jan. 23.